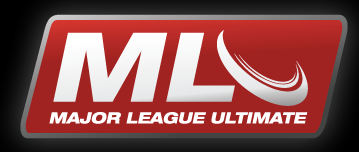 Late last week, Jeff Snader, the owner of the Philadelphia Spinners, announced in an interview that the Spinners have left the American Ultimate Disc League and will be starting a new professional league. "I'm not going to get into everything right now," said Snader. "But I can tell you that Major League Ultimate will be here."
It's true. There will be a new professional league called Major League Ultimate. It already has a website and a twitter account. Ultiworld has exclusive new details about the league, which has been in discussion for months now.
There are three primary organizers of the MLU to this point: Snader; Nic Darling, who worked in the Spinners organization and now serves as Vice President of Marketing for the MLU; and Skip Sewell, a Seattle Sockeye captain and long-time Ultimate organizer.
Sewell met Snader and Darling earlier this year when he traveled to Philadelphia to watch a Spinners game. "I just really wanted to see what was going on," he said. "From the west coast perspective, [the AUDL] was a black box."
He found out that they were already working on building a new league and Sewell, who says he has "long thought professional ultimate is viable and almost necessary," jumped on board.
In conversations with Sewell and Darling, both were reserved and cautious with their wording, but did share some information about the league.
Sewell's involvement raises one question immediately. Will the west coast have teams? "We are planning on having a bicoastal league," said Darling. "We'll have plenty more information on that shortly."
Although Philadelphia is certainly on this list, neither Sewell nor Darling would talk specifically about what cities would host teams. But Darling explained what they looked for. "The key identifiers for markets for us were a population to support a sports team and an existing sports culture," he said. "Contrary to what one might think, more sports in a market doesn't create competition. They actually feed on each other. And the existing Ultimate community, particularly a strong youth Ultimate scene."
Sewell added, "We are looking to appeal to youth Ultimate players right away. We expect them to be a primary audience right off the bat."
One of the major problems that has confronted the AUDL is an organizational structure that leaves teams on their own with no reinforcing incentives. The front office makes money by selling new franchises, but the teams make money by selling tickets and building their individual brand. The MLU plans to change that.
"We've looked at the [Major League Soccer] model as a guideline," said Darling. "That model has been adopted by some other people as well. I can say for now that we are developing a system which is mutually beneficial for teams. That is, no party can fail while others succeed."
Major League Soccer has a unique organizational model in sports. It is a single-entity business that owns all the teams. Each team is run by an "owner," who is actually just a shareholder in the league. This means that every owner has their incentives aligned with everyone else's. There is significant revenue sharing and the league itself contracts the players. The system allows poorly-performing teams to still have access to the same chunk of money for player salaries as the top clubs.
Whether the MLU model will look exactly like this is yet to be announced. Sewell did say, "The most important thing for us is stability." A model like MLS' is inherently designed to be stable.
But a big question still looms in the background: can the MLU and the AUDL coexist?
"We believe ours is a stronger model," said Sewell. "I think time will tell what happens with the AUDL. In terms of players and in terms of audience, we don't really believe we're going to get into a turf war. Certainly I believe that if we establish our model and the stability that we're going for, it will be a natural choice for the audience and the players."
Both Sewell and Darling were confident that the league would host its first game next year. "We have enough stability with our plans that this is going to go forward for 2013…," said Sewell. "We have investors and are seeking additional investors."
Much more information about the league will be released later this week as they prepare to soft-launch their website. But their enthusiasm, despite withholding information, is clear.
"We really see Ultimate as having a great deal of potential right now," said Darling.
A side note: back in 2006, there was a small experimental league called Major League Ultimate that pitted top players against each other at Potlatch, a famous tournament in Seattle. There were various rule changes, including the addition of referees and a two-point line. It is unclear whether the new professional league will bear any resemblance — other than the name — to the 2006 version.