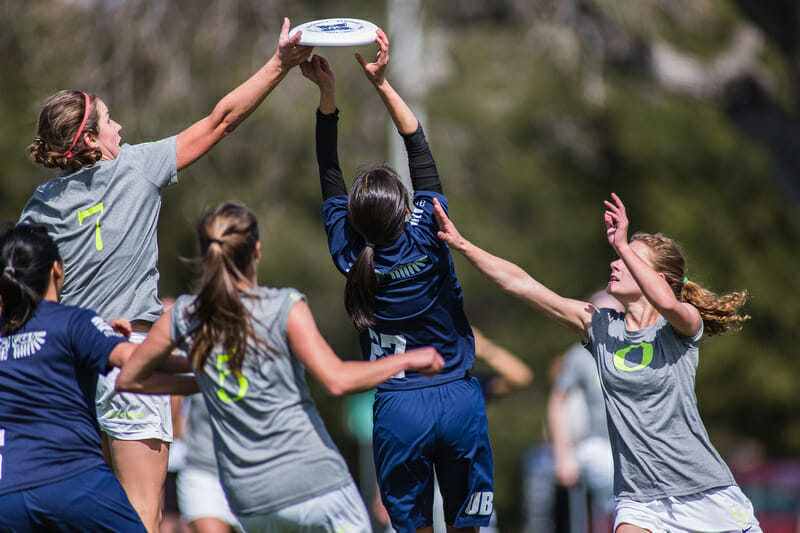 Just as in the Open division, the Women's division at the Stanford Invite was packed with talent, as 11 of the 12 teams in attendance came in ranked in the Ultiworld Top 25. The Northwest Region's Oregon (#1) and British Columbia (#2) looked to stay atop the rankings by winning out their pools from the 1 seeds. More importantly, bubble teams like UNC came in looking to get wins to drive up their USA Ultimate rankings to help themselves out with bids.
But, aside from an Oregon victory, little went according to plan. Here's a look at the stories from this weekend.
OREGON GOES UNDEFEATED TO REMAIN NATION'S #1, BUT QUESTIONS LINGER

It wasn't always pretty, but Oregon swept through the field at the Invite, never facing a universe point. Their finals matchup against Wisconsin showed a great deal of grit, as they had to bear down when trailing 14-12 with Bella Donna on the doorstep for the victory. Oregon outscored Wisconsin 5-1 down the stretch to take the game 17-15.
Against some teams well below their level, Oregon didn't win by the kind of numbers that you might expect, taking most games by just two or three points. Coach Lou Burruss had an explanation.
"At times this weekend, we played very complacently," he said, explaining that the girls were content to trade points after taking a small lead. "That makes me nervous."
I asked Burruss what he learned from the weekend. "We need an enemy," he said. "In years past, we've had an enemy. When you have an enemy, it makes you sharper."
For a team that has been dominating like Oregon has, it's hard to come up with an enemy. Bailey Zahniser adeptly led the offense this weekend, and the team's fast break was as lethal as ever. They had big performances from Sophie Darch and Bethany Kaylor as well.
But greatness is not built in the regular season. Look no further than last year's Oregon open team, which dominated throughout the season before a shock loss to Wisconsin in the semifinals. Did they lack something that would have gotten them to the top?
"You have to find a way to be challenged emotionally to be great," said Burruss. That can be difficult when you aren't losing games or facing much adversity. The question for this Oregon team is not whether or not they are the best team in the country — they are. The question is whether or not they will win when it counts.
WISCONSIN JUMPS INTO THE NATIONAL SPOTLIGHT WITH UPSETS GALORE
#20 Wisconsin's Bella Donna entered the tournament seeded fifth in their pool and, after weak showing at QCTU and Midwest Throwdown, not expected to do much damage at the Invite. That was sure wrong.
Wisconsin barnstormed through their pool, dominating teams all day, including a 13-6 beatdown of #2 British Columbia, the top seed in the pool.
Using their height to their advantage, Wisconsin's offense flowed well down the field using a Fury-style system to hit open cutters moving across the field. That's one of the ways that their reliance on coaching manifests itself.
Fury's Alex Snyder, Ultiworld's MVP of the 2012 Club Championships final, has a steady hand on this team that spent more time talking on the line between points than any other in Pool B.
Snyder was pleased about the team's performance this weekend. "We knew what we could do," she said. "But we needed to prove it to ourselves." She explained that they had really worked on mental toughness in the weeks leading up to the Invite. Given that they've only had four practices so far this season, their play is that much more impressive.
"I think what's really special is that everybody is contributing to our team's identity," she said.
With the wins, Wisconsin has instantly established itself as a contender for the title this year. But they aren't looking ahead.
"The conversation is not about the semifinals at Nationals," Snyder explained.
"Our goal is to qualify for Nationals, to be a very deliberate and respectful team, and to be 24 strong," she said.
DEFENDING NATIONAL CHAMPION WASHINGTON NOT GOING AWAY
After graduating a full twelve players from their 2012 championship roster, Washington wasn't expected to make much noise this year. Of course, a solid program and a strong coach means they will always be competitive, but it's hard to make a deep run with 11 rookies, right?
Element started to raise questions about that after going 5-2 and losing only to the two finalists.
"I think we recognized that we are a great team," said coach Kyle Weisbrod, saying that they showed "tremendous improvement" since the Presidents' Day Invite.
Despite finishing the weekend with four players out with injuries (and one player not at the tournament) leaving them with just 14 players for all of Sunday, Washington ground out a 17-15 win over regional rival British Columbia in the 3rd place game.
Amanda Kostic played great all weekend, piling up assists. Captain Alysia Letourneau was very successful cutting downfield.
Not everything was working well, though. Weisbrod called the team's endzone offense "terrible" and said they also have to find ways to slow down more unconventional offenses like Wisconsin's.
Like all of the Northwest teams, they now set their sights on Conferences and Regionals, which are basically the same tournament and are both extremely competitive. The region lost a bid this week as #22 Western Washington fell out of the top 20. Five bids sounds like a lot, but, in this region, it's not.


UBC STUMBLES LATE SUNDAY
It's been a back and forth battle for #2 British Columbia. After making it into the semifinals, they lost back to back games late Sunday to finish in fourth place. Both losses came to teams (Oregon, Washington) that they have already beaten this season at Prez Day.
Led by Rena Kawabata and Catherine Hui (who have great chemistry together), the Thunderbirds have the ability to beat anyone, but they need some more mental toughness.
"Our team needs to learn to claw back from a couple points down," said coach Tasia Balding.
The tournament overall, though, was a success for UBC, explained Balding. They also relish the opportunity to play against some East Coast and Midwest competition.
Now, it's Regionals preparation time. They are done with tournaments for the regular season. "We're gonna focus on strategies for the Northwest teams," she said.
CARLETON CONTINUES TO WIN AND HELPS NORTH CENTRAL TO FIVE BIDS
That's right, the North Central is sitting with five bids right now, according to USA Ultimate's latest rankings. That's thanks in part to the outstanding play early this season from Carleton, a team that came into QCTU, their first tournament, seeded 13th and took 2nd.
Particularly impressive is that Syzygy went 2-2 on Saturday despite both of their star captains — Anna Reed and Julia Snyder — out with food poisoning. (Snyder did manage to play in the first two rounds of the day, before sitting out against Sonoma State and Washington).
With their captains back in the fold on Sunday, they rolled off three straight victories to take fifth place. They're sitting pretty at number four in the USA Ultimate rankings this week.
They play strong, fundamental ultimate — they can beat you deep or underneath. They are the definition of a tough out; no team should want to face them in May.
UC SANTA BARBARA UNDERPERFORMS, SOUTHWEST FALLS
With an early Sunday loss to California, the #3 UCSB Burning Skirts got shipped off to the 7th place game (which they won 10-5 over Stanford), somewhat of a disappointing result for the best Southwest team.
They did have great success in their offensive set, hitting captain Alicia Thompson on an iso-play to lead things off. Captain Kaila Pollart was effective handling and moving the disc in the ho stack.
Unforunately for UCSB, their losses drove down their ranking, which helped push other weaker Southwest teams (Sonoma State, Stanford, and California) straight out of the USAU Top 20, leaving the region right now with just a single bid to Nationals.
The region will need a big performance at Women's Centex in two weeks to send more than one team to Madison.
AFTER HIGH EXPECTATIONS, UNC HAS DISAPPOINTING WEEKEND
#12 North Carolina came into the Stanford Invite seeded third in Pool B and sixth overall. They couldn't hang with the West Coast competition and fell all the way to 12th, going 1-6 on the weekend.
The small team — just 16 players — is nearly half rookies (7) and the team is feeling that skill dropoff from last season. Making the small roster problem worse, the team wasn't in great shape compared to the more-practiced west coast teams and couldn't keep up on defense.
Although there were some bright spots, they were overshadowed by too many turnovers.
Fortunately for Pleiades, due to strength of schedule and playing close against some top teams, they moved up to #20 in the USAU rankings. They'll have a chance to earn a second bid for the Atlantic Coast at Women's Centex in two weeks.
TAKEAWAYS
The Northwest is flat out dominating. If a Northwest team has been at a tournament, a Northwest team has won the tournament. They may well get six bids — and probably deserve it.
It goes to show just how important the work Michelle Ng is doing to help develop teams around the rest of the country, where playing opportunities are much more scarce.
Women's Centex, the upcoming Without Limits tournament, will basically decide which regions get bids. The tournament is stacked with top teams — but just two from the Northwest: Whitman (USAU #17) and Western Washington (USAU #26).
Will the North Central be able to take a full five bids to Nationals? Certainly they've been playing like they deserve it.
Exciting stuff and a lot to look forward to in the Women's Division this season.