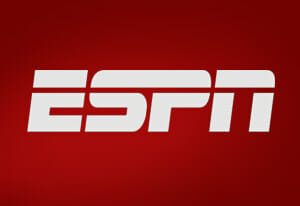 Yesterday's USA Ultimate announcement about a new multiyear broadcast deal with ESPN took the ultimate world by storm. With the sport now linked to the most mainstream of sports brands, the self-proclaimed "Worldwide Leader in Sports," there is a growing sense of legitimacy.
But details were thin in yesterday's press release. Many of the specifics still aren't finalized; only the broad outlines of a deal have been put together.
"All of our discussions so far with ESPN have been at a very high level…," said USA Ultimate CEO Tom Crawford. "The details of the coverage we haven't gotten into very much yet."
Here's what we do know: ESPN will broadcast a total of 23 live games across divisions — with their own full production team — from the US Open, Club National Championships, and D-I College Championships on ESPN 3, the network's online-only station. They will also broadcast some of their D-I College Championships coverage on tape delay on ESPN U, their college sports TV property.
While this may not be the blockbuster ESPN deal that many were hoping for, with live broadcasting on ESPN or ESPN 2, that's not out of the question in the future.
Since this will be the first time the National Championships will get major broadcast coverage, said Crawford, "We wanted to make sure that we could perform, and so did ESPN."
"If all of that goes really well, I think there's a very strong chance that we'll appear on the other networks of ESPN," he added.
Todd Myers, the ESPN director of programming and acquisitions, told Ultiworld, "We're always looking at opportunities to take events that start on ESPN 3 and see if there's opportunity on ESPN or ESPN 2."
However, he explained, "We look at ESPN 3 as a completely viable network, the same as ESPN or ESPN 2. We carry somewhere around 4,500 live events a year on ESPN 3, with most of those being exclusive."
ESPN 3 does require users to have certain internet providers in order to gain access to the network's content. Students on a college campus will be able to access ESPN 3 for free, as it is available to anyone on a .edu server.
The network is not currently available overseas. However, there will still be access for an international audience and those without ESPN 3 login credentials.
"All of the events that are covered will be available on-demand worldwide on our internal USA Ultimate platform," said Andy Lee, USA Ultimate's Director of Marketing and Communications. Those games will be available soon after they stream live on ESPN 3.
There is also a plan to supplement ESPN's coverage with additional livestreaming of earlier rounds. "We are currently reviewing proposals from a variety of different groups that are interested in picking up that livestreaming program," said Crawford.
ESPN will still have exclusive coverage of the games they produce and broadcast. They will supply their own play-by-play commentator, but USA Ultimate will help select candidates for the color commentator role from within the ultimate community.
One of the lingering questions here is: why is ESPN getting involved with Ultimate? USA Ultimate emphasized that they were in competitive discussions with a number of potential major broadcast partners.
"We feel that it's a dynamic sport, it's an up and coming sport," said Myers, who worked on the deal with Crawford and Lee since November 2012. "Like many niche sports around the country, we feel the fan base is going to continue to grow…We feel the way the sport has grown in the past few years that there's an opportunity for it to continue to go on an upward trajectory. And ESPN would like to be a part of that."
He also said ESPN was intrigued by the Triple Crown Tour format. "We see what Tom and Andy and their committee are working on, and continuing to try to evolve the sport," he added.
Neither party would discuss the terms of their agreement, but an interview with Crawford from January may shed some light on the deal:
[quote]Without getting into specific contractual details, where we are as a sport…is we're not in a position, unfortunately, where any broadcasters are coming to us saying, 'There's so many people watching you guys when we put you on the air. And there's so many advertisers that want to pay hundreds of thousands of dollars to be on the air with you that we're gonna pay you a rights fee.'
We're not there yet – we've got a long way to go. Where we are – and I think this is in large part because we've got such a good relationship with CBS Sports – is that we're in the mid-zone. There's a lot of sports that get on TV by literally doing a buy. They buy the time, they pay for the production, and they buy their way onto TV. That's where a lot of sports start. Even a lot of the other Olympic NGBs right now – that's where they're at in the realm of television.
…
We are lucky because of our CBS relationship to be in the middle in what's called the 'barter region.' We do have to bear the costs that go into getting onto TV. They are not paying us rights fees. But what they do is what we call barter deals where we get commercial inventory, they share in the production costs, they take some risk. And by the way, all of these broadcast partners still see ultimate as a big risk. Because we're an unknown sport and there's not a lot of built-in viewership they can count on because we just don't have the size of some of the other big sports that are out there.
So they are taking a risk on us and it's what we call a barter deal. We bear some of the costs, they bear some of the costs. And they take the risk of putting a relatively unknown sport on a national broadcast and we see where it goes from there.[/quote]
The ESPN deal is best seen as a test run. Crawford wants the sport to have a lot of appeal as a live sports broadcast "because that's where the right fee will lie in the future." So things will start on ESPN 3 and could move up from there.
Of course, being affiliated with ESPN also raises the possibility of news coverage from the network's reporters and on-air personalities. Could that become a reality?
"We are certainly hoping so," said Crawford. "And that's something we're talking with them about a lot. We needed to get to this point. We needed to get to the point where we could make this announcement together."
Every top person at ESPN will be getting a crash course in the basics of Ultimate, including the SportsCenter anchors, he added enthusiastically. So there's a possibility that they will start to report on the sport.
But the broadcast deal is no guarantee of news coverage. "There is a church and state divide between programming and [editorial]," said Myers, explaining that what sports he as the Programming Director selects to air on the various networks does not affect the editorial choices of ESPN's reporters. That's why you don't see much coverage of rugby or cricket, two sports that also get airtime on ESPN 3, on SportsCenter.
Regardless, this is an important step for USA Ultimate as it seeks to make the sport more popular, respected, and mainstream. And it could be just as exciting for the players.
"I'm super excited for the athletes themselves…," said Crawford. "They're gonna be recognized as being serious athletes by being recognized by the ESPN brand."