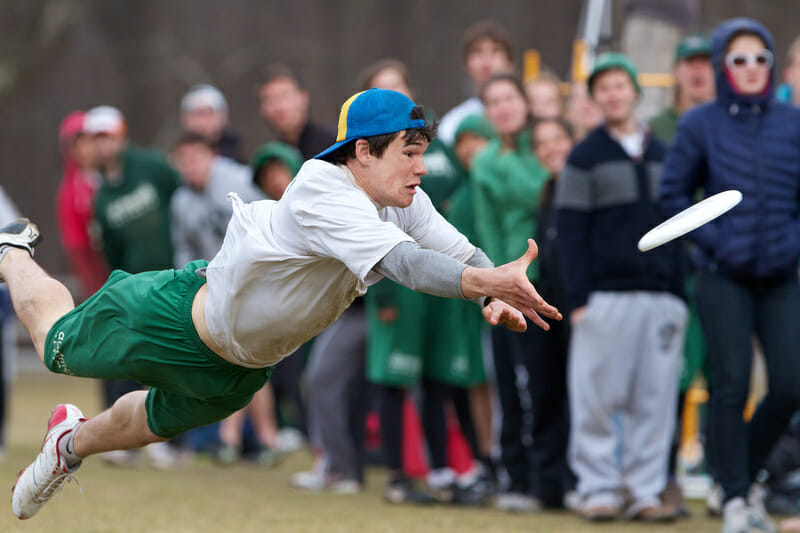 BOSTON — With a 12-10 win over #10 Harvard in the finals of the New England Open, #19 Dartmouth has vaulted into the frontrunner position in the New England region as the regular season comes to a close.
Dartmouth led against Harvard for most of the game, but had to withstand a late Harvard rally. With Harvard up 10-9 and the soft cap on, Dartmouth scored three straight to close out the win. That was the only point in the game where either team led by two.
Spencer Diamond led the way with poise on offense for Dartmouth, finishing with two scores, two assists, and a critical block with the game tied at 10-10 that led to what proved to be the decisive upwind score.
Dartmouth got out to an early lead after a big endzone block by Scott Sottosanti led to an impressive upwind break, highlighted by a huge upwind outside-in backhand that went 15 feet out of bounds before coming back in and being grabbed by a full extension layout from Andrew Pillsbury just ten yards out from the endzone. After a timeout, Pillsbury punched it in to Cecil Qiu to take a 2-1 lead. Watch:
[youtube sBfbZoquDVk 600 377]
Harvard would tie the game at 5-5 after a long point, when Wesley Mann found David Reshef in the endzone after a patient offensive buildup.
Wind was a factor throughout the game, and both teams had a lot of turnovers as discs frequently floated over receivers' heads. It looked like playoff ultimate, a grinding game with high-intensity defense from both teams.
Before halftime, both teams would get another upwind score, including this nice grab by Harvard's Piers MacNaughton:
[youtube U_edATdUgFw 600 377]
But Harvard wouldn't be able to convert the downwind point and Dartmouth went into halftime up a break, 8-7.
Harvard would break out of halftime, and the teams would trade points until Harvard took quick advantage of a turnover, scoring downwind in transition to take a 10-9 lead.
Harvard had momentum, but Dartmouth stayed focused to score three straight to win. Harvard had a chance to tie the game at 11-11, but Mann dropped a pass in the endzone that gave Dartmouth the disc. They worked it quickly downfield to score the game winner.
"They're a good team," said Harvard coach Michael Mackenzie. "I think the region is deep."
Dartmouth's results against out-of-region competition has not been nearly as impressive as Harvard's or Tufts' — their biggest regional competitors. But Dartmouth has yet to lose to either team in a head-to-head matchup dating back to the fall.
"Maybe they match up well against us, we'll see in four weeks," said Mackenzie.
Dartmouth coach Brook Martin said that the reason for their success is that he tightens the rotations for the in-region games. But at tournaments earlier this season, he said they were "pretty wide open" in their rotations as they sought to develop depth.
Dartmouth's wins this weekend were particularly impressive — Martin called them "icing on the cake" — considering that they lost their top offensive line handler, Dan Harris, to an ACL tear last week at Easterns. He is out for the season.
Ian Herrick, another starter, was out on Sunday due to a pulled hamstring.
Speculation is sure to arise about whether or not Harvard and Tufts played soft to help Dartmouth potentially earn another bid for the New England region. It's simply not the case. Tufts did rest some starters due to injury, but both teams were clearly playing to win.
Did Dartmouth do enough to get a bid? They are currently ranked #20 by USA Ultimate and are back of Northern Iowa, the North Central team sitting with the final strength bid, by 39 points. UNI did everything they could to hold on to their bid by blowing out every team they faced this weekend at the Frozen River Valley Open. But Dartmouth's quality wins mean that it really could go either way. Their close wins against #37 Connecticut (14-13) and #92 San Diego State (12-11) won't do them any favors.
"I quit trying to play the numbers game," said Martin, a tactic he believe cost them a Nationals berth last year. "But I think this region deserves [another bid]."
Mackenzie agreed. "I think it would be a shame if New England only gets two bids," he said.
But Harvard isn't focused on that. Captain William Dean said that, in the weeks leading up to Regionals, they will be working on "execution, execution, execution" and "being able to play [their] system even when [they're] tired."
Harvard was plagued by drops and mental errors throughout the finals. They had a lot of chances, and often worked the disc upwind effectively before making a mistake near the endzone. Mental toughness will be a key for Redline heading into the Series.
For now, New England teams will hold their breath as they await USA Ultimate's final regular season rankings set to be released on Wednesday.