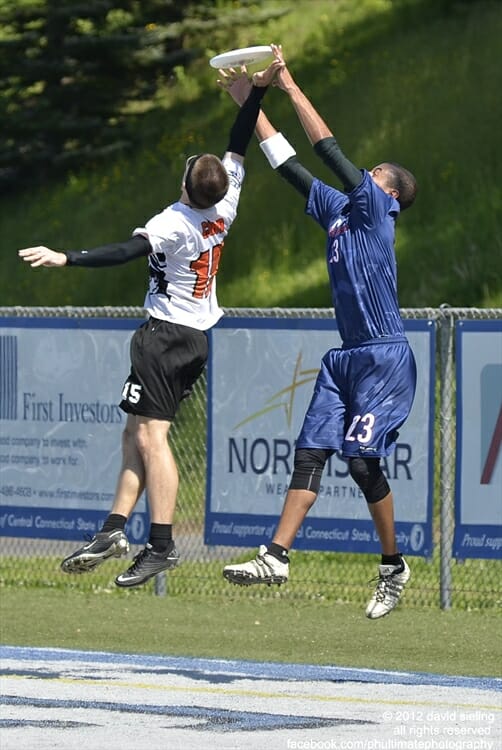 Ultimate has been with us now for 46 years, and the sport has grown leaps and bounds from its origins in a parking lot in Maplewood, NJ. While the arguments about Spirit of the Game, referees, and the like have been going on since I started playing the game competitively in the late '80s, they have taken on new meaning with the advent of professional Ultimate, referees included, in the form of the American Ultimate Disc League and Major League Ultimate.
Several recent articles (Ben van Heuvelen's, most notably) have revisited the arguments, passionately, about the core of the game, what it means to play, and what the recent changes mean for the sport so many love and cherish.
I speak as a longtime player, youth coach, and, now, co-owner of the San Francisco AUDL franchise, the San Francisco FlameThrowers. I first played schoolyard Ultimate in about 1980, got into serious disc at Columbia later in the decade (including at College Nationals), and played the men's club game at various levels before shifting to co-ed in the late '90s. I continue to play pick-up & recrecational league Ultimate and became a USAU-certified coach so I could start a team at my son's middle school a few years ago. I sure wish I'd taken the UPA up on their $100 Lifetime Membership!
Elite caliber Ultimate has always demanded tremendous sacrifice and commitment from players in the form of training, practice time, and tournament attendance. The recent proposed changes to the USAU Club structure in the original concept of the Triple Crown Tour would have burdened elite players even more with mandatory tournaments and their associated travel costs, and the response from the teams as a group reflected their discontent.
Simply, it is unfair and untenable to expect players to continue to bear the increasing cost of playing elite-level Ultimate. Jeff Greenough estimated earlier this year those costs would approach $5,000/year per player, which is a considerable sum for a young adult a year or two out of college, who might only be earning $30,000/year.
In this light, it is unconscionable to me that USA Ultimate would seek to increase costs for the most dedicated elite players and expect them to "pay-to-play" while signing distribution agreements with major media outlets like ESPN that do not provide financial support to the players whose play makes those broadcast-worthy events possible. Imposing additional costs on players while seeking to generate revenue from their expenditures seems an odd way to engender loyalty and success amongst the players. The AUDL and MLU offer elite players the opportunity to participate in the income stream their play helps create while they compete at the highest levels.
Having played in the notoriously competitive Northeast in the late-80s/early-90s, I have always felt that high-level Ultimate needed referees to cut down on, pardon the expression, the asshole factor. Everyone's current hagiographic reverence for Spirit of the Game notwithstanding, the game at that time was filled with ugly calls, and I experienced and saw reckless play that endangered others multiple times. With no authority to appeal to, the jerks could flourish.
The game has evolved since then, with the USAU series now featuring observers empowered to adjudicate and even decide contested calls, notions that were anathema even a decade ago. And the evolution continues with the introduction of fully-refereed Ultimate in the AUDL and MLU.
Top players and would-be spectators deserve referees for a number of reasons. No one can be completely objective in making a call. Two otherwise perfectly reasonable people, when watching a play develop, can come to opposite conclusions on the outcome. Add in the visceral subjectivity of players on opposite sides of the field, and it's only natural that players will see it "their way," especially in the heat of the moment. Players and spectators deserve to have an impartial judge determining outcomes, not relying on the subjectivity of opposing, involved players.
Related to this is having one standard for what constitutes an infraction. While individual referees will certainly call individual games "loose" or "tight," that's superior to 40+ players in a game each with their own notion of how much contact should be a foul. Spectators also want to watch feats of athleticism and grace, not marvel at how opponents shake hands after taking three minutes to settle an on-field foul call dispute. They deserve referees to ensure smooth game-flow and a high quality performance.
Players and spectators also deserve referees to know that those who play recklessly, who cheat (yes, let's call it what it is) by exploiting their ability to make their own calls, and who lose control on the field will be effectively disciplined and even ejected. Observers can certainly help in this kind of policing, but referees empowered to make active calls right on the spot are best positioned to both discourage this kind of behavior in the first place and deal with it swiftly and meaningfully should it occur.
Finally, players deserve referees to free them up to focus completely on playing, not adjudicating. And spectators deserve to see players pushing themselves to the limit to make amazing plays rather than holding that little bit back to observe and decide if they were in, or fouled, or picked.
Ultimate is now clearly poised to reach a much larger audience. The emergence of professional leagues and the validation of the USAU's ESPN distribution deal are natural next steps in the evolution of the sport. Like seeing an indie band you love finally achieve the break-out success it deserves, this transition is bittersweet for many. What will not change, and never will at any and all levels of the game, is the delicious feeling of running down a disc settling gently in the late summer air, going airborne to meet it and the ground as gracefully as possible, and rising up with that disc clenched in your hand.