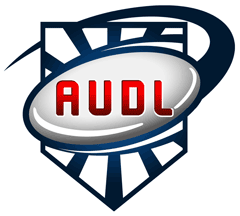 In a shortened first week of play in the American Ultimate Disc League, four teams took the field to get things started for the league's second season. Ultiworld's preseason power rankings stood up well to start the year, with both higher ranked teams notching wins.
One thing is certain, the Windy City Wildfire's Brodie Smith is back and playing at a very high level. He played 23 points in the Wildfire's season opener, touching the disc twice as much as any other player on the team and recording a very respectable 92.8% completion percentage.
AROUND THE LEAGUE
Windy City Wildfire 26 – 15 Cincinnati Revolution
The #1 ranked Wildfire rolled through the Revolution on a blustery night in Cincinnati. Brodie Smith had 12 assists and just 4 turnovers on 53 touches and partner-in-crime AJ Nelson notched 10 goals and two assists on the offensive line.
Reigning AUDL MVP Jonathan "Goose" Helton had a spectacular defensive performance with 7 blocks.
The game started out close, with both teams working it down the field on offense, trading points to 5-5. But Josh Shepard got things going for the Wildfire defense with a big layout block that led to their first break and a 7-5 lead, one they would never relinquish.
The defensive pressure was too much for Cincinnati, despite a great game from Chris Powers, who had 5 assists, 1 score, and just 2 turnovers. The Wildfire took a 16-8 lead into halftime, and cruised out the second half.
Indianapolis Alleycats 30 – 24 Detroit Mechanix
It's fitting that the two teams in the AUDL remaining from season one in their original location faced off in the season's opening weekend. The Alleycats, who made the playoffs last year, came out on top thanks to an outstanding offensive performance with very few turnovers. Season one breakout star Cameron Brock had an AUDL-record 14 goals (breaking his own previous record of 12) as Keenan Plew added 5 goals and 4 assists.
Detroit's Dave Hochhalter continued his success in the league with 10 assists and 4 goals, but the Detroit offense was sloppy with the disc, giving away turnovers that led to Alleycats' breaks.
The game was tight until midway through the second quarter when a string of breaks put Indy up for good at halftime 15-11. The second half was more of the same, the Cats eventually extending their lead to six which they rode out to the 30-24 final.
Here are some highlights from the game:
[youtube _5HdqNYwsCM 600 377]
FANTASY IMPACT
Year one stalwarts Cameron Brock (14 goals, 2 turnovers), Brodie Smith (12 assists, 2 Ds, 4 turnovers), and Dave Hochhalter (10 assists, 4 goals, 1 D, 5 turnovers) joined AJ Nelson (10 goals, 2 assists, 2 turnovers) at the top of the pack this week in fantasy scoring.
Nelson looks to be a key pickup going forward, as he is often the recipient of Brodie's assists.
Jared Payne, Keenan Plew, and Jonathan "Goose" Helton also had good weeks, and are all valuable fantasy assets.