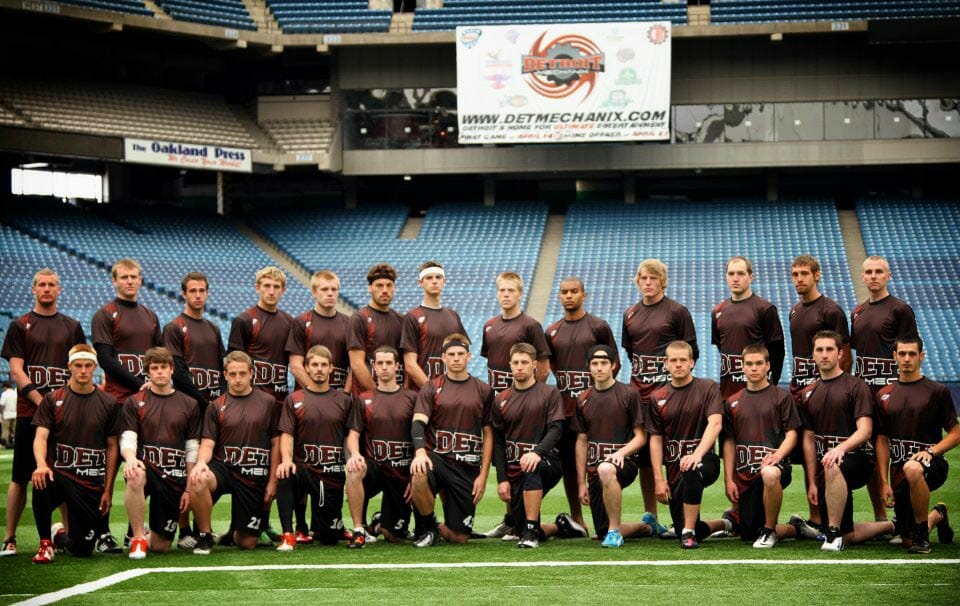 As one of just two teams in the American Ultimate Disc League returning for a second season in the same city, the Detroit Mechanix are hungry for more success both on and off the field. With a deep list of returning players and a new superstar coach, things are looking up for the evolving team.
The Mechanix have already been in the news for their recent signing of Ken Porter, a standout Ring of Fire player, as their coach and their top athlete. What is a player from North Carolina doing coaching and playing in Detroit?
After contacting the league a few months ago about their 2014 expansion into Charlotte, Porter began talking with Mechanix owner Brent Steepe about the league and the opportunities to be involved.
"Throughout the month of March, the talks turned more towards this season rather than looking ahead to 2013," said Porter. "And things kind of just fell into place."
Porter leaves his home in South Carolina tomorrow to move to Detroit for the season. That's a sign of how well his conversations with Steepe, who he has yet to meet in person, have gone in recent weeks. Porter brings both superior talent and experienced coaching to the still-developing team.
"My philosophy is that I'm not going to ask anyone to do anything that I wouldn't do," said Porter. "So if I say, 'We're gonna run such and such type sprints because this happened or this didn't happen,' I'm gonna be right there running with them."
Captain Andy Barnhart said that the team was looking forward to learning from Porter. "I'm really excited about having somebody aboard that has abilities, experience, and athleticism [that Porter has]," he said.
Along with Porter, the Mechanix have some proven talent in Dave Hochhalter and Andrew Luccarotti; both lit up the stats sheet last season in Detroit.
But the young team is still working to fine tune their game. Like it is for most teams, adjusting to the larger field in the professional game has been a challenge on both offense and defense.
"We've been able to draw in some real good talent and I think the Mechanix are going to be able to compete with the best of them this year," said Barnhart.
The Mechanix are also hoping to put a rough first year behind them. Steepe was unpopular with many of the owners, particularly due to what some saw as unethical business dealings. The team also struggled to fill seats in the cavernous Silverdome stadium, which also hosted the AUDL Championships.
But much of that tumult is in the past and the team is looking forward to their fresh start. "I think the league has gone through some growing pains and come out on the other side in a really good place," said Barnhart.
The Mechanix lost their first game of the season 30-24 to last year's Midwestern Conference semifinalist Indianapolis Alleycats. The silver lining? Porter did not play.
Porter expects it to take a couple of games before the team really starts to gel, but expects they will come into their own as a contender in the Conference.