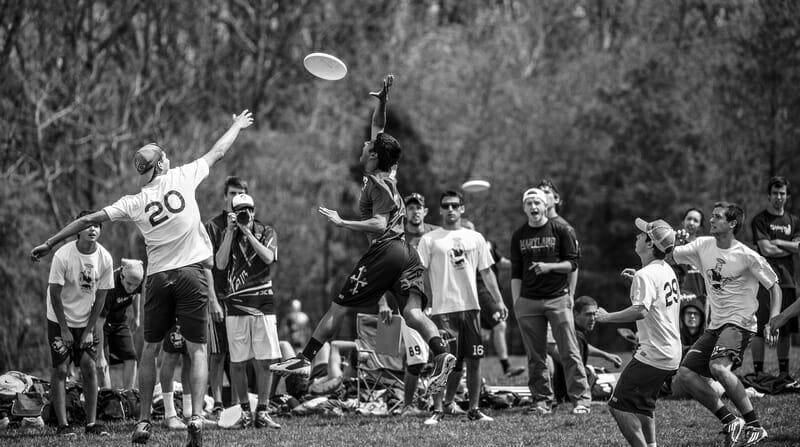 Set aside the rankings, quit worrying about bids, and get ready for the beginning of the real postseason action: Regionals. This is the first of Ultiworld's D-I Regional Previews, giving you what you need to know about the teams that matter.
The Atlantic Coast Region is known for its volatility. As in most Regions, there are big name programs that qualify to Nationals frequently (UNC, UNC-Wilmington) but there are also a lot of up-and-down teams (Virginia, South Carolina) that can make noise in any given year. Upsets are common, and nothing is certain.
With two bids this year, things get even more interesting. A full half of the field feels that they have a shot at a bid — and, if they play their best ultimate, most do. That's going to make for a wild Sunday.
THE FAVORITES
#5 North Carolina  Let's be clear: anything less than an undefeated tournament and second consecutive Regional title would be a disappointment for UNC Darkside. One of the nation's top teams, they've consistently been in the conversation for a semifinals appearance in Madison this year.
Led by a crop of excellent players, North Carolina's biggest asset may be their depth. Captain and Callahan nominee Tristan Green anchors their offensive line at the handler position, and is often throwing bombs to Christian Johnson, the 6′ 2″ junior and Ring of Fire cutter. Freshman of the Year candidate Aaron Warshauer is also a big contributor, and he'll look to make an impact as he returns from an injury that's kept him out since mid-March.
But UNC thrives even more on their defense, which is the catalyst for their wins. With an ability to raise their intensity, especially in the second half of games, UNC lives and dies by the performance of their defensive line. Jon Nethercutt is their rock on D; his forehand huck is their most dangerous weapon in transition. Charlie Schaffner, a 6'3″ football player molded into an ultimate player, uses his athleticism to generate endzone turnovers and truck towards his own for scores.
UNC had a strong season, posting a 27-4 record with losses only coming to top 10 ranked teams. They didn't record their first loss until the Stanford Invite, where they fell to defending National Champion Pittsburgh on double game point. Most importantly, they took down their biggest rival — and the team most likely to upset them at Regionals — UNC-Wilmington 15-9 two weeks ago in Conference play.
"Our results are consistent with our team," said captain Justin Moore. "We struggled a bit with the little things against top teams, but we're hoping the experience of those games will help carry us to the next level."
With aspirations to win a National title this year, Regionals is just a step on the path. They believe they have the mental  strength to cruise through the Region.
Key wins: Pittsburgh, Ohio, Arizona, Texas, Harvard, UNC-Wilmington
Key losses: Pittsburgh, Wisconsin, Colorado, Central Florida
#16 North Carolina-Wilmington
It's been a bit of a bumpy road this season for the UNC-Wilmington Seamen. Like their in-state rival UNC, Wilmington opened the season with two back-to-back undefeated tournament titles, mostly against weaker competition. But against the best teams at Stanford and their hometown tournament Easterns, the Seamen went 5-8.
When they're at their best, they can beat anyone. They got a big upset over Carleton, 14-13, in the prequarters at Easterns and kept it close against #1 ranked Minnesota in rough conditions in the quarterfinals. But they have a tendency to struggle mentally, resulting in strings of losses against teams they could beat (Whitman, most notably).
That said, this is as strong a team as they've had in a long time. "Our regular season was the best we have had in years, although we have yet to hit our peak," said coach Greg Vassar.
The team is led by Tommy Lamar, a pure player who gained national notoriety on the NexGen tour, and Alan Gruntz, a fiery defender who frequently crosses the line of spirited play. But that has long been the M.O. of UNC-Wilmington, a physical team that looks to play tough defense that gets you out of your comfort zone. They are not known for their spirit.
Xavier Maxstadt and Mark Evans run the show on the defensive line. When they are playing their best ultimate, they are very hard to stop. Evans, particularly, has had an outstanding season, skillfully managing the offense for the D line after turnovers.
The team has focused all season on taking competition one game at a time. That hasn't changed. They have "no expectations" heading into Regionals, looking just to play "the game in front of [them]."
The Seamen have not lost to an Atlantic Coast team other than UNC this season, but they barely took down Maryland at the Easterns Qualifier and allowed Appalachian State to score 10 against them at Conferences. While they know UNC is their top competitor, there are a lot of teams nipping at their heels for the second bid to Madison.
What they want to avoid is a breakdown like last season that saw Georgetown bounce them from the bracket in quarterfinals at Regionals (there was just one bid for the AC last year).
While the Seamen are certainly the favorite to take the second bid, they'll be getting everyone else's best shot.
Key wins: Carleton, Florida State, Arizona, Texas, Ohio
Key losses: North Carolina, Tufts, Whitman, Stanford, Colorado
THE BUBBLE TEAMS
Maryland
With an entirely retooled approach to the regular season, the Maryland Space Bastards are hoping to see their focus on quality tournaments pay off in the postseason. Whereas in years past they have tried to play a ton of games, this year they scaled back their quantity in favor of matchups against better quality teams.
A look at their results suggests a bad team with a lot of losses. But if you remove their slow start at the ACC Ultimate Championships, they have lost to just a single team — Georgia — outside of the Ultiworld Top 25. They played close games against Carleton and Dartmouth at Warm Up, and nearly beat UNC-Wilmington at the Easterns Qualifier. Out of the rest of the Atlantic Coast qualifiers, this team has the best shot at an upset and stealing a bid from UNC-Wilmington.
In years past, Maryland has relied "heavily" on their stars, but has recently worked hard to develop depth. As the team pointed out in an interview, Chip Andrews was invited to tryout for the USA U23 team, despite not starting for the Space Bastards.
The team is led by captains Marshall Schroeder and Eric Biggs ('12 World Juniors champion), and see big contributions from cutter Mark Lin and handler Nate Prior. They are confident thanks to close games against top competition this season, and are set to be one of the major dangerous teams at Regionals.
Key wins: Princeton, Georgetown, Delaware
Key losses: UNC-Wilmington, Georgia, Georgia Tech, Virginia
Virginia
A recent Nationals qualifier out of the Atlantic Coast, Virginia looked to be having a down year this season, capped by a 1-6 performance at Centex. But an undefeated performance at the Virginia Conferences, including wins over Virginia Tech and #24 James Madison, has earned them the four seed at Regionals.
Inconsistency has been the mark of this team thus far this year. They've had runs of good play, but haven't been able to string anything together until Conferences. They showed an ability to stay mentally strong by closing out their last three games with 3-0 runs.
That's "Night Train" Ultimate. They never look to "get too high" or "get too low," instead looking to "grind." If they play at their peak, they'll have a chance at a big showing at Regionals.
Led by Jacob Merlin and Evan Sacks, both captains, they are looking to have a shot at an upset on Sunday.
Key wins: James Madison, Arizona State, Georgetown, Iowa
Key losses: Virginia Tech, Connecticut, Arizona State, Colorado College, Eastern Michigan
#24 James Madison
The JMU Hellfish didn't play a lot of games this season, but are sitting with a 16-2 record. Unfortunately for them, both losses came to Regional opponents — UNC-Wilmington (7-14) and Virginia (10-12) — and came in the finals of a tournament. And there's the big question about JMU. Can they win when it counts?
They have the athletes to matchup with any team in the region; they proved that at their home tournament, the Hellfish Bonanza. But they will have to bring a rock-solid mentality to Regionals to have a chance at an upset.
The Hellfish are led by Ben Fleming and Lloyd Blake, both of whom deserve All-Region honors and can take over a game at any time. Blake was unstoppable at the Bonanza, but he can't do it alone. He'll need strong performances from the supporting cast if JMU is to achieve their season goal — making a run on Sunday.
Key wins: Luther, Appalachian State, NYU
Key losses: UNC-W, Virginia
THE DARK HORSES
Virginia Tech
The Virginia Tech Burn finished third in their section behind Virginia and JMU, essentially qualifying them for dark horse status at Regionals. But don't sleep on this team.
They have been plagued by injuries, and, thanks to a big Engineering exam, were missing six seniors on Saturday at Regionals, when they lost 13-8 to Virginia. Since the pool winners qualified straight to finals, they didn't get a chance to play in on Sunday.
"We are hungry to show we are the best team in Virginia, and prove it throughout regionals," said captain John Andrukonis.
You can see the effect of injuries on their season. They opened the year with a strong showing at the ACC Ultimate Championships, going 4-2 with close losses to Georgia Tech and North Carolina. But as the season went on, losses piled up.
They're led by 6'3″ grad student Ariel Bernal, who "has the ability to get open anytime." As he goes, the team goes, said Andrukonis. Alex Brown brings defensive intensity and lock-down coverage to the D line.
Despite lackluster season results, they believe they have a shot, and are just looking to be hanging around on Sunday with a chance.
Key wins: Maryland, Virginia, San Diego State
Key losses: Virginia, LSU, Arizona, UC Santa Cruz, North Carolina
Georgetown
Last year in the quarterfinals of Regionals, Georgetown, the eight seed, knocked off UNC-Wilmington, the three seed, in one of the biggest upsets of the tournament. Can they do it again?
Catholic Justice has spent nearly the entire season developing its younger players, which is almost a tautology considering that they have nine freshman and five B-teamers on the roster this year. That contributed to lackluster results, particularly through the middle part of the season, when they were also missing their star handler Dan Stokes.
Georgetown's sights were always set on Centex, and there they had a fairly strong showing, with a big win over Texas A&M to start the tournament. They ended up going 3-4, but played close against Nationals caliber teams.
The team is led by senior Matt Kerrigan, the captain and "lifeblood of the team." A handful of other upperclassmen — Stokes, Charlie Patten, and Scott Hampton — are the team's biggest playmakers.
But they also bring some first team All-Freshmen caliber players to the lineup: Troy Holland and Nico Lake. Holland is brand new to Ultimate but led the team in scoring this season, with 59 goals.
They expect to bring it together and again have a shot at the UNC-W upset.
"We are hoping to knock off UNC-W, but it will also be nice to get revenge against Maryland on the way," said coach Ryan Thompson. "I expect Virginia and JMU to be involved in the backdoor picture as well."
Their singular goal this season has been to qualify for Nationals. With a full-strength roster, they might have a shot.
Key wins: Texas A&M, Michigan State, Eastern Michigan, Appalachian State
Key losses: Virginia, Maryland, Texas A&M, Alabama, NYU
Appalachian State
Wait, who? Appalachian State?
This is App State's first appearance ever at Regionals, but they are eager to establish themselves "as a team that should be taken seriously." After a 1-6 showing at Queen City in early February, the team has steadily improved. They got quality wins over NC State and Cincinnati at the Easterns Qualifier, and then made the finals of Southerns where they lost a close game to JMU.
They just took third in the Carolinas conference, putting up 10 points on UNC-Wilmington in the 2nd place game. The team thinks that shows what they believe: they are one of the top five teams in the Region.
They've already accomplished their season goal: simply qualifying to Regionals. Now they will be playing loose, which always makes a team dangerous. With U23 Team USA player Justin Allen leading the way, Appalachian State has set themselves up for inevitable comparisons to the university's football team that upset Michigan in 2007.
Will this team make Nationals? Probably not. It takes more than talented players to get to Madison, and it is exceedingly difficult to play your best in the high pressure game-to-go if you haven't been in that situation before. But they are a team on the rise, and one that could spoil some other teams' Sunday.
Key wins: Michigan, Cincinnati, NC State
Key losses: Georgetown, Delaware, JMU, UNC, UNC-Wilmington
NOTABLES
– 14th seeded George Mason qualified for Regionals for the first time, a big accomplishment for the developing program.
– Led by NexGen's Chris Kocher, George Washington can't be left out of the conversation. They got shut out at the Hellfish Bonanza, but lost only to Maryland at Conferences.
– With early season wins over Maryland, Georgia Tech, and Virginia, Clemson could be a sleeper pick. They have been wildly inconsistent this season. If things fall into place, they have the ability to play very well. They lost to Appalachian State 15-13 at Conferences to finish fourth.
PREDICTIONS
We expect to see North Carolina cruise to their second straight title. They won't face much resistance until the finals, where their likely opponent will be UNC-Wilmington. Teams may even bench starters against UNC, saving their energy for the backdoor bracket. The question is: can Wilmington get to the finals? They are likely to face old foe Georgetown in quarterfinals, and Maryland, who almost took them out at the Easterns Qualifier, in semifinals. Not an easy road.
If we have to choose who takes that second bid, we'll stick with UNC-Wilmington considering their big game experience, but it's very close between them, Maryland, and, if they play their best, JMU. There are plenty of other teams with an outside shot. Should be a great Sunday.