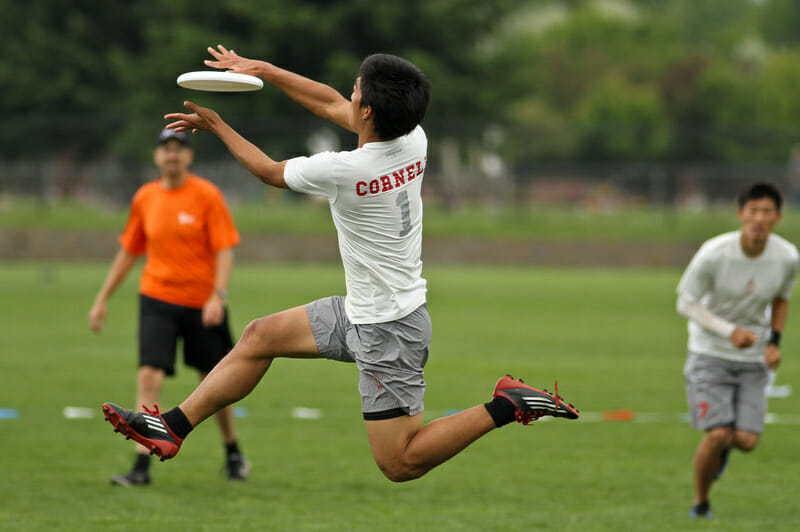 Metro Least.
Metro East teams are used to hearing it. Really, it's not even all that fair. Just three years ago, Cornell, the consistent qualifier, was a semifinalist at Nationals, before falling down the charts, finshing tied for last place last year.
More than ever, the Metro East is like this year's NFL Draft class, deep but not strong. Regionals this year will be a slugfest, as there are a full six or seven teams that are in the hunt for the single bid to Madison.
But like so many years before, everyone is thinking the same thing: can somebody finally take down Cornell?
THE FAVORITE
Cornell
With four consecutive trips to Nationals under their belt, Cornell is once again the top team in the Metro East. Like many consistent qualifiers, they have gotten to this point through the strength of their program: a serious B-team, quality coaching, and a focus on development.
Their strength is their fundamentals and their depth: each of their players is athletic, in shape, and capable with the disc in their hands. That goes a long way in the Metro East, where teams tend to be more star-driven with weaker players in the 10-14 spots on the roster.
Cornell started the season off looking weak with a 1-8 performance at Warm Up. But they have steadily improved (and gained back missing players), culminating in a strong performance at the New England Open (losses only to Tufts and Harvard) and an undefeated Conferences run.
Captains Jake Stevelman (PoNY, '11) and Adam Salwen lead the Buds. They will also get big contributions from 2012 1st team All-Region player Nick Thompson and John Brancato, who both missed the New England Open.
So what do they think about all the proclamations from other Metro East teams that this is the year Cornell goes down at Regionals? "It's fuel," Salwen told Ultiworld. "It's fun."
With the big game experience and the ever-elusive ability of "knowing how to win," Cornell is still the team most likely to qualify out of the Metro East.
THE BUBBLE TEAMS
Connecticut
UConn Grind has been one of the more fascinating teams to watch develop this year. They bring together some of the Metro East's biggest playmakers in Kamil Skwarek ('12 1st Team All Region) and Matt Baum and an athletic, offensive-oriented set of role players to make a team that, when playing at its best, is the best team in the Metro East.
Unfortunately for Connecticut, that doesn't arise as frequently as it should. Plagued by mental weakness, UConn can go from dominant to hapless within a handful of points, based solely on perceived momentum. That lack of mental toughness also manifests itself in their consistent habit of playing to their opponent's level.
Look at the New England Open: they beat Rutgers and SUNY-Buffalo, two solid Regionals teams, by one, but also technically beat Dartmouth, a clearly superior team, by one (they ended up with a loss based on a rules misunderstanding).
Their top seven can matchup with anyone, but they are weak down the roster, especially in the fitness department. Defense has not been a strong suit.
All that said, if Connecticut gets ahead early, they can be very dangerous. Skwarek has unstoppable throws, and they love to make big plays. Their likely semifinals matchup with NYU should be one of the more exciting games of the weekend.
Key wins: Rutgers, SUNY-Buffalo, Virginia, Michigan
Key losses: SUNY-Buffalo, Penn State, Princeton, Brown
NYU
After making it to the Regional final in 2011 and graduating a strong class of seniors, NYU has been rebuilding for two years with their eye on a trip to Madison this season.
The regular season was a strange one for NYU, who was slated to go to the New England Open but, due to university regulations, was forced to travel instead to the much weaker Garden State III. That means that NYU hasn't really played a top team all year, something that could be a disadvantage heading into this weekend.
They were clearly the best team in their Conference, however, and look poised to have a shot at Cornell on Sunday.
They are led by strong offensive play from Billy Katz and Sean Childers, who can double as one of the Metro East's best man defenders. Ian Guerin, a team captain, is explosive on defense, generating more turnovers than seems possible at his height (5′ 6″).
The team this year added a more consistent coaching presence in Kevin Riley and Mio Panasci, who have really improved the team's attitude and ability to make in-game adjustments.
The question for NYU will be if they are able to maintain high-level play throughout Regionals and into the finals with a necessarily short rotation. They simply won't have two full lines of players able to step up in the Cornell game and make plays.
If they can rest their top guys on Saturday and early on Sunday, they will have the best chance of any team at upsetting Cornell.
Key wins: Princeton, Rutgers, Georgetown
Key losses: Queens-Kingston, JMU, Carnegie-Mellon
Princeton
Last year, Princeton surprised a lot of Metro East onlookers with a run to the Regional finals, where they lost 9-11 to Cornell. That's the closest any team has been to upsetting Cornell in recent years.
This season, their regular season results look a lot like last year's. Lots of wins, mostly against not-great teams.
2012 1st team All-Region player Osman Khwaja, now a junior, continues to be Princeton's go-to option. He's had good support from captain Blake Dyer and a cast of supporting roles.
At Conferences, Princeton couldn't unlock NYU's zone in the finals, and was getting blown out before making a small run in the second half to make the final score, 15-10, respectable.
Princeton's best tournament came at the Easterns Qualifier, where they played well against UNC-Wilmington and Ohio and got quality wins over Michigan State and Connecticut. They lost a great game against Maryland, 14-15.
If they can bring that level of play to Regionals, they will have an opportunity to get back to the game-to-go. Unfortunately for them, they are set to face Cornell in the semifinals.
Key wins: Connecticut, Michigan State, Rutgers, UC-Santa Barbara
Key losses: NYU, Maryland, Chicago
SUNY-Buffalo
It's been an up-and-down year for SUNY Buffalo, but they are consistently a team in contention on Sunday at Regionals.
After a slow 2-4 start at Queen City, they played their best ultimate of the season at the Easterns Qualifier, notching wins over Cincinnati and Connecticut. But it was back to the drawing board after the New England Open, where they had tough losses to UConn and Bentley.
At Conferences, they lost to Queens-Kingston in pool play before beating them in the 2nd place game on Sunday.
Captains Rob Smith and Jonathan Bain lead Buffalo, and the team feels confident they can do big things at Regionals this year.
Smith told Ultiworld at the Easterns Qualifier that last year, their mentality at Regionals was that, on a good day, they could beat all the teams. This year, he said, their mentality will be: "We're gonna roll all these teams."
Their first test will be Princeton in the last round of pool play, an important game for them to win if they think they have a realistic shot at the Nationals bid.
Key wins: Connecticut, Rutgers, Appalachian State
Key losses: Maryland, Bentley, Queens-Kingston, Arizona State
THE DARK HORSES

Queens-Kingston
The Ontario-based school Queens-Kingston has not historically been a strong competitor in the USA Ultimate series. But, this season, it has quietly turned in a very solid year, clearly putting the team in the conversation on Sunday.
The team won its season opener, AC III, including a finals win over NYU. They lost by just three to Cornell at Conferences last week, and even notched a win over SUNY-Buffalo.
One of their advantages: nobody knows much about the team or its players, giving them an advantage heading into Regionals. (They didn't even play in the Series last year). They will have an interesting matchup against Connecticut on Saturday in the last round of pool play. A win would put them on a good path towards finals.
Queens has had historic success in Canada, reigning as a long-time favorite in the Eastern Canadian Championships. They also have a handful of Canadian National Championships on their trophy shelf.
Can they make a deep run in the USA Ultimate Series?
Columbia
For a few years now, Columbia has been watching sitting behind NYU as the second-best team in New York City. Columbia has always had some great talent (Izzy Bryant and Milo Snyder are both recent graduates), but haven't had the depth to compete for a Regional title.
This year, Columbia fell to a better-prepared NYU team at Conferences and also lost to top seed Princeton. They did salvage the weekend with a win over Rutgers to place third.
The team is led by captain Alexander Palmer and strong play from Greg Somerville.
No doubt they will be looking ahead to their rematch against NYU (season series: 1-2) in pool play. It's unlikely Columbia will challenge for the Nationals bid, but they could play spoiler.
Rutgers
One of the preseason favorites in the Metro East, Rutgers' vaunted team has never materialized.
Although they have been stricken by injuries, it's questionable whether they will now be able to pull it together with their top players having so little time to play together.
First, Albert Alarcon (PoNY), probably their biggest star, was out for most of the Spring. Jibran Mieser (Southpaw) has been hurt, and barely played at Conferences. Mike Sender (PoNY) has also been battling injuries and wasn't at 100% two weeks ago.
Will they be able to shore up their lines and make it to Nationals? "If I had to guess, I'd say no, but we'll see," a team representative told Ultiworld. "I believe we have the capability. All year, we've been an up and down team, so our results at Regionals will depend on whether we can play at our best when we need to. Our team's mentality plays a big part in this."
PREDICTIONS
It's too easy to say, but I think Cornell will lock up a bid for the fifth year in a row. I do believe that Connecticut and NYU have a real shot, if they play their best, to challenge Cornell, and it could be that the additional available game tape will give them a better opportunity to prepare than in year's past.
I think there will be some big upsets along the way, as there is a lot of parity in the Region this year. But Cornell has the depth to take the Region again.