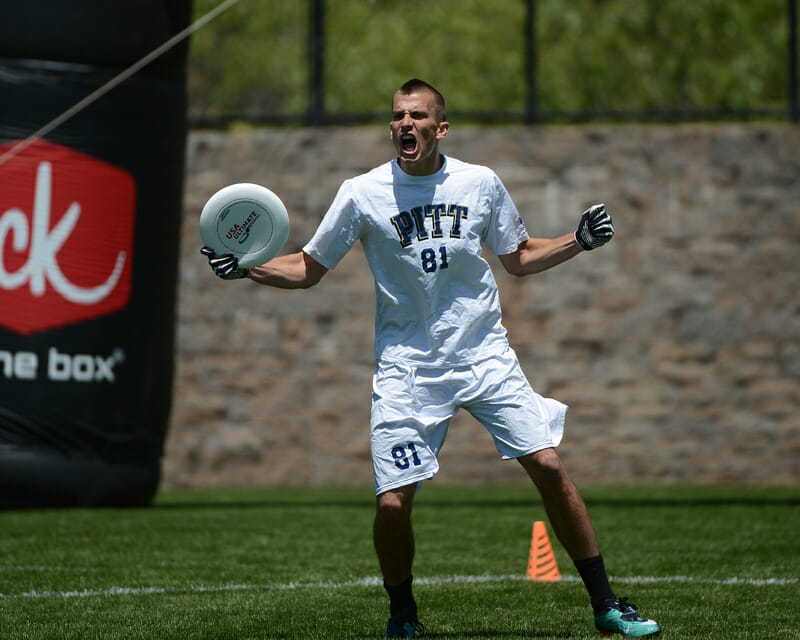 The Ohio Valley Region again finds itself with two bids and two strong favorites. Pittsburgh and Ohio are very likely to advance to Nationals again this season. But Carnegie Mellon, Penn State, and Cincinnati are looking to surprise.
THE FAVORITES
#6 Pittsburgh 
For most teams, compiling a 15-5 regular season record against the country's toughest competition and finishing 5th in USA Ultimate's rankings would be quite the accomplishment. Pitt is not most teams, however.
After capturing the program's first national title last year, Pittsburgh's En Sabah Nur entered the 2013 season with their sights set firmly on a second. And why not? With a talented veteran core highlighted by stars Tyler Degirolamo, Alex Thorne, and Max Thorne returning to defend their crown, anything less than another championship would feel like a disappointment.
The regular season made it clear that this is not the same team that won Warm Up, lost a close game in the finals at Stanford Invite, and then proceeded to go undefeated at Easterns in 2012. That said, this Pitt team is still very, very good. Each of their five losses in 2013 came at the hands of teams that finished the season ranked in the top 13  — two to Wisconsin, one to Florida, one to Carleton, and one to North Carolina. Pitt may not have been as consistently dominant this year or able to win any of the major tournaments but they certainly have to be seen as contenders to walk away from Madison with some more hardware.
Heading into Regionals, Pitt will almost definitely be treating the weekend as a final tuneup for the College Championships in May. The Ohio Valley has two bids up for grabs and, barring some sort of catastrophe, one of them will most assuredly be Pitt's.
#17 Ohio 
Prior to their appearance at the College Championships in 2012, Ohio Ultimate was relatively unknown, often overlooked, and on very few people's radar. That sure has changed quickly.
Compared to many contenders, Ohio isn't a very deep team. They have struggled to get players out, and most of the heavy lifting is done by just a handful of top players, led by studs Mitch Cihon — he will be playing on the Nexgen Tour this summer — and Connor Haley. This is fairly typical for an up-and-coming team that doesn't have the support of a well-established program to develop players and increase depth. What isn't typical, though, are the number of wins they've been able to generate.
Ohio finished the regular season ranked 12th overall by USA Ultimate, earning the Ohio Valley a second bid to Madison as a reward for the team's impressive 14-4 record. Their year included victories over some much more reputable names in college ultimate, such as Central Florida, Harvard, and Georgia. Of their four loses, Ohio played three of them close right up until the end before eventually losing to the likes of UNC-Wilmington, Carleton, and Tufts — not too shabby.
Simply put, this team has proven that they can play with the big boys on any given point. But the question remains, can their short bench play with them on every point?
Regardless of the answer, it's unlikely to affect Ohio's pursuit of a bid at Regionals. Aside from an anticipated match-up with Pitt in the finals, Ohio shouldn't face too many difficult tests this weekend. Carnegie Mellon, Penn State, and Cincinnati are all solid squads with the potential to make some noise, but aren't on the same level as the teams Ohio has been facing — and soundly beating — this year. In fact, it is probably more likely that Ohio puts together a great game on Sunday to break seed and take the Regional title from Pitt than it is that any of these teams steal Ohio's bid. That may seem like a bold prediction, but that's just how well Ohio has been playing this season.
THE DARK HORSES
Carnegie Mellon/Cincinnati
The drop off from the teams expected to secure bids to the rest of the pack is pretty steep. The region doesn't really have the so-called 'bubble teams' that you see elsewhere — if the top two seeds don't advance to Nationals, it would be quite a surprise.
In that same vein, it may be the element of surprise that make Carnegie Mellon and Cincinnati the most likely candidates to pull off an upset.
CMU finished the regular season ranked a very respectable 26th by USA Ultimate, posting a 14-4 record on the year. Clearly, they didn't do enough during the year to move higher in the rankings and secure another bid for the region but this is a squad that believes they can "play point-for-point with Ohio," a dangerous mindset for a team aiming for an upset with nothing to lose. This is even more true in this instance because Ohio has not played CMU yet this season, which could allow them to enter the game with a few tricks up their sleeves that give them an edge. One problem for CMU: their lack of depth is even more pronounced than Ohio's.
Early season chatter suggested that it could be a strong year for Cincinnati, a team that has yet to face-off with Pitt this season. Granted, it might take an entire magician's trunk for them to upset Pitt, but it isn't impossible. To go along with the advantageous element of surprise that Cincinnati would bring to this match-up, they also have easy access to a good deal of Pitt game footage and could help themselves out greatly by doing their homework before the tournament even starts.
Penn State
Spank has been a solid team for a long time, relying on hard, physical defense and a strong team mentality to grind out wins. But they've never quite been able to crack through to the next level and get a bid to Nationals.
They did show that they can compete to be the top team behind Ohio, with a Conference win over Carnegie-Mellon (they later lost to them in the 2nd place game).
Penn State challenged Ohio at QCTU early this season, losing by just two points in a physical, hard-fought game. Ohio knows they will have to bring their A-game to win; Penn State is tenacious.
NOTABLES
– Kenyon returns to D-I due to D-III Nationals falling on their graduation weekend. They have proven to be one of the nation's best DIII teams and will be competitive at D-I Regionals.
PREDICTIONS
If you've gotten this far into the preview, it should come as no surprise that we believe Pittsburgh and Ohio will both be heading to Madison next month.
The most intriguing match-up of the weekend will almost certainly be between those two teams as well. At this point, the Ohio Valley is Pitt's region to lose but you can bet that Ohio will be firing on all cylinders trying to claim it. My prediction for the score of the final is 14-12 in favor of Pitt but I honestly wouldn't be surprised if it went the other way.