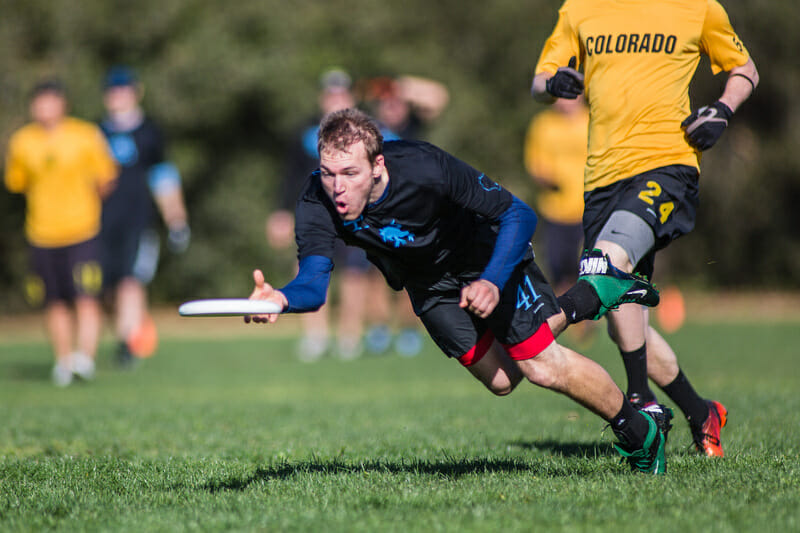 It seems only fitting that the North Central Regionals would get snowed out. After a big snowstorm hit the original location for Regionals, the tournament has been moved to Cedar Falls, Iowa, and will be hosted by Northern Iowa. This follows a pattern of terrible weather across the middle of the country that caused many cancellations, postponements, and shortened seasons for lots of the Midwestern teams.
Although rain is in the forecast for this weekend, it will at least be warm (72 degrees on Sunday). And it will be a battle. Three of the country's top ten teams — Wisconsin, Minnesota, and Carleton — are the heavy favorites to take the three bids from the North Central, but all want that #1 spot, which would come with a certain top four seed in Madison, and possibly the overall #1.
There are plenty of teams waiting in the wings to steal an upset as well. Let's take a look at the region.
THE FAVORITES
#4 Wisconsin
Although they've been plagued by inconsistency this season, let's not forget that at Warm Up in February, Wisconsin looked easily like the best team in the country, matching crisp offense with suffocating defense to roll to an undefeated tournament win.
But that same team hasn't showed up since then. Yes, the team is an impressive 22-3, but they haven't won when it counts. At the Stanford Invite, they survived a pool play loss to Whitman to advance to the quarterfinals, where they got blown out by Oregon. At Easterns, they got an impressive win against North Carolina before falling to Colorado in the quarters.
In their losses, the Hodags have been plagued by disc control issues: drops, mental mistakes, and poor throwing decisions. In fact, the offensive line was so bad in the Oregon game that coach Hector Valdivia put in the defensive line on offense just to mix things up.
But if there is one thing Wisconsin is known for, it is their discipline. After finishing 2nd at Nationals last year, this team looks like it could be even better. We expect to see that team at Regionals.
They are led by a crop of outstanding players. Brian Hart, their Callahan nominee, was the best player at Warm Up and is a beast on both sides of the disc, serving as their main D-line handler. Tom Coolidge is perhaps their very best defender. Colin Camp, of NexGen fame, gets open a lot cutting on offense.
However, as many of the top programs are quick to point out, they have been running open lines most of the season. Wisconsin is extremely deep this year, and has gotten big contributions from up and down the roster. That comes into play late on Sunday.
That player development will continue, even at Regionals. "We are looking to win our region, but whatever form we [this weekend], it won't be as good as the team we field in Madison at May's end," the team told Ultiworld.
With a 13 year Nationals qualifying streak, there is little doubt they will get back to the big show. They are looking at Carleton as the team to beat in the Region, as they do every year, and simply said they are "cautious" about #1 ranked Minnesota.
For Wisconsin, this is just a stop on the road to, well, Madison. Their season goal? "To win a game on Memorial Day."
#1 Minnesota
With a 19-1 record, including wins over Central Florida, Carleton, Oregon, and Colorado, Minnesota has distinguished themselves as the hottest team in the country heading into Regionals.
Their only loss came in the finals of the President's Day Invite, 14-12, at the hands of Arizona. Their next tournament, over a month later, was Easterns, where they ran the table, opening up with an impressive win over then-#1 Oregon in pool play:
[youtube ySW7epYnzss 600 377]
Grey Duck is led by outstanding play from Greg Arenson and Josh Klane; both were keys to success for Minnesota at Easterns. Dave Eddy and Jason Tschida are also big contributors.
At Easterns, Minnesota looked as comfortable putting up huge hucks early in possessions as they did working slowly underneath. That offensive fluidity makes them dangerous (and earns them wins).
Despite the excellent start to the season, many onlookers still doubt Minnesota. Even within the region, Wisconsin doesn't show them much respect. They will have an opportunity to silence the critics with a big performance this weekend.
One side note about Minnesota: they bring a totally different style to high-level college ultimate. While many teams have funny cheers and eccentricities, Minnesota preaches "keeping it weird," in contrast to a lot of top teams' more clinical approach.
#8 Carleton College
How do we judge Carleton? A team notorious for having a lackluster regular season and then crushing it in the postseason, CUT is always a dangerous team.
This year, again, they fluctuated between excellent play (5-1 at the Stanford Invite, finals loss to Oregon) and forgettable play (5-4 at Warm Up).
But is this year different? They lost at Conferences (8-13 to Minnesota) for the first time since 2005. Without being at the game, it's hard to know how much effort each team was putting into that relatively meaningless game. If anything, it shows Minnesota's strength this season more than Carleton's weakness.
Weak they are not. Simon Montague and Nick Stuart both earned spots on the 2013 NexGen roster thanks to their stellar play. And Julian Childs-Walker and Justin Norden provide potent support to the team's biggest stars.
2012 North Central coach of the year Phil Bowen again brings his quiet demeanor to the sideline for CUT, and is a big part of their success year in and year out. He never gets too high or too low, focusing instead on imploring his team to stick to their systems.
Carleton's defense has been suspect this season, and they've shown signs of fatigue late in tournaments. We expect them to be in top shape heading into Regionals and Nationals, which will make them very dangerous. They are among the teams with a shot at a National title.
THE BUBBLE TEAMS
Luther
After the departure of Eric Johnson, many expected Luther to drift back into the mid-level Regionals pack. An unimpressive regular season confirmed that.
But an undefeated run through a very tough conference has pushed Luther up to the number four seed and leaves us wondering: what do these guys have?
2012 All-Region nominees Josh Johnson (captain) and Jon Lang return this season to lead Luther, and they get big contributions from Brandon Lafferty on the defensive line.
With just three bids this year, can any of the West Plains teams break through and steal a bid? It seems unlikely, but Luther is clearly peaking at the right time. A weather-shortened season makes it hard to evaluate Luther's win/loss performance.
Their game against Carleton will be worth watching.
Northern Iowa
Check out our profile of Northern Iowa for a complete preview.
Northern Iowa was in the strength bid picture late in the season, before watching it slip away after the final calculations pushed them down to #21 in the country. That means a much tougher hill to climb for this team on the rise.
But they had a lot to prove heading into Conferences, and didn't prove it. They lost twice to Luther — badly — and come into Regionals seeded fifth.
In our profile of them last month, captain Robbie Dennis told us that they would need to play "perfect" ultimate to take down one of the NC's big three. They'll get their first chance against Minnesota in pool play.
This tournament may be more important for Northern Iowa's 2014 season than this one.
NOTABLES
– Wisconsin-Milwaukee had a slow start to the year, but got some impressive wins over Arizona and Illinois at Centex before taking Wisconsin to 11-13 at Conferences. They've been improving all year — they could play spoiler!
– Iowa State hasn't impressed with their results, but they are always solid come Regionals. They did notch a win over Northern Iowa on Saturday at Conferences.
PREDICTIONS
Let's get this out of the way: Wisconsin, Minnesota, and Carleton will all qualify for Nationals. They are simply a step above the rest of the region.
But who will come out on top? Tough to choose, really. We think Wisconsin will return to their early season form and take it. They always show up when it counts.
We like Minnesota to finish second, in another win over Carleton. They've been impressive all season and have shown the ability to sustain a high level of play over the course of a weekend.