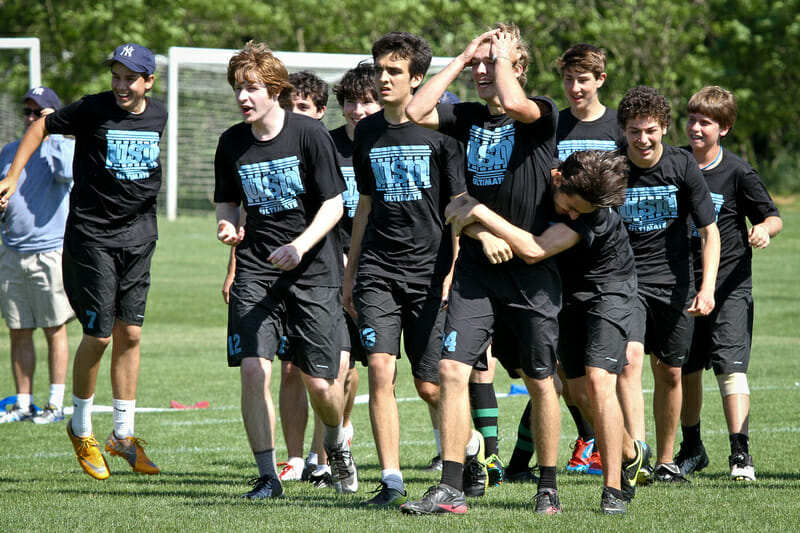 You knew it had to end like this.
After two straight double game point finishes in their previous meetings, Paideia High School and the University School of Nashville — the one and two seeds at the HS Southern Championships — were almost destined to meet in the finals for another classic game.
"It always comes down to the final point," said Nashville captain Eli Motycka, who spoke to Ultiworld today along with his co-captain Mitchell Lutz. Again, Paideia and Nashville took it down to the wire for a double game point ending — this time, Nashville won when it counted, 12-11, to win the Southerns title.
Before this season, Nashville had never beaten Paideia, the Atlanta-based High School powerhouse. In February, Nashville met Paideia for the first time in 2013; they lost 13-3. But just weeks later, at home for the Music City Mash-Up, Nashville won in pool play before losing in the finals.
"The biggest difference in those games was that we came in with the mental idea that we're not going to be intimidated by a program that we've played for years…," said Lutz. "Instead of worrying about any individuals on their team, we focused on what our team was doing."
"We just knew we had to work hard to develop our legs and our bench, because we knew that's what they were doing," added Motycka.
At the Southern Championships, Nashville had to navigate a tournament where they were far and away better than most of the teams that they faced. They really only had a challenge in the finals.
"It's definitely something we worried about," said Motycka, who explained that they focused on executing and playing as hard as they would against Paideia.
"That was definitely a test of mental fortitude," said Lutz.
Paideia reached the finals after a tough battle with Carolina Friends School in the semifinals. Nashville, knowing they had fresher legs, came out strong. It worked; they jumped ahead early and took a 7-3 halftime lead.
But Paideia, known for their resilience, switched to their intricate, well-tuned zone in the second half and rattled Nashville. They went on a 5-1 run to tie the game at 8-8. The teams traded points to 11-10, when the hard cap went on. Paideia scored, sending the game to double game point.
Nashville received, and Paideia, who had gone back to man defense, again brought their zone. A Lutz huck deep didn't connect, and Paideia had the disc with a chance to win it heading upwind. But after a throw floated over a receiver, Nashville got it back.
Lutz picked up, hit Motycka, and streaked deep from the handler spot. Motycka put it up, and Lutz brought it down for the win and the Championship title.
It was a victory years in the making. Many of the current seniors have been playing together since eighth grade.
"When you play together with the same people for a while, it just becomes easier and easier to play together and communicate," said Motycka.
They expressed excitement about the win, but also a great deal of respect for the Paideia program. "We love playing them," said Motycka, noting that they've gotten to know some of the players pretty well off the field. "They're a great group of guys. We hosted them for dinner when they came to Nashville [for the Music City Tune-Up]. We love the level of competition."
Co-captain Jack Spiva and Andrew Bridgers both had big weekends for Nashville. All of the top guys will be players to watch for on the college scene.
Motycka is headed to Brown University and Lutz will attend LSU.
For more photos of the Southern Championships, check out the UltiPhotos gallery.