Ask Michael Hickson, Central Florida's Callahan nominee, about how much time his coach, Andrew Roca, dedicates to making UCF an elite program and you'll get a pretty simple answer.
"More than he should," Hickson said with a laugh.
"He studies film, he gives us plays, gives us different perspectives, comes to practice right after work, he's put in as much if not more than any [player]."
To understand Roca's dedication, we have to go back to 2010, a pivotal year in UCF program history. After his own Callahan campaign, Roca graduated and Bill Igar, UCF's coach at the time, stepped out of his position to spend more time with his family. Roca almost immediately stepped into the role with the full support of his now-former teammates.
However, there was something deeper than a casual, 'Hey, won't this be fun?' pushing Roca's desire to coach.
"I think every college player feels that sense of regret in their career where they feel they could have done a lot more," Roca said. "That was definitely me as well. I definitely felt like I could have done more for my team as a player but that I would make it up to my team as a coach."
Roca brought that knowledge of feeling like things were left undone to the table straight away and set out to make sure that his players didn't leave their college careers with the same sinking feeling.
"I definitely would never admit it to my closest friends or my team that I do regret my college career, that's definitely the sum of it," Roca said. "I felt like if they treat this team like a business where they clock in and they do work that they will never have to feel that regret."
That business-like feel was immediate for Hickson.
"Roca told us that this was our job," he said. "In the years before it was never like that, with the dedication and work."
While some team's might fear such a demanding attitude would lead to an attrition of players that weren't ready for the commitment, Hickson saw just the opposite under Roca's direction.
"We all really enjoyed it," Hickson said. "It made us work harder. We saw how bad we wanted it. We saw how bad he wanted it and it just made us work harder."
Things weren't always smooth though. With Roca joining the team as a coach directly after the close of his fifth year as a player, he encountered serious obstacles when it came to managing the relationships that he had with players on the field.
"The biggest mistakes that I ever made were completely related to my closeness with the team," Roca said. "I was still coaching my friends to a certain extent and that caused me to be overzealous. I think the way you put it in one of your articles was that I was very motivational but without much experience behind it because there was the sense that I was a player/coach. Which I was, I got too close to the team."
The article in question was written to cover the 2011 Tally Classic: that year the Dogs of War would be upset at Regionals by LSU and Georgia and miss a chance to even compete head-to-head for a shot at Nationals.
Roca would take note of the difficulties he faced and, like any good coach, made a strategic adjustment. In 2012 he moved away from campus and into downtown Orlando. This increased his practice commute by untold amounts, especially if he was commuting during rush hour, but the results suggest that his decision paid off. UCF rolled through the Southeast in 2012 and 2013, winning the Regional title both years by an average margin of 7 goals in the Championship game.
Those wins came directly from Roca's ability to make more clear and more unbiased decisions. Most notable, in both Hickson and Roca's opinions, was the way that playing time was determined.
"Throughout the year I told [the team] that their player evaluations would continue to run," Roca said. "If they did not keep their work consistent that a person from the B-team or somewhere else could be picked up. That's also part of that job mentality: we treat it like a workplace, if you're not doing well at work it'll be looked for to find someone to do your job for you."
"At the beginning of the year Roca said that we were never going to have starting lines," Hickson said. "There were going to be situational lines. At every tournament we've never had the same starting O-line or D-line. He's just figuring out who fits where."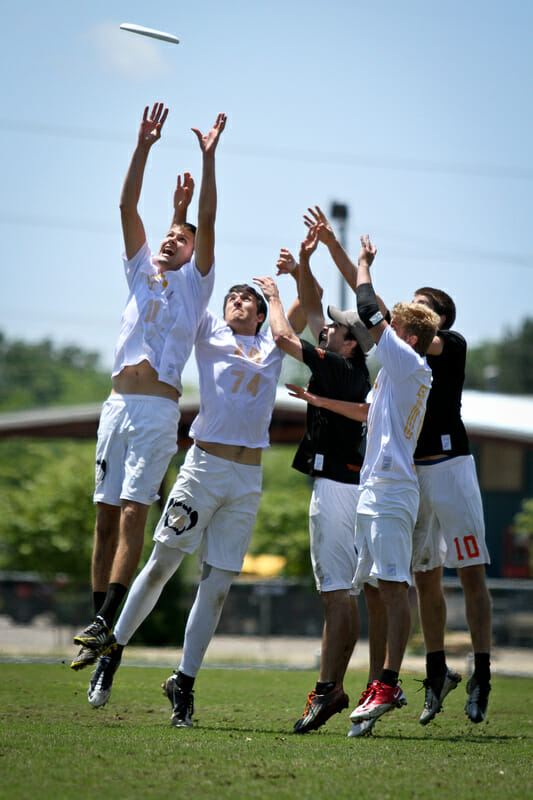 Over the course of these conversations, "fit" was a word that got repeated several times by both Hickson and Roca. In addition, Hickson and Roca credited their program's active and intense recruiting process as a key to their success, so I had to ask, what makes a player a proper "fit" for UCF? It seems that Roca has nailed down the type of player that he wants in his system.
"It's a person who continuously wants to learn and get better," Roca said. "That's something that probably a lot of programs look for from the get-go but don't understand when they have it."
For this season, Roca kept a keen eye on players during throwing practice. He has harped on his team to improve as throwers since early on in his coaching career; it has become a very important part of UCF's fall routine. This year, Roca spent his time evaluating throwers during the first six weeks of practice, playing close attention to those players who were constantly trying to improve as opposed to becoming content with "good enough" throwing abilities.
However, Roca's influence, in Hickson's mind, has extended beyond the recruiting and personnel side of things. Hickson looks no further than this year's regional semifinal, which pitted UCF against in-state rival Florida. While Roca prepped his team, Cyle van Auken roamed the opposing sideline. Van Auken, a well-known name in the Ultimate community, is fresh off a National Championship as Doublewide's coach and is widely respected as one of the top coaching talents in the game. Hickson saw something impressive happen in that semifinal game.
"He outcoached Cyle van Auken," Hickson said. "We played [Florida] at Regionals and they had no clue what to do. We beat them 15-4 and they started pulling their players. Roca has to be one of the top coaches in the nation."
That win has helped earn them the 6th overall seed at the College Championships, and the Dogs are on the short list of teams with a shot at the National title.
While Roca didn't comment on his coaching performance in any individual game, he did, on my request, wax poetic about what it is that keeps him coming back for more as a coach.
"It's a love of the sport and being addicted to the success," Roca said. "I don't consider my success as a coach to be reflected by the success of this team, but it's more about how we progress as a program. And, being a part of that from when I was 17, 18 years old to now, it feels like something that you grew up with and you just can't let go because you just always think about it. I guess that's the reason why I do it, because I'm addicted to it. I can't really stop because I don't know how."
At what point will Roca feel that he's beaten his regret and addiction? It's probably too soon to call. In talking to Roca and UCF players, it seems that the program is only building at the moment and a change in Roca's presence is unlikely. For UCF, it's great news indeed. For other teams, well, they can only hope that Roca finds closure.
They probably shouldn't bet on it though.