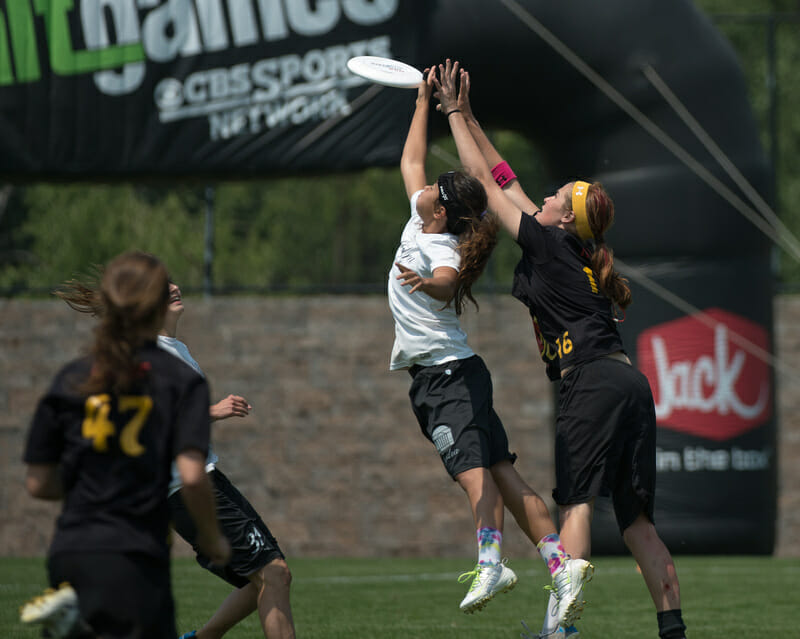 The action in Pool C should be compelling: most of the teams are familiar with at least one of their opponents. The pool's top seed and #3 overall, Iowa State, knows #2 in the pool and #6 overall Ohio State well. They are 1-1 against each other this year, and Iowa State fell in the Prequarters to a red hot Fever team in Boulder last year. Virginia, the pool's #3 seed, saw Iowa State in pool play, where they lost 14-11, at last year's Nationals. They've also notched a 13-8 win over Ohio State at Queen City Tune Up.
Central Florida, the pool's #4 seed, has fallen twice to Ohio State by large margins earlier this year. The wildcard is the surprise #5 seed, Whitman, who yanked a bid out from under Victoria to qualify for the Championships for the first time. Iowa State and Ohio State both have to be considered title contenders, but only one can win the pool.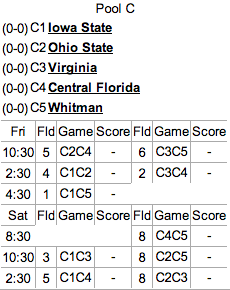 Championship Finally In Reach For Iowa State
Stars to Watch: Cami Nelson, Magon Liu, Rebecca Miller, Sarah Pesch
X-Factor: Sarah Pesch
Despite very different starting points, the past two College Championships have ended the same for Woman Scorned. Each began with a 3-1 pool play performance landing them in the prequarters, where they've fallen, finishing in 10th place. In each of their past three seasons — the length of their qualifying streak — their seeding coming in, and thus expectations, has risen. Last season, their title dreams were squashed by the very Ohio State team they'll get a crack at on Friday.
Iowa State's regular season left them with just three losses — two double game point losses in the ugly Midwest Throwdown conditions and a three point loss to Ohio State — and all to teams attending the Championships. Along the way, they won Queen City Tune Up and Women's Centex, earning their top spot in Pool C. They've also not been shy about keeping their rotation open, with a focus on developing their full roster. Woman Scorned's results — rarely did they blow teams out — show that, but it also makes their strong resume that much more impressive. They finished second in an incredibly difficult North Central Region, losing in the finals to Carleton.
Four players, which I'm calling the Four Horsemen of Scorn (but they might call the U-23 Quad, as all four will be playing on USAU's U-23 teams at the World Games in Toronto), headline for Woman Scorned. Seniors Magon Liu, Rebecca Miller (the team's Callahan nominee), and Sarah Pesch are joined by junior Cami Nelson to create nightmarish matchup issues. Nelson is the muscle, a tall speedy threat downfield. Miller is truly a lock down defender. Liu is an electrifying playmaker. Pesch, the team's tall lefty primary handler, may be the key, however, to the weekend's success. They love to play high pressure defense and immediately move the disc after the turn, seamlessly locating each other before the defense can adjust. Kevin and Lana Seiler, the coaching duo that heads up the team, may be this season's best coaching staff. They've had an entire year to develop the team's depth and have spent the season focused on making that a strength of Woman Scorned.
Ohio State Fever Eying Move To The Top Tier
Stars to Watch: Cassie Swafford, Paige Soper, Kelly Wild, Nina Finley
X-Factor: Janine Walker
At last year's College Championships, a #17 seed overall Ohio State nearly shocked the world when they went down to the wire with #1 seed Oregon. They finished 3rd in their pool, knocked off Iowa State in Prequarters, and fell in Quarters, ending the tournament tied for 5th place. With last year's team losing only a few players, all signs pointed to a strong 2013 for Fever. Here we are, looking at a #6 overall seed, #2 in Pool C, and a team in the running to contend for the title.
Ohio State's regular season results demonstrated a competitive team. They were 7-7 against the College Championships field, including a win over Iowa State, two blowout wins over Central Florida, and a loss to Virginia. "We know that we have to be playing at the top of our game," noted senior captain Cassie Swafford. "There's so much talent in this field of teams. There's little room for error." A tournament win (Music City Mash-Up) and runner up finish (Women's Centex) are some of their regular season accomplisments. In the Series, they dominated their unimpressive Conference and Region. This is from a team that struggled with injuries to their top end players most of the season, but Swafford assured me they expect to have almost the full arsenal ready to go.
Once upon a time, Fever was Swafford's team. She's a big, skilled athlete, a high impact defender who is a matchup problem after the turn. However, senior handler Paige "Diddy" Soper has emerged as a dominant playmaker, culminating in a performance that gives her a legitimate shot at winning the Callahan this season. Few players so dramatically control the field offensively the way she does. Senior Kelly Wild and grad student Jenny Perry add speed to their downfield cutting, while grad student Janine Walker and junior Caitlin Harley support Soper in the backfield. Freshman Nina Finley gives them a highlight reel darling that they can place anywhere on the field, with Swafford describing her as a "game-saving playmaker." Coaches Brent Reeb, DeAnna Ball, and Nick Hamilton place a lot of trust in their veteran leaders and do a good job making midgame adjustments.
Virginia Out To Prove They Belong With The Best
Stars to Watch: Alika Johnston, Mary Kelly
X-Factor: Theresa Hackett
Each of the past two seasons, Virginia Hydra has excitedly made their way to the College Championships. In Boulder last season, they were a top eight seed. Yet each of the past two seasons, Virginia has finished near the bottom of the tournament's standings. After capturing their second straight Atlantic Coast title and rising to the top of a competitive region, another bottom five finish would be a disappointment.
Hydra's regular season performance leaves room for doubt, however. While they have managed a 4-5 record against the Championships field, only one of those wins is against a team seeded higher than #10 overall (a 13-8 win over #6 Ohio State at Queen City Tune Up). They have a -26 aggregate in their six games against those teams. They are still 33-6, with four undefeated tournament victories at Winta Binta Vinta Fest, Women's Easterns, Virginia Conference Championships, and Atlantic Coast Regionals. They've beaten Ohio State and had a tight game in pool play against Iowa State at last year's Championships, so they know what they are in for. They have not shown a penchant for scoring or falling victim to upsets, leaving you to wonder if what you see is what you get.
Mary Kelly and Alika Johnston play different games, but headline the roster for the UVA squad. Kelly, a senior Captain and 2012 All-Region second teamer, uses her 5'8″ height and athleticism to make a lot of impressive grabs and play disciplined defense. Sophomore Alika Johnston, the reigning Atlantic Coast FOTY, is a relentlessly quick presence in their under lanes and behind the disc, and plays way bigger defensively than her small stature would indicate. Senior Theresa Hackett is another influential defensive presence for Hydra, measuring in at 5'8″ and fast, commonly getting run through and layout Ds. If she's clicking offensively as well, she could push Virginia towards their goals. Senior Captain Katrien Hinderdael is a strong mark and sophomore Sarah Hansen has become a notable threat with her devastating speed.
There's a very clear trend: defense. Virginia is an exceptional defensive team, demonstrated by the fact that only one team (Iowa) all year has put up 13 or more points on them. They apply lots of downfield pressure and force mistakes. Even in games they lose by large margins, they don't go down easy. Every game against Hydra is a fight.
Central Florida Finally Arrives and Plans To Make Noise
Stars to Watch: Sunny Harris, Mariel Hammond
X-Factor: Samantha Young, Amy Price
The story of this year's Central Florida Sirens began in 2012. "We have never once forgotten last season," stated senior Katie Fox, referring to the disappointing ending they suffered at last year's Southeast Regionals. After dominating the Region – only one regional opponent came within six points of the Sirens before the Regionals Semifinal – and rising to national prominence, their first trip the College Championships was all but assured. They learned the hard way that nothing is given when Georgia surprised them with a 15-6 demolishing of UCF's dream season. "We definitely thought of last season during our Regionals games [this season]," admitted Fox. "We've learned to never take any game for granted, win or lose."
While this season lacked the dominance of last season, their goals were more clearly outlined: to win a strength bid for the Southeast. Their out of region performance, even stronger than last year's, was enough to pull it off. Wins over Wisconsin, Stanford, and Texas indicated the Sirens were not just threats to make it to Madison, but threats to beat teams when they arrived. There have been some blowout losses against elite competition at Women's Centex and to Ohio State, but the signs of progress are there.
The Sirens are a team that starts with defense. They've got athletes and have the aggressive mentality to tends to favor turnover-forcing squads. Central Florida's zone defense has also become notorious in the Southeast, an unusual look that tends to throw opponents off their game and that the Sirens know inside and out. On offense, they are best on the fast break, getting senior handler Sunny Harris to the disc so she can bomb a huck to one of their athletes or find senior cutter Mariel Hammond to get things going. Fox told me they've been working on being able to play a slower paced game when they have to. "We've been focusing a lot on offense in the recent weeks," she explained, "Fewer turnovers, smarter decisions, and adjusting to different styles of defense."
Harris and Hammond are the unquestionable impact players on the Sirens' roster, with Hammond a 2012 1st Team All-Region selection and Harris on the 2nd team. Hammond is the team's best one-on-one defender while Harris is great in the air and often patrols the deep lane in their zone. Katie Fox and Samantha Young fill in as additional handlers, supported by senior Tina Hierzholzer, an original team founder. Junior Amy Price and senior Erin Goding are speedy downfield targets, with Price, in particular, emerging this season as her cutting becomes more refined.
In Championships Debut, Whitman Wants To Make A Splash
Stars to Watch: Rachel Reiter, Julia Bladin
X-Factor: Arianne Lozano, Coach Jeremy Norden
No team's presence in Madison will be more of a surprise than the Whitman Lady Sweets. At #25 in USAU's end of season rankings, they are the lowest seeded team to qualify without winning their Region. They effectively stole the strength bid Victoria had earned by beating them. Twice. Whitman is making their first appearance at D-1 Nationals.
Don't be fooled into thinking Whitman came out of nowhere. That #25 ranking came from a brief, but competitive, regular season. Coming out of the Northwest is always a challenge, so they've already seen strong teams like Oregon and Washington. However, their schedule was small, they've only played six games against the Championships field (and lost all of those), and faced little resistance at D-3 Conference Championships. What they have going for them is intelligent, disciplined, structured play led by Coach Jeremy Norden, who is known as a player for his on-field intelligence and execution.
You don't get to the big show without some feature attractions. For the Lady Sweets, senior Rachel Reiter and junior Julia Bladin are the main event. Northwest teams know to watch out Reiter's takeover ability as a cutter and that she can play big in the air. Bladin is happy to set up shop in the backfield and hit Reiter, or speedy seniors Lillian Bailey and Natalie Jamerson downfield.
A big addition for them this year is freshman Arianne Lozano, a dynamic presence for Whitman that can do a bit of everything. Senior Captain Beth Daviess provides additional throwing firepower while fellow senior Captain Kelley Hall is a dependable on field leader. Their true strength comes from a team built around and buying into smart offensive play: using the width of the field, breaking the mark, and picking their spots. In addition, a large class of seniors and leaders keeps the team's focus in the right places and adds poise to Whitman's game.