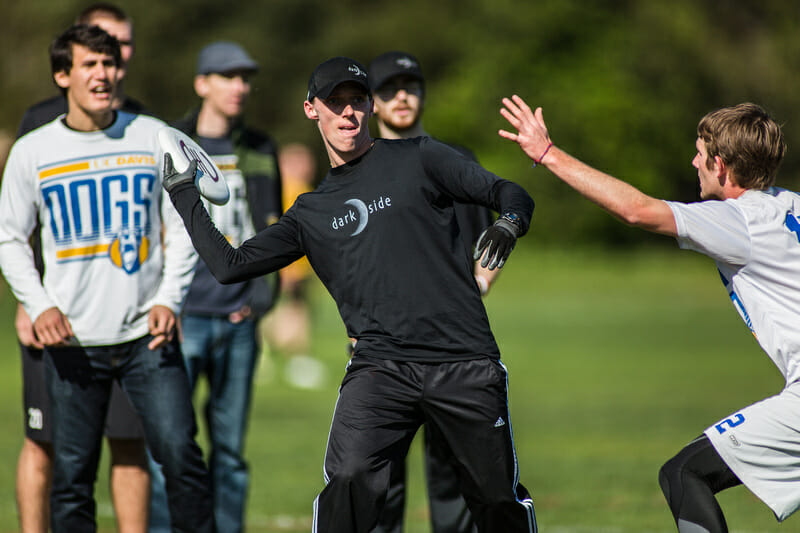 For many observers, Pool C looks like the weakest of the tournament. It isn't. This skepticism is born out of the lack of traditional powers. All season long, however, these teams have fought their into the elite ranks.
North Carolina, despite their draw as the #3 seed overall and the top seed in the pool, still feel disrespected as onlookers routinely overlook their deep and efficient squad. Central Florida, an intensely inwardly focused team, has high end talent that creates some of if not the most difficult matchups in the division.
If the main criticism of Ohio has been that they lack the depth to compete all day, how do they look in a format where they don't play more than three games in a day? UC-Davis plays a disruptive game with a true stud to power their offense and Luther surprised everyone in their return. Pool C has mostly already defied expectations just to get here, so don't be surprised when they do it again.
Is North Carolina Overlooked or Overrated?
UNC Darkside is, by the numbers, one of the best teams in the country. Including the Series, they're 31-4. Against the field, they are 10-4. In those 10 wins, their average margin of victory is 6.4 points; in those four losses, they've lost only by an average of two points, mostly due to a five point loss to Colorado at the Stanford Invite. Their wins include Pittsburgh, Texas, and fellow Pool C members Ohio and UC-Davis. With all of their losses to #1 or #2 seeds and in such close fashion, there's no reason to not think this an elite team.
Darkside is not a team of studs. Nobody on their roster is on Nexgen or a Callahan finalist. What they lack in starpower they make up for in depth and mentality. Don't mistake that for them not having talent. Christian Johnson is one the open division's most consistent and efficient cutters, maximizing timing and spacing with textbook attacks. Jon Nethercutt anchors their defensive line, a hard nosed defender who becomes a poised and dangerous throwing threat after the turn. Tristan Green, the team's Callahan nominee, opens up the entire field with his high powered hucks. The depth of the squad behind that, whether its Marshall Ward, big Charlie "The Truck" Shaffner, or freshmen deep threat Aaron Warshauer, is the strength of UNC. Line after line, they throw out a high execution offense and give-nothing-easy defense. North Carolina's brightest star may be the mastermind behind this, Coach Mike DeNardis, whose influence is all over UNC.
Central Florida's Program Keeps Rising And May Reach The Top
The Central Florida Dogs of War had been knocking on the door in the Southeast for a few years before breaking through to the College Championships in 2012. Now that they've got the invitation, they're planning on shoving their way into the inner circle. An up-and-down season for the Dogs paints a picture of a team going through the growing pains of finding itself. Against elite competition, they've gone through mood swings like a teenager, sometimes stuck in their own heads and sometimes a rampaging force on the field. With Coach Andrew Roca, 2012's Coach of the Year, at the helm, they may be all grown up and ready for the big leagues now.
From the beginning, they've been in the mix. At Warm Up, they started 5-0, beating three teams in the Championships field before losing a close game against Pittsburgh. While they'd fall to Texas twice and Pittsburgh once more before the end of the weekend, it was a sign of their talent. Stanford Invite saw a similar pattern. Up and down performances had them lose to a strong team –- Wisconsin this time -– and fail to bounce back. On the weekend, however, they'd go 4-3. Easterns was a bit of a breakthrough for UCF, despite a surprise let down against Ohio. They'd make it all the way to the finals, beating North Carolina on the way in a fantastic game (in the face of terrible conditions), before playing Minnesota tight the whole way before succumbing 15-13, exhausted.
The talent speaks for itself. Central Florida is infamous for its height, with twin towers Mischa Freystaetter and Michael Hickson measuring 6'7" and 6'5", respectively. The height parade doesn't end there, as their roster is loaded with guys 6'0" or over; Jeremy Langdon stands out as another difficult downfield matchup. They don't rely on the jump ball or deep game, as handler John Best and defensive stalwart Mike Ogren may be the squad's top players. Brawley Adams, Kyle Reedy, and Alex Bullock add to their depth. Roca's defensive unit is particularly aggressive, flying around the field, putting on disruptively active and physical marks, and going right after teams as soon as they make a mistake.
After Biding Their Time All Season, Ohio Sees Chance To Strike
Ohio's top end talent has always been well-known. Mitch Cihon has risen to a household name, a complete offensive package just as capable of handling as he is of getting downfield for a huge sky. Connor Haley is equally versatile, though he's grown more comfortable using his 6'3" size and considerable athleticism to get off break throws. The doubts creep in deeper down the roster. Ohio, however, is confident in that group. Mark Hritz has good quickness and disc skill, while Mike Bruce is a finesse thrower, able to work in tight windows, who would contribute to most any roster. The team is a veteran squad, loaded with upperclassmen who took in the feel of the Championships last year. These role players know that, ultimately, they are role players, but have no issues toiling away outside the spotlight.
Ohio is built around finding ways to mask what issues they have. Their offense tries to keep points brisk, striking hard and fast through Cihon and Haley. On defense, they'll mix up looks, throwing zones to keep legs fresh and let opponents tire out their own in long points. Their weakness comes from impatience. When their top end players are turning the disc over – expect Cihon to be near the top of the pile in this statistic – too often and without generating good opportunities, they end up spending way more time on the field than intended. Without efficiency, the center cannot hold and things fall apart.
UC Davis On Fire Coming Into Their Biggest Test
For UC-Davis, a return to the College Championships was not supposed to be in the cards. The Southwest was, for most of the season, thought to belong to Stanford and Arizona. Hindsight is 20/20, but perhaps were overlooked the strength of Davis's resume and talent. An abysmal Stanford Invite, where they went 0-6, and an underwhelming Conference Championship performance had them looking out of it. But they started the year solidly and, when it counted, ended even stronger. Isn't that what good teams can do?
At Pres Day Invite, they lost fairly close games to the two top teams, Minnesota and Colorado, while besting the rest of the field. To cap off the year, they went undefeated at Regionals on their way to a Southwest Region Championship. Only Arizona was even able to give them much of a game when they matched up the Final. If you're looking for a team that is riding momentum, Davis might be your pick.
Underdog teams can often ride the strength of some high end talent to victory. Davis's Eli Kerns fits the bill. The junior handler had strong showings on the club season and a very good year for the Dogs. As their primary thrower, he's the engine behind their scoring, gifted with great field vision and the ability to make challenging throws even in unfavorable situations. That sort of talent can get them out of a lot of jams. Junior Nathan White provides them with a great accomplice, taking some of the pressure off Kerns to win games by himself. Freshman Ben Souvey has made an impression as a playmaker, winning the Southwest FOTY award. Last year's Davis team advanced through the Southwest without a single All-Region player, so their depth could surprise teams.
Eric Johnson No Longer Plays For Luther
So, in case you didn't know, Eric Johnson used to play for Luther. That might be the most that the casual Ultimate fan can tell you about Luther this year. That's probably fine by them as Luther has never been the program that attempted to attract the limelight. However, there's more to the program than the shadow of a former player.
Luther had a quiet season with suspect losses at every tournament the team attended up until the Conference Championships. Perhaps that is worth noting though, every player on Luther's team (which includes Josh Johnson, Eric's little brother in case you were starved for Johnson talk) that isn't a freshman has at least two years of experience playing at the College Championships. That experience may not have shown through during the regular season but it has during the Series as Luther lost only to Wisconsin and Carleton at Regionals.
It's also worth noting that each of Luther's appearances at the College Championships ended with Luther finishing higher than they were originally seeded. Luther's season thus far may be worth overlooking but now that they've made it to the highest level of competition, teams would be remiss to not pay attention to the quiet team from the North Central.