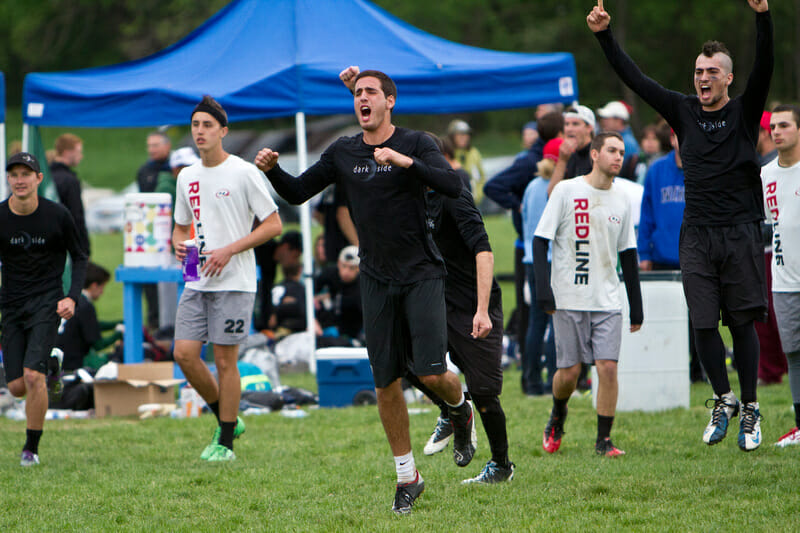 Sometimes winning at the College Championships means playing within yourself and doing what you know (See: Dartmouth). However, there are other times when reinventions, even if they are small ones, need to happen in order for success to come.
On Friday, UNC coach Mike Denardis told Ultiworld that his team relied on man-to-man defense primarily when it needed a break. On Saturday, there wasn't a single game where UNC didn't opt to come down the field in the same and often similar junk zone that helped generate a comeback against Luther on Friday.
That junk zone was instrumental in defeating Harvard Redline in prequarterfinals 15-11.
Darkside would often come down against Harvard in a junk zone look and then transition to man-to-man defense around midfield. UNC coach Mike Denardis attributed his team's prequarterfinals victory to tenacious defense throughout the game.
"Our defense stepped up and shut down," Denardis said. "We made them grind out every point. We ran our junky stuff and that was a huge help because once we did that our D was stifling."
The defensive intensity led to an early 5-2 lead for North Carolina and Darkside would not relinquish that lead for the remainder of the game.
Even though it seems like UNC's sudden commitment to zone may come as a shock to some of those that have watched the team play all season, Denardis makes no mistake about which said of the proverbial break his defense is buttered on.
"It's really team contingent [when we run zone]," Denardis said. "I can't say what we'll do tomorrow but if we know a team well enough, it's great to play man because our man is very good. Teams that we have questions about certain people then we'll just run that and see how they respond to it. If they don't respond well we'll keep running it until they figure it out and if they don't, they don't and we keep getting breaks off of it."
No matter what Harvard tried, UNC managed to stay one step ahead and Darkside would eventually close out the game 15-11. In a round where three of the four top seeds in prequarterfinals lost to lower seeds, Denardis finds that just small things set his team apart from other teams that struggled more in this round.
"We have just talked about having fun and enjoying the moment," Denardis said. "If you use your teammates as inspiration and have fun and not turn on each other and not worry about nerves and accept one game at a time as its individual unit, it makes things so much easier on you."
See more photos from the College Championships on UltiPhotos.