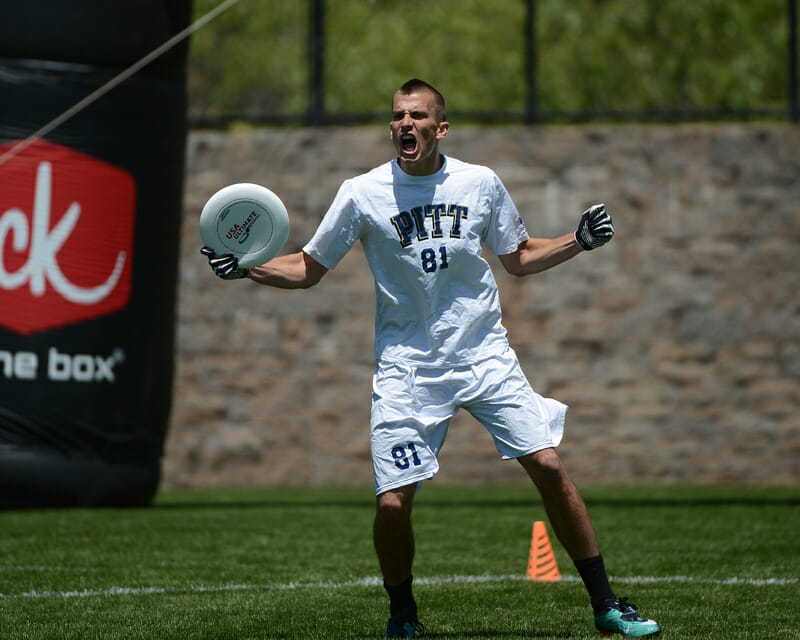 After a tumultuous regular season, Pittsburgh returns to the D-I College Championships final after a 14-11 win over #1 seed Oregon in the semifinals.
After falling behind 2-0, Pittsburgh used two 3-0 runs in the first half to seize control of the game. Their first momentum swing started after a great run of play from Pat Earles, who both got a critical break-saving block and the score to get Pitt back to within one.
"From there on, there was just confidence throughout our entire team," Pittsburgh coach Nick Kaczmarek said. "We realized we've got to play our game. At the beginning of that game Oregon was playing Pitt [style] and Pitt was playing Oregon [style]."
Pitt would go on to take a 7-4 lead as the En Sabah Nur handlers shredded the Ego defense with crisp throws to the break side.
Pitt looked like they might run away with the game, but Oregon responded with a 3-0 run of their own to tie it up at 7-7, taking advantage of some Pitt miscues.
Stars for both teams stepped up big in the first half. Oregon's Callahan award winner Dylan Freechild was a force early, giving Pitt headaches with sharp cutting and solid throws. But Tyler Degirolamo, a Callahan finalist, would get the better of Freechild as he lit up the backfield while also handling adeptly near the endzone for Pitt.
"[I was] just looking to take what they give me, honestly," said Degirolamo after the game. "I know people respect me deep. If they do that and poach, I"m gonna take the unders. I really like handling — I've got that quick first step. Nobody's gonna get through me."
After Pitt took the first half up a break at 8-7, Degirolamo really took over. He roasted his defender — Aaron Honn had the assignment for most of the game — deep on back to back points, before settling for the underneath once they were forced to give him a large cushion. He finished with four goals, three assists, and just one turnover.
Oregon would hang close after Pitt scored on offense to start the second half, but a drop by Trevor Smith gave Pitt another break opportunity. After a timeout, Pitt would work smoothly among the handlers before punching it in to take a 12-9 lead. That proved to be the dagger as the teams traded points — highlighted by some excellent Freechild scores — to the 14-11 finish.
"A couple weeks ago we talked about the word grit and tenacity," Kaczmarek said. "I told the guys I have nothing left to teach you this year. You guys are great players. The one thing I left to teach you is about grit, grit and tenacity and sticking to something you believe in all the way. That game was a grit game."
For the second year in a row, Oregon fell in semifinals after entering the tournament as the number one seed.
"I thought it was a great game," said Oregon coach Jay Janin. "Both teams had some stupid turnovers; both teams had chances to get up by a couple. I felt they just did a little bit better job than we did."
Before the game, Freechild was announced as the Callahan award winner in a small ceremony at halftime of the first women's semifinal. Degirolamo, a Callahan finalist, appeared unhappy as he looked on as Freechild accepted the award. Did it motivate him even more to beat Oregon?
"No. I wasn't really concerned with that," he said. "At the end of the day, I'd rather have a championship. Gonna try to bring it tomorrow."
But his teammate Alex Thorne did think it stuck with him. "He'll say he doesn't care about the award, but, you know, it's probably sitting in the back of his head," Thorne said. "He wants to show everyone what he can do."
Ultimately, Pitt had success by getting back to their fundamentals.
"We got back to Pitt," said Kaczmarek. "Oregon kept playing amazing offense but we made some adjustments got them to throw some more deep ones, got a couple Ds on those, and that's where we wanted to get them and that's where we did get them."