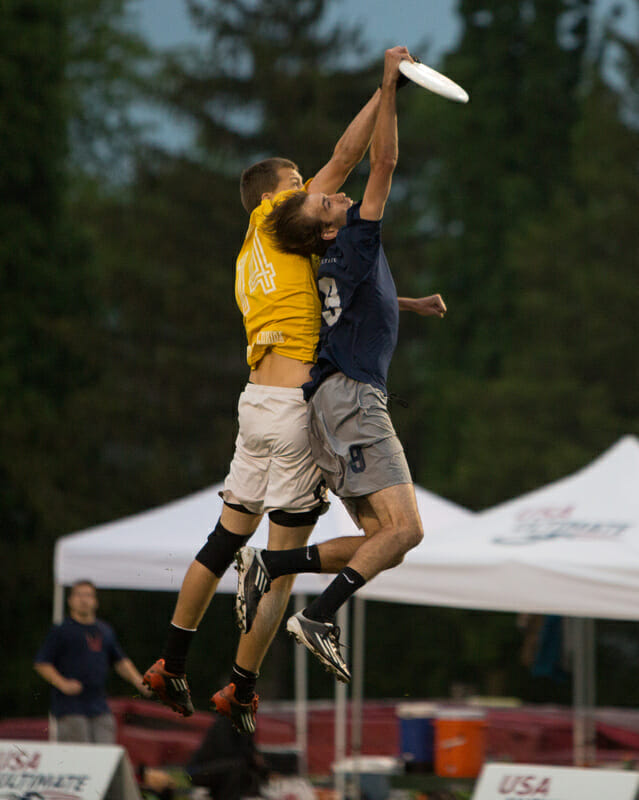 MADISON — Once Semifinal Sunday came to a close, there was only one surprise: Carleton was walking off the field with its collective head down after a 15-8 loss to Central Florida. Though UCF had showed moments of impressive play throughout the tournament, they had yet to put together a complete game. So often at the College Championships, teams, regardless of talent, cannot find a way to peak at the right time.
However, the Dogs of War did peak, and they peaked in the biggest game of their college careers. Carleton had been a buzzsaw in the tournament, stumbling only during the UNC-Wilmington quarterfinal match and only briefly then. However, as fans emptied out of Memorial Stadium, the scoreboard read 15-8 in UCF's favor. There was time for one last "I believe that we will win" chant before UCF's leaders took the team on a cooldown jog around the field.
It was a fitting sight that players like John Best, Michael Hickson, and Mike Ogren lead their team on a cool down lap in this game because it was those players that took the lead for their team and heated things up for Central Florida's semifinal game.
It wasn't all that long ago that this UCF team wasn't on anyone's radar for even making it to the College Championships, but a resolute senior class has put in the work and effort that it took to change the complexion of the program.
"It means a lot [to make it this far]," Hickson said. "We started out as a party team and when we realized we had a good rookie class come in we realized that we could do this. So we played college and club season and we took it serious."
Think about that. Just five years ago, this was a team not even in the conversation at Regionals, let alone Nationals. But they have molded the program into a Championship-caliber one by working incredibly hard to improve.
That serious determination showed in the numbers as several of UCF's experienced players had stat lines that any player in the College Championships would be envious of. They were all led by Mischa Freystaetter, with two goals, one assist and two huge blocks in the game. UCF coach Andrew Roca insists that Freystaetter isn't the feature-piece of the team, but can appreciate, nonetheless, how much Freystaetter's presence affects the game.
"He changes the game because everyone adjusts to him," Roca said. "What they don't realize is that he isn't even the main tool. That's exactly what it is. He changes the game because everyone is a little bit afraid and that leaves everyone wide open under."
Not far behind Freystaetter in terms of contribution was Ogren. Ogren, according to Roca, finally came into his own and it showed with a one goal, three assist, and one block performance.
"Mike is known as a playmaker," Roca said. "But this game he was consistent and that's all I've asked from him this season. I'm so glad he was consistent this game."
Last but certainly not least was Best, who, though he's known as a handler, spent much of the game downfield. The Dogs of War used Best's athleticism and throws to open up the field as he initiated UCF's offense any time Carleton didn't come down in zone.
"[He did an] amazing, amazing job," Roca said. "We actually did not keep him in the handling spot for a reason, we kept him as the first isolation cut. Obviously when they threw zone we had to move him back to the handling spot. He throws a lot better when he's out in open space and has time to take the throw he wants."
It was when Carleton threw its zone, though, that Best made his presence truly known. He broke Carleton's zone twice with huge hammers over the top of the defense and once with a looping outside-in flick that sailed out of bounds and back in to the exact spot where he receiver was patiently waiting for it. Teams will often use a zone look to change the pace of the game and get some breaks back. With Best's throws on like they were though, CUT's zones were just mere formalities in between UCF catching the pull and scoring a goal.
"John's throws are remarkable and we attribute that to our throwing program," Roca said. "Everyone is confident to cut for those throws because they know he has them. So we all cut for each other knowing confidently that we can make those throws."
Roca isn't the only one who is grateful that Best dedicated himself to throwing preparation. Best himself has noticed the difference all season long and, especially now, is happy that he put the preparation work in to help lead his team to a finals appearance.
"I thought my throws were already good [before we started our program]," Best said. "When you do something constant over and over again, you can't believe how much your throws get better."
So, UCF's seniors and graduate students, who have guided this team in a complete reinvention of itself, led the way and took home a berth in finals for their program. They now have one job left before they can finally cool down for good. They have to heat their program up one last time against Pittsburgh and bring home a National Championship.