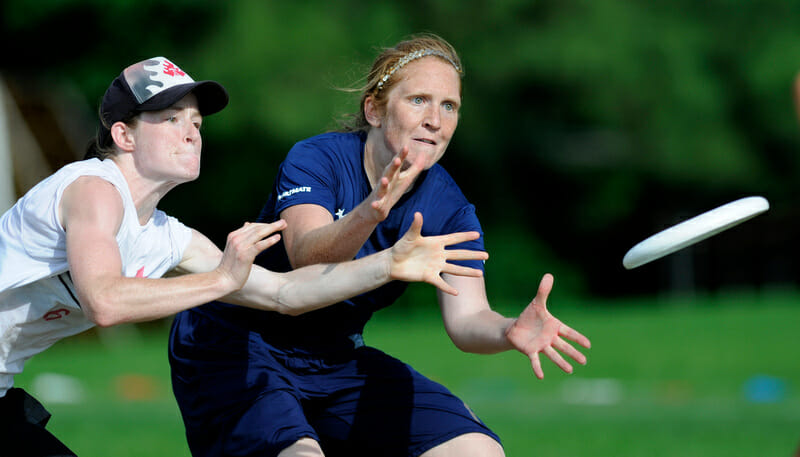 In their first game of the US Open, Riot took a comfortable 8-1 halftime lead against Colombia's Revolution. Most teams would relax. Riot, however, used a focused halftime speech to emphasize that the next half was no time to start taking chances on offense. Instead, Riot needed to step up their defensive intensity and maintain defensive discipline. Two games later, down a few breaks against to Fury, the halftime speech was remarkably similar.
Riot's goal for the US Open is first and foremost to develop a completely faceless roster; winning games is just a nice side effect. Riot came into the tournament without set lines and they've had very equal playtime on the weekend, excepting captain Rohre Titcomb, who is coming off of an injury.
Standing in the way of Riot's mission, and, frankly, fan desire to see another Fury-Riot Final, is Washington D.C.'s Scandal. Most observers will admit that Scandal is becoming comfortably the third-best women's team, though we're still trying to figure out the gap between them, the top teams, and the rest of the women's field.
Predicting Scandal's level of play is challenging due to their uneven performance in Raleigh. Scandal was dominant in their 15-5 victory over Showdown, particularly their downfield defense. On the other hand, they were caught off guard in their round one game against Japan's MUD, losing a game they had the opportunity to win. At this point in the season, inconsistency isn't necessarily a major concern for Scandal, but a strong performance or win against Riot could provide a huge confidence boost.
Riot took Friday's pool play game, 15-8. Scandal displayed that they were competitive for portions of their matchup. However, an 8-0 Riot run in the middle of the game points to the lack of consistency that has plagued the D.C. women.
Scandal Statistics:
Scandal's game-wide stats support the notion that there's been no obvious or single style of team play. In their MUD and Fury games, Scandal averaged 4 upfield yards per completed pass – a number suggestive of a smallball, handler-oriented style. But against Riot, Showdown, and Nova, Scandal averaged between 7 and 11 yards per completion. Those are NexGen, throw-it-deep and huck–happy numbers.
The contrast was also evident in their focus on swinging the disc. About 70% of their disc movement was cross field (swing movement) against Fury, but Scandal's game against Riot was much more vertically-focused (about 50% of the total yards obtained were cross field yards). Scandal needed, on average, three or more OPossesions to score in most of their games, but their dominating win against Showdown sported an elite 1.7 OPossessions per goal scored figure.
Riot Statistics:
The Riot player data shows consistency across the board, but some truly special talents as well. Sarah "Surge" Griffith (Team USA) is a star in the Women's Division; her numbers from 5 games so far justify her placement alongside any other female player in the world. She's second on the team in total involvement yardage. She's one of the most involved players in both usage rate and involvement yards per point played. She gets the score or assist on almost a third of the points she plays. And she is the team's top defensive performer, leading her team in Ultiworld D Rating, Defensive Expected Contribution, and Total Expected Contribution.

Calise Cardenas (Ultiworld MVP in last year's club championship) has an offensive stat line that would justify first mention on any just about any other squad. She leads the team in involvement yards, usage rate, and scoring rate. And she has the highest completion percentage (we've recorded no throwaways and one drop) on the team.
Predictions:
Kahyee Fong (Riot Statistical Tracker): 15 Riot – 11 Scandal
Laura Hamrick (Scandal Statistical Tracker):  14 Riot – 15 Scandal
Sean Childers (Ultiworld Statistics Editor): 15 Riot – 9 Scandal
Keith Raynor (Ultiworld Women's Coordinator) 15 Riot – 12 Scandal