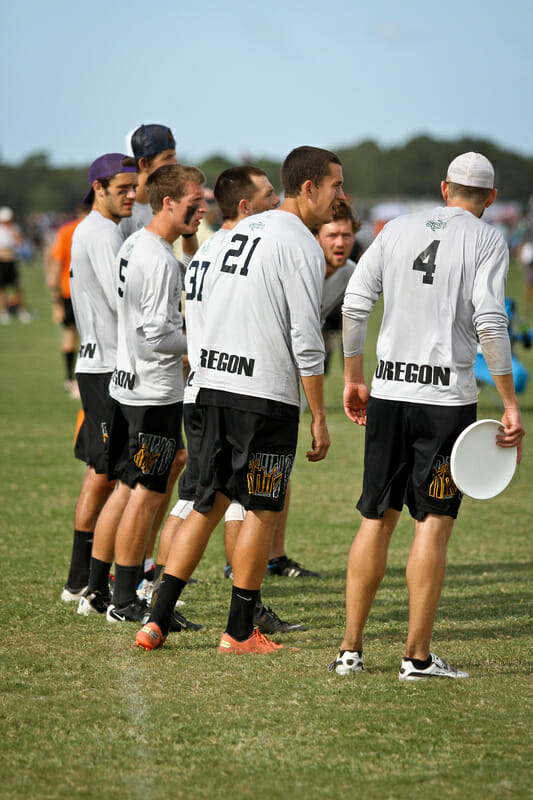 The 2013 Portland Rhino roster could not look more different from last year's squad. Losing three of four captains and most of the top end of its roster, Rhino is looking to take full advantage of their young, new talent. Placing tenth at last year's Championships, the team looks to integrate its new members and bolster their chances at another run at Nationals.
It will be difficult to replace the departing experience of captains Cody Bjorklund, Seth Wiggins, and Mario O'Brien, in addition to seasoned players like Breeze Strout, Riley Meinershagen, and Matt Melius. However, Captain Adrian King sees the roster turnover as a blessing in disguise for the team.
"We're definitely avoiding the mentality of doing something because we always have in the past," he said. "We're able to keep the best parts of our previous strategy and innovate other bits."
Rhino's new captains Timmy Perston, Chris Hancock, Sean Parker, and Kevin Minderhout are working hard to build on the core group of players crossing over from last year and integrate the new talent to deepen the team.
Although former captain Bjorklund will not be playing this Rhino season, he has a lot of faith in the team's success. After playing ten straight Ultimate seasons and suffering a back injury last February, Bjorklund thought it best to sit this club season out. However, he said, "Rhino is a deep team that has plenty of guys that played a significant part in our 2012 run at nationals, and are capable of stepping up this year. Timmy played extremely well for the [MLU's Portland] Stags. I can't count the number of times that he was just given a 20 yard under because teams didn't want him to beat them deep. I don't expect it to be a rebuilding year."
And looking at the roster, no one should expect it to be a rebuilding year. The team is stacked with talent that has no where to go but up. With two Callahan winners, four players on the U23 teams (3 open, 1 mixed), and three players on the NexGen tour (2013 Callahan winner Dylan Freechild being the crossover player in all three of those categories), this team has very talented young players.
The key for the squad this year will be to be able to pull all their strings at once going into regionals. Due to U23s and the NexGen tour, a good chunk of the team will be unable to make it to Atlanta for Terminus this weekend. "It's a Damocles Sword situation," said King. "We have all the good fortune of some serious ballers, but with a lot more headache in balancing schedules and trying to get a dispersed group on one page. The hope is that at some point before Regionals we bring it all together and stand to our full height."