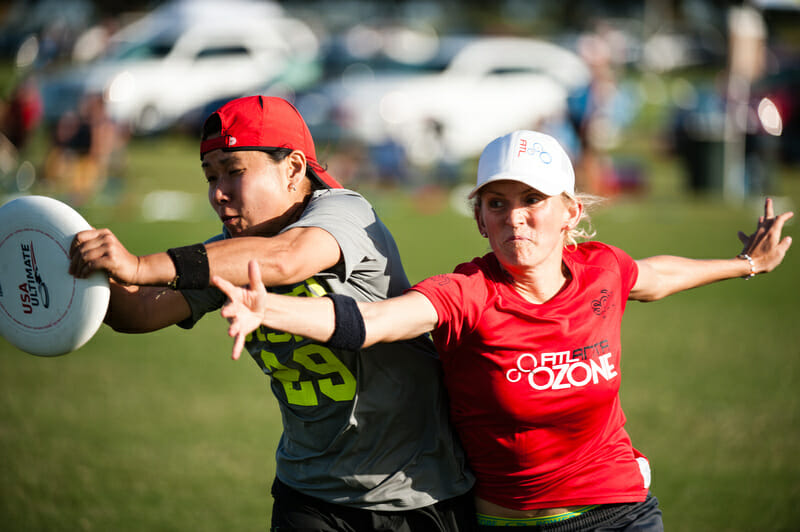 Boston's Brute Squad has a flush history of success on the club circuit. In the five seasons between 2006 and 2010, they have made it to the Club Championship finals once and the semifinals three times. They've done their part to contribute to the rich past of Boston ultimate. This year's Brute Squad, however, is looking away from the past and towards the future.
"We're a new team this season and we're focused on everything that's ahead," said captain Becky Malinowski.
It is a sound strategy. History hasn't helped the team avoid a 10th place finish at the Club Championships in 2011 or a 12th place finish last year. It could have been even worse, as the team narrowly held off New York's Bent for the final spot at the Championships from their region.
What will help is an impressive recruiting class, adding two big names and some solid pickups.
Brute Squad brings in a deep and talented crop of new players, headlined by two Callahan winners: Courtney Kiesow and Leila Tunnell. Kiesow (Heist) is new to the Squad, but Tunnell (Phoenix) returns to the team, and both are do-it-all types. Julie Eagle (Phoenix), handler Shira Klane (Pop), and Elana Schwam (VICE) each bring club experience right away. Michela Fallon and Mia Greenwald, each of Tufts Ewo, and Lauren Baecher of Vermont bring an infusion of youth.
"We have added some extra height and speed to our roster, as well as some new big throwers," Malinowski said. "We're also excited to take local college players Michaela Fallon and Mia Greenwald."
In addition to the players, the new coaching staff of the legendary Mike Zalisk and Chris Cianfrani should prove a valuable asset. Zalisk handles their big picture gameplan view while Cianfrani is tasked with improving individual skills.
The outgoing group lacks the cachet of the recruits, but Brute does lose a combination of up and comers and veterans. Tracy Woo is an experienced Boston-area mainstay whose presence will surely be missed. Chelsea Witt, Akina Younge (who joins Bent), and Laura McFeely will be missed. Emma Frankel, Claire Henly, and Aura Mackenzie exit as well.
"We are committed to improving the fundamental skills of every player this season and watching the team become greater than the sum of its parts," said Malinowski. "We're expanding our roles on offense, tightening up our defensive looks, and emphasizing the importance of in-game chemistry at practice so we have that to fall back on at tournaments."
In their first tournament, their home Boston Invite, they went 5-1, with wins over Nova and Stella, but an early loss to Bent. The Pro-Elite Challenge at Terminus in Atlanta will give them a chance to test themselves after a bit more seasoning.
With the U-23 World Championships taking place in Toronto, their roster will be missing a few folks. Claudia Tajima, Julie Eagle, and Hailey Alm will all be training with Team USA Mixed. There will still be plenty of opportunity for Brute to score some early season upsets.
Emily Baecher and Dory Ziperstein are family names in the game, but live up to that and more as throwing threats. VY Chow and Amber Sinicrope are both poised weapons, and Malinowski's height and athleticism make her a difficult downfield assignment. They have the offensive firepower to hurt teams quickly.
"Everyone on the roster has been impressing us at practice. We're seeing great potential in our younger rookies as well as big plays from Brute veterans that are moving into new roles for the first time," said Malinowski.
At this juncture, when offensive lines are still coalescing and playbooks are often thin, an impressive O-line can be scary to witness. Brute Squad has the ammo to provide some explosive scoring at Terminus. With them being targeted as an early season team to watch, eyes will be on them to see if they can burst onto the list of October contenders.
You can watch Brute Squad live this weekend during Ultiworld's coverage of Terminus.