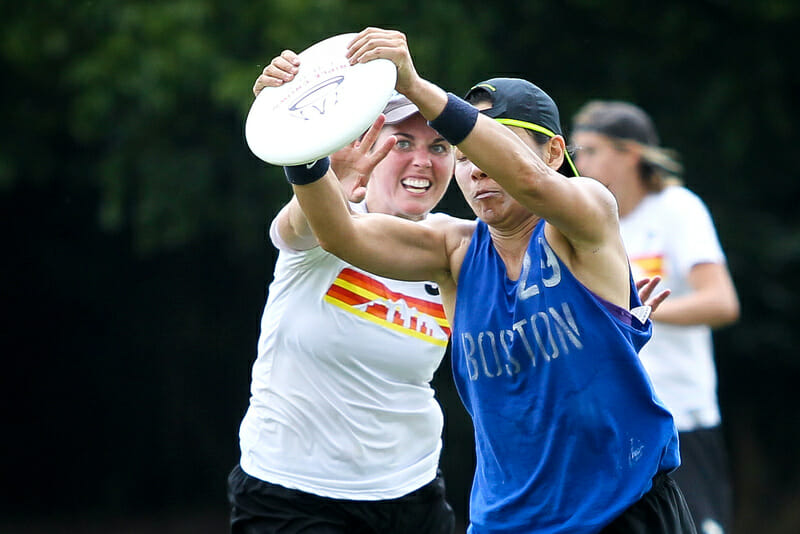 On a rain-shortened first day at Terminus, top women's teams from around the country set to work on their first big test of the season at the Pro-Elite Challenge of the Triple Crown Tour. Here are some stories from day one.
Atlanta Ozone and Boston Brute Squad On A Collision Course
Coming into the tournament, we had our eyes on Ozone and Brute in Pool A. Both teams justified the pre-tournament hype with strong performances throughout Saturday. Meanwhile, Capitals took control of Pool B and looks poised to make it to the Final.
Boston went 3-0, including a blowout of the #1 seed overall, Denver Molly Brown, in the final round of the day. Their closest score, 13-9, came when they opened the day against Portland Schwa. Despite missing Claudia Tajima, Hailey Alm, Julie Eagle, and Leila Tunnell, Brute Squad looked in control of each of their games.
Ozone's Saturday record was also 3-0, and their wins came in an even more dominating fashion than Boston's. The most an opponent scored against them was seven (Vancouver Traffic), and they gave up a combined five points in their other two matchups. Their roster is pretty much full, with a few players making their debuts this year. Miranda Roth-Knowles, of Riot fame, immediately asserted herself with her smooth and confident throwing prowess, racking up assists in her return to Atlanta.
"We'd love to win," Ozone Coach Chris Goodson told Ultiworld. "Its our home turf."
Weather Shortens Saturday, Makes Everyone Get Up Early Sunday
Players, coaches, staff, and media alike were excited at the prospect of 10:00 AM first rounds on both Saturday and Sunday. But an intense, nearly hour-long thunderstorm swept into the area, soaking the fields, with lightning flaring and sending the Terminus attendees scattering for cover.
The conditions created an odd set of circumstances. Many third round games were cut short, final scores recorded early. However, one game will need to be completed before the beginning of the 10 AM round Sunday.
In addition, the last round of Saturday will be pushed to Sunday morning, giving us two pool play rounds Sunday morning. The semifinals have been canceled, so the pool winners will play in the final, while the other teams will crossover to their opposite pool counterpart.
#1 Seed Denver Molly Brown Scuffling On Their First Saturday
It wasn't the best start to the season for the top ranked team at Terminus. Molly Brown, in their first tournament action of the season, went 1-2. They opened the day with a 13-7 loss to a shorthanded Traffic team and ended by getting thumped by Brute Squad. Between those games, they nearly went 0-3 facing off against Pool A's bottom seed, Portland Schwa. Molly would get a couple of breaks and then hold off Schwa to win 14-12.
After their 5th place finish at the 2012 Club Championships, it was an inauspicious start for the Colorado ladies. They lost some vets to roster turnover (Kath Ratcliff, Anna Schott) and were missing some pieces for U-23s, and had a decent amount of personnel transition on the whole. A less by-the-book seeding may have not had them so high so early in the year, when they are still piecing their game together.
Nemesis and Heist To Play Out Dramatic Ending, But Watch Out For Capitals
Chicago Nemesis and Madison Heist came into their matchup both 2-0 and played a very tight game on Saturday. The first half would go to Nemesis, breaking to 7-5. Madison would score twice in a row to tie it. At 8-8, Nemesis would notch a score just before the games were called, but not before Heist began their potentially game-tying possession.
Heist will start with the disc tomorrow morning and attempt to claw their way to an exciting comeback win.
Meanwhile, Ottawa Capitals sits atop Pool B 3-0. While their scores aren't as lopsided as their Pool A counterparts, the Caps have been in complete control of each of their games. Captain Malissa Lundgren has been a force, leading her team to victories over Hot Metal, Underground, and Nightlock.
With Ottawa still having Nemesis and Heist on their schedule, a three way tie is still a possibility. The change in format means winning the Pool is the only way to get a shot at winning the Pro-Elite Challenge.
Leah Tsinajinnie contributed reporting for this article.