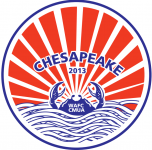 Get access to all of Ultiworld's full game footage from the 2013 Chesapeake Invite for one low price.
With high-quality 720p video filmed from a high sideline angle, you'll enjoy seven full games, edited crisply to eliminate stoppages, for just $12.
Purchase the package below or read on for information on all the games you will receive.
When you purchase the package, you will receive a PDF confirming your download. Within 12 hours (but usually sooner — within an hour during business hours), Ultiworld will then email you instructions and a unique coupon code to download the games at your leisure as they become available.
You'll get the following games:
OPEN
Ironside v. Truck Stop (Pool Play)
Chain Lightning v. Ring of Fire (Pool Play)
Clapham v. Ring of Fire (Pool Play)
GOAT v. Sub Zero (Pool Play)
Ironside v. Clapham (Semifinals)
Ironside v. Sub Zero (Finals)
WOMEN'S
Ozone v. Scandal (Pool Play)
Buy the package below: