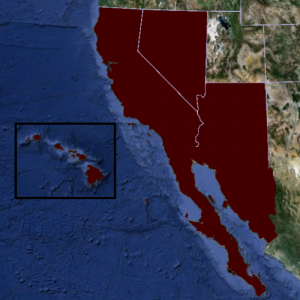 When the preliminary USA Ultimate end-of-season rankings were released, the Southwest Region was thrilled. San Diego Streetgang had landed at #16, three ranking points ahead of Portland's Rhino for the final strength bid position. That meant three bids for a region that had warred for two bids a year ago. The only thing that could possibly take away their bid would be an unlikely misreported score to the benefit of Rhino.
And that's exactly what happened.
Rhino had scored seven points against Doublewide in a game at Colorado, not six. They surpassed Streetgang by a single point in the final rankings to snatch the bid away from the Southwest.
And so we enter this weekend with the Southwest once again battling it out for just two spots at the Club Championships.
Two-time National Champion and 2013 Triple Crown Tour regular season winner San Francisco Revolver is the one seed and heavy favorite to take the first bid.
Revolver hasn't been as infallible this year as in years past after losing some of their veteran talent this offseason. Bart Watson and Robbie Cahill, among others, left the team this season and they lack the same visionary handling that has given them success in the past.
They are still immensely talented. World Games team members Beau Kittredge and Mac Taylor anchor the offensive cutting corps. Ashlin Joye (also a World Games player) and Nic Schlag are extremely capable behind the disc.
Andrew Hagen has been an impressive defensive pickup for Revolver largely after catching a break during the MLU's San Francisco Dogfish season, getting an opportunity to travel despite being only on the practice squad. He played his way into the starting lineup and impressed the Revolver captains enough to earn a spot on the team.
They have just four losses this season, but they looked susceptible at the Pro Flight Finale, where they eked out two double game point wins over Raleigh Ring of Fire and Atlanta Chain Lighting. They lost to Toronto GOAT and Austin Doublewide (notably, both games were the day's first).
Despite not being as dominant as in years past during the regular season, they are still the clear top team in the Southwest Region.
They will get an early test against Palo Alto Boost Mobile, the two seed in their pool and last year's other qualifier for the Club Championships. Boost dominated their Sectionals but hasn't played elite competition since Terminus in mid-July. There, they got a surprise win over Denver Johnny Bravo and also took down Minneapolis Sub Zero and Portland Rhino. They lost to Chicago Machine, Chain Lightning, and Washington DC Truck Stop.
From what we've seen this season, like last year, they are a young, athletic team with some outstanding rising talent (they lost some players this year to Revolver, including Evan Boucher). But with so little tournament experience against top teams this season, will they be prepared for what looks to be an even tougher year to qualify?
The Santa Barbara Condors, thanks to a 13-12 win over Boost in early June at Cal States, are the two seed this weekend. The Condors ran the table at Sectionals as well, never allowing more than eight points.
The Condors went 3-4 at the Elite-Select Challenge at Colorado Cup, getting a notable win over Florida United while taking losses to PoNY, Voodoo, Madcow, and Chicago Club.
Despite a lackluster regular season, the Condors, given their Sectionals results, have to be considered the favorite out of Southern California.
San Diego Streetgang, who nearly earned the region a third bid, had a better regular season, but had two disappointing losses at Sectionals to LA Renegade and Phoenix Sprawl. Streetgang, however, was missing some of its top players.
Renegade and Sprawl are also going to be right there with the rest of the pack looking for that second bid.
The Southwest has proven to reward the teams that show up hot at Regionals; this year should be no different.