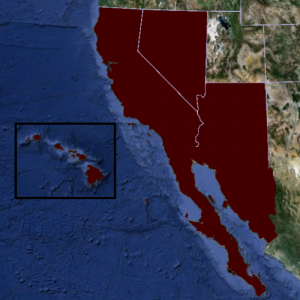 The Southwest knows drama. It seems like there's always someone looking to crash the party come a Southwest Regionals, be it Club, College, Mixed, Men's, or Women's. The talent rich region produces a lot of strong Ultimate teams, not the least of which is San Francisco Fury. Permit me to bore you with the numbers: 7 straight Club Championships, 18 wins this regular season, 1st place overall in the Triple Crown Tour rankings, won the US Open, three losses, two tournaments they didn't win. Wait, what?
It is harsh, surely, but they've set the bar high. This season they took three losses in one regular season – one of which wasn't to Riot or an international squad for the first time in 8 years. Both Riot losses knocked them out of winning ECC and the Pro Flight Finale. There are hints of vulnerability.
Yet there are also brightly colored signs of their indomitable strength. They're still Fury, and they're still the heavy favorite to win Southwest Regionals in Scottsdale, Arizona.
Things get really exciting behind the San Francisco giants, where the Bay Area ladies of Nightlock look to fight off regional competitors San Diego Safari and Los Angeles Viva. Nightlock is the smart money to take the region's second bid, having not only qualified for the Club Championships in their 2012 debut, but performing fairly well there. They've had some struggles against elite competition, and even a few slip ups against high-regionals squads, but have notched victories over New York Bent and Raleigh Phoenix.
Safari has been trying to claw back to the upper echelon of the region. They pushed for what would have been a crucial third bid, but now will have to upset Nightlock. It won't be the first time, as they beat an early build of the Bay Area's second squad at Solstice. Since then, signature wins have been tough to come by, as San Diego had a disappointing 2-5 showing at Colorado Cup and 3-3 record from Labor Day.
Fuel to the fire came in the form of Viva. Without many opportunities to see strong competition, their regular season lacks for big wins – their most significant is 13-10 over Jack Wagon – but then came So Cal Women's Sectionals. There, Viva would go undefeated, including beating Safari 7-5 in the final. With 20 mph gusts in the area, there's some chance that was a fluke, but Los Angeles has the chance to prove it wasn't.
The three teams battling for the region's second bid have all taken shots at one another. Nightlock is 1-1 against Safari and 1-0 against Viva. Safari is 1-1 with both teams. This weekend in Scottsdale has all the ingredients for another challenging and potentially surprising weekend that is the tradition of the Southwest.