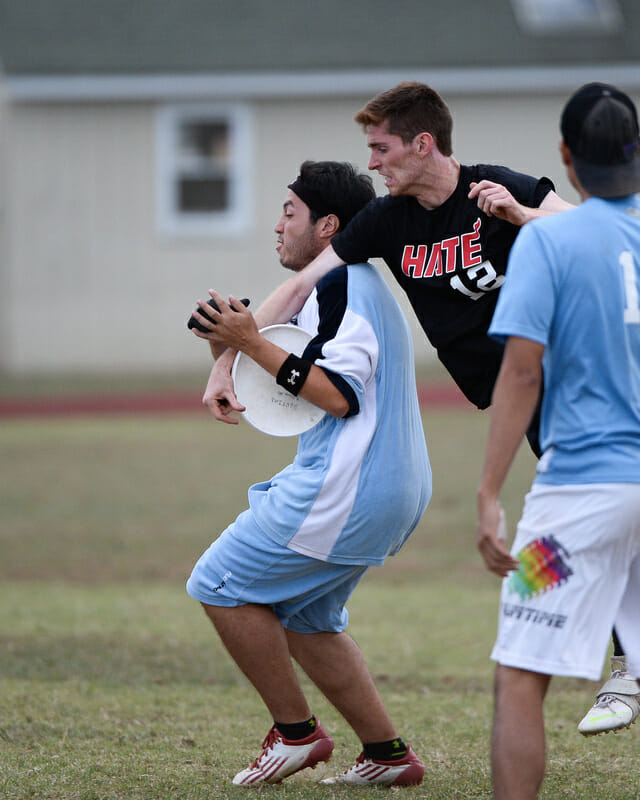 Pittsburgh Oakland sat their starters in a number of matchups today at Mid-Atlantic Regionals in order to finish as the four seed in their pool, giving them a quarterfinals game early against Washington DC Truck Stop, the #1 seed at the tournament.
Oakland lost to Lancaster (formerly Heva Havas), Phildelphia Hypnotoad, and Baltimore RUNTIME (who lost all of their other games) in order to fall to fourth in the pool. They got wins over Richmond Floodwall and Washington DC Medicine Men.
With Truck Stop winning their five games, the top two seeds at the tournament will face off tomorrow morning at 9 AM in the quarterfinals.
The strategic decision will allow Oakland to face Truck Stop with fresh legs instead of taking the more traditional route through the bracket, facing weaker teams during quarterfinals and semifinals.
With just one bid available to the Mid-Atlantic, the move could maximize Oakland's chances of taking the spot in Frisco, Texas, for the Club Championships.
Oakland was unable to be reached for comment by press time.
Many readers and analysts have discussed the possibility of teams throwing games at the Club Championships, in order to rest legs before a tough prequarters matchup. Oakland, a team known for a more casual approach to the game both online and on the field, may be the first team this season to aggressively take incentive-based losses — will they be the last?
***