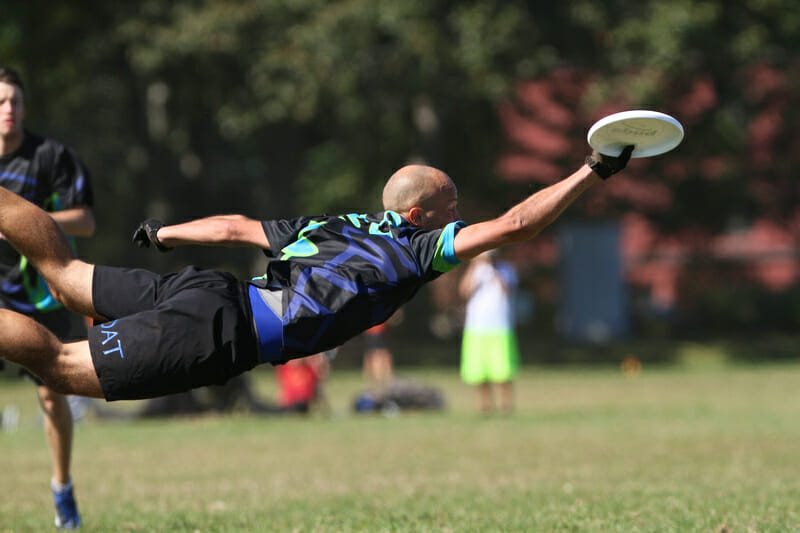 If you had to hand select a collection of teams that were both a) winners of an elite tournament this season and b) proven to be at the very top of the game when playing their best, you would be hard pressed to choose a better set than Pool B.
With the exclusion of the fourth seed, Madcow, all of the teams in Pool B have had outstanding tournament performances, although inconsistency is also a theme.
Here's a look each of the teams.
Is GOAT The Team To Beat?
Toronto GOAT is the hottest team in the game heading into the Club Championships, after slowly ramping up their performances from a lackluster Terminus (while running on a skeleton roster) to a strong Chesapeake (5-1 but missed the Championship bracket on point differential) to a Pro Flight Finale win and a Regionals title.
After taking down San Francisco Revolver in pool play, GOAT even gave themselves a strong case for having the #1 overall seed at the Club Championships.
Instead, they come in at #2 and in a much more treacherous pool than Revolver faces in Pool A. GOAT had a very tough matchup with Sockeye in the semifinals in Davis over Labor Day, and the 15-12 final score doesn't reflect just how tight that game was.
GOAT also battled it out with Sub Zero at Chesapeake and pulled out just a one point victory. They'll have to go up against them again and pull off what has always proven to be difficult (and is even more so this year): beat a team twice in a row.
GOAT has shown the ability to win the tight games all season, though, and they will be the favorite to take the top spot in the pool. Mark Lloyd is playing as well as anyone in the game right now, and he and Derek Alexander have been outstanding for the offensive line. Karl Loiseau and Jeff Lindquist have been very strong downfield.
Anatoly Vasilyev has been a beast on the defensive end, generating turnovers and then dominating the usage after the turn.
If those players stay hot, GOAT will be difficult to beat.
Sockeye Returning To Full Strength; Will The Team Come Together?
Sockeye's big tournament win came at the West Coast Cup. While the round robin format might not be quite as clear cut as a big finals matchup, their victories over Revolver and the Buzz Bullets made clear that they are in the hunt this season.
They have shown a predictable amount of inconsistency, considering that they have been missing many of their starters to injury or absence throughout the year. A lot of pieces finally started to return to the field for the Pro Flight Finale, but they only went 2-4. One of their wins, though, came against Doublewide.
When their offensive system is clicking, as it was against Doublewide and GOAT, they are tough to beat. The "small ball," angle-changing attack can shred even the toughest man defenses. But they often battle themselves, getting caught in more stagnant sets and watching the resets get increasingly difficult.
They will find themselves facing a challenging situation: bringing together a full roster for the first time at the Club Championships. There's no question they have the talent — from Matt Rehder to Tyler Kinley to Danny Karlinsky to BJ Sefton — but will they have the chemistry? There is no room for a slip up in the new format — every team will need their top form starting first thing Friday morning.
They'll face two distinct challenges in pool play: a patient but willing to shoot deep GOAT team and a fast and loose Sub Zero team. Both teams are very good, and will require major adjustments from the Sockeye defense. Sockeye failed to generate much pressure against GOAT at the Pro Flight Finale, only forcing two turnovers (and not converting either one).
Notable: Sockeye has played each three of their potential four prequarters matchups this season. They beat Doublewide and Ring of Fire, and lost to Ironside. Regardless, they'll be eager to win the pool and try to face the loser of Pool C on Friday morning.
Sub Zero Comes In With Question Marks
Here's a quick look at Sub Zero's tournament performances this year.
Terminus: 1-5, 11th place.
Chesapeake: 6-1, 1st place.
Heavyweights: 2-4, 5th place (thanks to power pool).
Sectionals/Regionals: Undefeated.
Even if we discount the Terminus performance (it was early in the year, they had a small team, etc.), Sub Zero has proven to be a very up and down team.
They were world beaters at Chesapeake, embarrassing Ironside in the finals and losing only one game, by one point, to GOAT, which has proven to be a very good loss indeed.
With Grant Lindsley behind the disc on offense and Nick Stuart running amok downfield, Sub Zero has a dangerous, free-flowing offense. But even more impressive at Chesapeake was the defense, which was energized and aggressive all weekend long, fueling the team's Championship run. And remember: they played at Chesapeake without Simon Montague. He's kind of an important pick up for the Club Championships.
ESPN's Ultimate color analyst Evan Lepler asked on Twitter yesterday about the team from the bottom half of the field with the best chance of making the semifinals. Sub Zero has been a very popular choice.
They will have their hands full with the two teams above them, both which play a radically different style of ultimate than they do. Controlling the tempo and pace of those games will be very important for Sub to succeed.
They'll also need to control their own emotions. This is a team that, by their own admission, is not particularly mentally strong.
But the talent is undeniable. Stuart and Montague will be very difficult matchups for anyone in the elite men's game, and Lindsley is a proven commodity. Lots of other strong rising stars like Josh Klane and Julian Childs-Walker fill out the roster.
Sub Zero's biggest problem may be Pool C. They are likely to have a prequarters game with one of last year's semifinalists. Will they have the experience and mental fortitude to pull off a huge win against the likes of Ironside, Ring, or Doublewide?
Underrated Madcow Looking To Play Spoiler
Columbus Madcow traveled to two elite tournaments this season — Colorado Cup and the Chesapeake Invite — and went a combined 3-11. Their only win against a Nationals bound team this year came against the 15th seeded Condors in Colorado.
But don't read too heavily into their results. They were battling injuries throughout the regular season, and have only returned some players to full strength at Regionals, where they took down a High Five team that had beaten many in the field at the Club Championships.
Kevin Ryan and Mitch Cihon were both running well below 100% for much of the season, and Dayton's Mark Fedorenko — the team's best rookie — are back at full capacity.
Look at their results at Chesapeake: they lost by two to Chain Lightning, three to PoNY, one to Truck Stop, and four to Ring of Fire. Could a healthier team come away with some wins? Hard to say, but Cow thinks so.
Michael Meilstrup and Nate Botti are playing great ultimate right now, and the team hopes to surprise the higher seeds in their pool.
It will be a long shot for them, of course, especially with a very tough prequarters matchup looming, but they will not roll over.