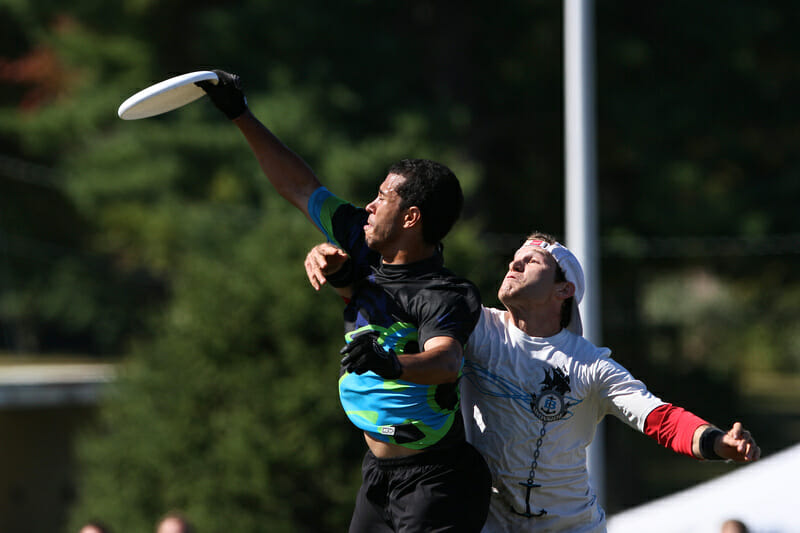 Revolver. Doublewide. Ironside twice. Sockeye. Chain, Truck Stop, Ring, and Subzero. All of those teams have fallen to a new-look Toronto GOAT team since the start of August. GOAT, who once seemed like a fringe Pro Flight qualifier, has become the hottest team in ultimate. If they keep up their recent form, they'll have a serious chance to win the Club Championship.
But GOAT won't be able to surprise the field like they may have at the Pro Flight Finale. Their stars — some a bit new, many with big international names — will be scouted and game-planned against. GOAT seems to have the skill at the top to compete with the best. But a few big questions will have to be answered in Frisco.
Is GOAT's top-heavy attack sustainable throughout an entire tournament when they'll be facing more game planning than ever before? And is GOAT's rise a statement of their quality or an inevitable development in a field with more parity than ever? If it's the latter, then Nationals may be some other team's time to shine, just as the Pro Flight Finale was GOAT's.
GOAT in a Nutshell
Overall Indicators:
Overall #2 seed at Club Championships
2012 Nationals Performance: Sixth place
#3 in Ultiworld Power Rankings
#6 in Skyd Power Rankings
#4 in USAU Club Rankings
Positives:
Won the Pro Flight Finale, the most elite tournament of the Triple Crown Tour, with a dominating Sunday performance
Won Northeast Regionals with a 15-12 win over Ironside
Employing a somewhat unique offensive style that incorporates lots of handler movement, short upside-down and bladey breaks, and a disproportionate sharing of touches (especially on their D Line)
Offensive line has big names and some international experience: Derek Alexander, Jeff Lindquist, Adrian Yearwood, Mark Lloyd, and Cam Harris
Mark Lloyd is playing the dominant cutter position as well as anyone in Ultimate this summer (even if his teammates disagree)1
Question Marks:
Some of the D Line players seem a bit raw for a Nationals run
Have struggled with time commitment, legs, injuries, and roster additions throughout the summer. Unclear that everyone can be on the same page. At some points they've been forced to conserve energy during games
This group of GOAT players has tons of experience, but not past 6th at Nationals
Leans very heavily on their handler stars like Alexander and Anatoly Vasilyev. Unlikely to win a big game if those two play below average
Season Recap:
Think back to the end of July. Team Canada, expected to be a World Games title contender, had instead scrapped into the third place game. The ending to that game was so call-laden that it led many Ultimate fans to call for observers in WFDF games. Furious George lost five games at Club Terminus, while GOAT lost three. Of particular concern to GOAT was that regional rivals PoNY and Ironside were having some of the strongest early seasons in the entire Open division.
Two months later, it's the end of September, and GOAT is unquestionably the hottest team in all of ultimate.  In early August, the Toronto Rush took home the AUDL title.  Yes, the AUDL is unquestionably weaker than the other elite Ultimate scenes. But the win would be a harbinger of what was to come: Lloyd was named MVP while Lindquist and Adrian Yearwood were also turning in strong performances.
The other August warning sign to the Ultimate community was GOAT's performance at the Chesapeake Invite.  The tournament format did them no favors, where one point kept them out of the semifinals.  But we noted at the time that they were being especially patient with the disc and wrote that at "full strength, this GOAT team will be very dangerous."
The cat finally came out of the bag at the Pro Flight Finale.  A shorthanded and depleted GOAT roster upset Revolver in Round One before losing Mark Lloyd and Karl Loiseau and finishing Saturday with two losses. But they rallied back on Sunday with three impressive victories against Ironside, Sockeye, and Doublewide to take the tournament title. They reinforced their contender status with a win over Ironside at the finals of Northeast Regionals.  If anything, they're now underrated at #3 in the Ultiworld power rankings; the #6 ranking by Skyd looks like a joke.
Projecting GOAT's finish in Frisco probably entails throwing out those Terminus results, anyways. Coach Scott Hastie told Ultiworld that the team was missing Lloyd, Lindquist, Yearwood, Harris, Alexander, and nine other currently rostered players.
"We could have gone o-fer and it wouldn't have said that much about where we were or where we were going to be," Hastie said.
Playing Style:
GOAT is playing an innovative offensive style, one that can be exciting for spectators but a bit confusing for other teams who may still be adjusting to it. Of course it helps when your highest usage players — handlers Alexander and Vasilyev, and cutter Lloyd — are playing at the top of the game.
Talk to other teams about the GOAT offense and you're likely to hear words like "patient", "stingy", and "efficient."  They really don't seem to care about how many passes it takes to work it down the field. The handlers in particular enjoy throwing the disc between each other — they want to be the ones with the disc in tough situations — almost relegating the cutters to secondary roles in the offense. Another notable feature is that GOAT prefers to use upside down passes and scoobers as short, quick resets rather than big zone breakers.
Almost paradoxically, they also like to look deep, especially on the D Line. The end result is that you may see ten or fifteen two yard passes (some unconventional) between the handlers before the disc all of a sudden goes deep.  Even Hastie realizes there's been a stylistic change in the team he's coaching.
"[Some of the older guys] are realizing that we have great players and that risky chances for big plays aren't our only option," he said. "Our mental state has improved our patience to wait until the time is right to send off shots. Boom!"
Yet, one curious implication of GOAT's style is that open side under cuts are less prominent than in their peers' game.
The structure itself is usually a vertical stack in the center of the field, though the O Line also employs a hybrid side-stack/split-stack concept with five cutters downfield (three on one sideline, two on the other).  While this setup generally incorporates a "pull play" to Lloyd or Yearwood, GOAT seems less married to their initial action than other teams that often rely on set plays.
On defense, GOAT primarily plays man defense but will occasionally play a wall-like junk structure. The wall look is primarily designed to slow down other teams and stop their pull plays and was generally ineffective at generating D's — except when it is sneaky effective like it was against Doublewide in the finals at the Pro Flight Finale (Doublewide unknowingly threw into two layouts in the middle wall).
A lot of the defenders are young and fast, and they made a surprising amount of plays on deep shots at the Pro Flight Finale. One question is whether that level of playmaking is due to Toronto's long rebuilding/influx-of-youth plan2, or if it's destined to regress some to the mean.  An equally important question is whether this playing style is sustainable on the star's legs in a four-day tournament where every game counts.
GOAT can't slip in Frisco like they did Saturday afternoon at the Pro Flight Finale. The problem was evident in the first half of GOAT's Ironside game at Northeast Regionals: Vasilyev commanded the D Line offense for 20 throws before trying to squeeze in one throw too many, throwing it out the back of the endzone. The GOAT players who are asked to do a lot, over the course of a game or a tournament, will have to avoid the urge to try and do a bit too much.  But if they do that, Toronto's GOAT may just be able to take home a USA Ultimate title.
Likely Ceiling: 
National Champion. GOAT is the hottest team in Ultimate. They have stars and they have a system. We've seen them win games where they were missing players, games where they started off rolling, and games when they've had to come back after starting slow.  "We throw to open players and take what is given," Hastie said.  "[Against Ironside at Regionals] we had to win ugly. I am fired up that we can win pretty and win ugly. I expect we will need both in Frisco."
Likely Floor: 
Quarterfinals exit. The team is not as deep as some of the other contenders and their recent hot streak could fade as quickly as it came. If they drop a game in pool play, they'll have a tough time recovering — and they'll face a potential quarterfinals matchup against Revolver. "We know that it is a deep field and that we can only manage the process," Hastie told us.  "We feel we have a really deep team and if we stick to the process we can get good results."
Worst Match-Ups: 
Revolver. GOAT has shown a slightly more calm and patient attitude than some other scary teams in the tournament. That helped them get wins against Ironside in the regional finals and Doublewide at the Pro Flight Finale.
Even though they have the head-to-head win against Revolver, they have to know that Revolver will play a cleaner game if the two were to meet late in Frisco. No team focuses on the little things as well as the San Francisco team, and, above-all, that's what it takes to beat GOAT: A clean game with 100% focus throughout.
Another team to keep an eye on: Doublewide. They have bounced GOAT in the quarterfinal round for two consecutive years.
---
From the GOAT Blog: "The game started with Lloyd flipping and winning the flip so we were dark. Then Lloyd received the pull and flipped it to Lloyd. Lloyd then hucked it to Lloyd and then flipped it into the endzone – where someone else dropped it. Then Lloyd got the D. Lloyd hucked it again but someone else dropped it again. Then they scored, it looked close but the observer – Lloyd – called it in, which was the correct call. Before the next point Lloyd called a new play – but Lloyd thought we should do another play instead so he suggested that and Lloyd agreed. It was a good idea, and Lloyd hucked to Lloyd to tie the game. At 8'5″ a huck to Lloyd is often a good choice."  http://www.goatultimate.com/ ↩

Hastie talked to us a bit about that process: "In 2010 GOAT did not qualify for finals. In 2011 we had a huge setback (Canadian Nats). Add that to a number of other setbacks at tournaments you could say there were some lows. Even last year there were some things that slapped us in the face. All of these grew the team immensely. We have a good group of players that have improved and matured. All of the things that we have learned over the last few years have informed what we are doing now. This includes how we train, practice, strategize, think and feel." ↩