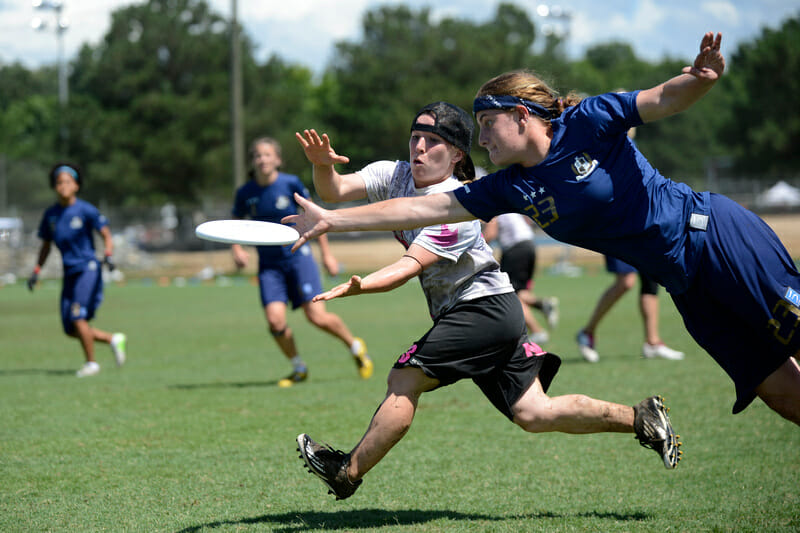 The rise of Washington DC Scandal has been well documented, while Boston Brute Squad came into the year surrounded by hype and growing expectations. Now the two stand prepared to position themselves to make the type of run expected of them. Each appears to have all the qualities of a team that could contend for a berth into the semifinals, or even beyond. Scandal has their eyes on the prize, but Brute Squad represents a serious first obstacle on Thursday.
Meanwhile, Molly Brown and Schwa each return to the Club Championships, not afraid of the competition. It appears as if the pool will be split between these two match ups.
Scandal (3) With a Small Margin for Error
The story of Scandal has been one of the newest member of the elite tier. Spending their first year in such a category — a full season where expectations were for them to perform on the level of Riot and Fury — has, for the most part, been handled with grace. The team is experienced and confident.
At this point, the talent level is undisputed. No longer are we shocked to see Scandal go toe to toe with the top teams of the women's division. Beating Showdown 15-5 at the US Open or Capitals 15-6 at the Pro Flight Finale isn't the news item it once was. With two Team USA team members, a Team USA Coach, a legend of the women's game, and now even a Team Canada member in the fold, we know they have the muscle to win.
The knock on Scandal has been their consistency. While they have some great wins this year — beating Riot 13-7 at the US Open, Nemesis 15-11 at the Pro Flight Finale, and the aforementioned thumpings of Showdown and Capitals — they also have blemishes on their record. Marring their season are a 15-14 loss to Ozone (and they played a close game at the Pro Flight Finale), a blowout loss to Riot at the US Open where they gave up eight points in a row, and an overall 1-3 record against the Seattle women.
Inconsistency reared its ugly head at Virginia Fusion, where they played Brute Squad twice. While the tournament was unsanctioned, at this late juncture teams were looking to put together solid performances. In both games, Scandal let Brute Squad get the jump on them in the first half. Each required comeback efforts from the DC team.
The good news is that Scandal managed both of those comebacks, and are 2-0 against Boston this year.
Knowing they can beat Boston without playing their best is a comfort, but the Championships is a time where they can ill afford inefficiencies or mistakes. If they want to beat the best, their margin for error is slim, especially at a tournament where elimination play starts so early. The Brute Squad game will test them on Thursday.
No Excuses for a Talented Boston Squad (6)
Coming into the season with two Callahan winners being added to the roster, plus a slew of other strong players, tends to up the ante. Brute Squad comes into tournament as one of the teams expected to compete for a semifinals spot.
Brute Squad has been limited by being outside of the Pro Flight this regular season. Club Terminus's context of being early season and featuring teams with shortened rosters lowers the value of those results. Boston traveled to Colorado Cup and Virginia Fusion, as well. The wins they accrued, like victories over Heist, Molly Brown, and a trio of wins over Phoenix (not counting wrecking them at Terminus), tell a story of a team ready to meet those expectations.
The make up of the team's roster supports that story, too. Leila Tunnel, Emily Baecher, Dory Zipperstein, and Amber Sinicrope give them a group of the game's top throwers. Courtney Kiesow, Laura Bitterman, Julie Eagle, Michaela Fallon, and Becky Malinowski are difficult downfield matchups. Add in threats like Claudia Tajima and Hailey Alm, and it is little wonder why they are a tough pool two seed to draw.
Pool play will finally provide an opportunity for Brute to prove to the other teams, sideline observers, and themselves that they can beat the elite. Twice at Fusion they put Scandal up against the wall and both times, DC forced themselves free and put Brute down. Otherwise, they have little experience against the strongest competition, having not played any of the other pool one seeds.
Conversely, they could choose to take their chances with the third finisher in Pool C in prequarters. Boston has beaten both Heist and Phoenix this year and may choose to conserve energy. That doesn't sound like the team they've put together, though.
Young Molly Brown (10) Looking to Break Out Again
People have spent most of the season looking past Molly Brown. That won't bother them at all. Chances are, people looked past them last year when they came in a pool three seed. It didn't stop them from making the quarterfinals. It was the second straight year they'd gone that far.
Of course, this isn't the same team that made those runs. Ultiworld's team preview of Molly detailed the youth movement of this younger Denver team. Carolyn Matthews leads that new generation, a block-generator on the team's defensive line, powering their offense after the turn with her throws. Megan Cousins, Sophie Herscu, Amanda Good, and Nhi Nguyen all have the opportunity to impact games, show their growth, and preview the possible future of Denver women's ultimate.
The team will be hoping their growing pains are mostly over. The season up to this point hasn't yielded the brightest results. There was a 3-3 opening at Club Terminus, with all of their losses by 6 or more. Then came Colorado Cup, where they'd stumble against Bent, falling 13-11. That was followed by a 2-4 showing at the Pro Flight Finale, only to lead up to losing to Showdown twice at South Central Regionals.
Potential has also been flashed. Wins over Ozone and Capitals in Davis still shine nicely, as do victories over Showdown and Nightlock from Colorado Cup.
Molly Brown is a deep and balanced team, which may not do them as many favors at the Club Championships as it once would have. It'll be interesting to see how they manage their personnel over Thursday and Friday. Beating either Scandal or Brute Squad (whom they failed to defeat at Colorado Cup, losing 12-7) will be a tall task. Scandal, in particular, may hold significance to Molly Brown's small crew of returners; it was DC who bounced them out in the quarterfinals at last year's championship tournament.
Schwa (15) Won't Just Be Happy To Be There
As the Pool C four seed, Portland again has a tough road if they want to succeed. Luckily, it is a road they have traveled before. Like Scandal, Schwa begins the Club Championships seeded the same as the year before. As a very young squad that wasn't a lock to make the Championships, Schwa looked a little star struck last year. They went into the year having only beaten one team in the field — in-region rival Seattle Underground — and were blown out at the Championships by everyone they faced, except Underground.
This Schwa team is different. Their season so far says as much. Last season, they didn't come close to beating the types of teams they played at the Club Championships. In 2013, they have one win against the field (12-10 over Phoenix at Club Terminus), and some competitive performances (12-14 vs. Molly Brown, 9-12 vs. Heist) against stronger teams. Expected a much tougher out from a more composed and competitive Portland squad.
The team is built around some big time athletes working with Emilie McKain. McKain is small in stature, but big in throws. Kimber Coles, Alex Ode, and a host of others provide the legs to the team needs. A few other experienced throwers see a lot of touches. The team with needs its athletes to play pressure defense and attack downfield to find success in Frisco.
Pool Predictions
The theory exists that if two teams are close in talent, and play two close games that the same team wins, the third game usually goes the other team's way. Scandal's inconsistency could also be cause to see Brute Squad pulling an upset. Still, they have shown their talent and match up well with Brute Squad. Scandal is likely to go 3-0.
Brute Squad shouldn't have trouble with either of the other team's in the pool and Molly Brown gets a scare from Schwa before pulling it out.