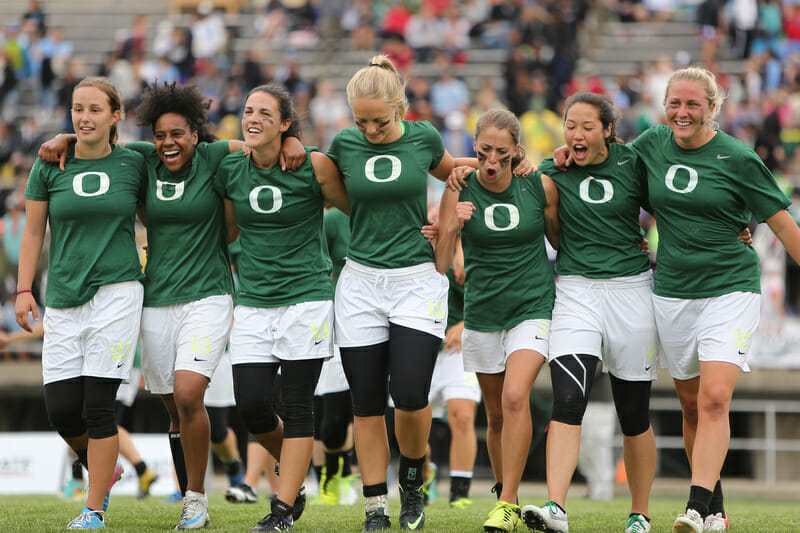 With the Club Championships now in the rear view mirror, the ultimate world will begin to turn its attention back to the college game. While it's still very early (we're still weeks away from the premier fall tournaments), there is plenty to talk about. Here are ten of the top stories we'll be following this season.
Is a Fugue Repeat a Reality or a Dream?
For five years, Oregon Fugue has been a dominant force in college Women's ultimate. In each of those years, they've made it to the semifinals or beyond at the College Championships, including winning it all in 2010 and 2013. They're coming off of a season in which they lost just a single game. In fact, at Nationals this past year, they turned in a sterling performance, with only one team (Iowa in the semifinals) even cracking double digits on them.
With a core group anchored by Ashley Young, Alex Ode, Jesse Shofner, and possible Callahan shortlisters Bethany Kaylor and Sophie Darch, they'll again be expected to be one of the top teams for the duration of the season. While they'll be without 2013 Callahan finalist Bailey Zahniser, along with the athleticism of Anna Almy, Morgan Zajonc, and Kimber Coles, their returning class will still be one of the most fearsome in the country. Lou Burruss is at the helm, so expect strategic adjustments to capitalize on the team's strengths and a new crop of athletes to emerge.
Can they win the back to back? Who can even stop them? Well, they should expect to see some strong competition close to home.
Northwest Looking to Continue Dominance
The Northwest has captured three of the past four Championships (Oregon and Washington) and was arguably the strongest region in the country last year. The Northwest claimed four bids to the Club Championships and feature three of the powerhouses of the division in Oregon, Washington, and UBC. This year, four bids may not be enough.
At the top, Washington will enter the season as a favorite to bring home another title. Element returns six of their top seven, including U-23 players Amanda Kostic and Shira Stern, the latter of which is also wrapping up her rookie season with Seattle Riot. All-Region 2nd Teamers Alysia Letourneau and Barb Hoover, along with Sarah Edwards are scary as cutters. Lucy Williams (All-Region 1st Team) brings back her veteran handling skills. Matching up with a team with this strong a top seven will be extremely difficult.
It'll be a challenge for UBC to rebound from losses of Catherine Hui, Rena Kawabata, and Crystal Koo. On top of that, Ellen Schelew, Amanda Ho, and Carolyn Churchland depart from the roster. Still, the Thunderbirds' cupboard is far from bare. Laurel Jay will transition into being one of the team's top handlers, but the return of Team Canada member Mira Donaldson should serve to keep UBC in the hunt. Donaldson is just a sophomore, but is one of Canada's most talented female players, and could be one of the women's divisions elite talents. Amira Maddison will be another name to watch, along with Terynn Chan and Amy Luo.
The three top teams figure to remain highly ranked squads, but the Whitman Lady Sweets, Victoria UVixens, and Western Washington all look strong. Whitman, in fact, will be one of the buzziest teams coming into the year.
Whitman proved to have a deep and intelligent team at the College Championships last year, and return two of their top players in Ari Lozano (2013 FOTY) and Julia Bladin (All-Region 2nd Team). The news for them is the addition of two former Team USA WJUC players, Margo Heffron and Claire Revere. Both are playmaking athletes that will be thrust into large roles from the get go.
New Faces of the Callahan
There's space for new stars to shine in the college women's game, with all five of last year's Callahan finalists leaving the college game. Last year's College Championships gave us a look at some of the names we'll be talking about in 2014.
Sophie Darch represents a very likely candidate for the Callahan. The Paideia product has spent a number of years as the throwing hub of the Oregon attack, and, honestly, was probably the best player on Fugue as a junior. While her senior teammate Zahniser was nominated last season, that honor should be passed on to the best handler – and maybe player – in the division.
Lisa Pitcaithley stands a fair chance at making a run as well. Coming off her rookie year with San Francisco Fury, where's she been a highly productive downfield threat, Lisa P. has a chance to make even more waves in her second year with UC Santa Barbara. At last year's College Championships, she was positively dominant. When she's called "unstoppable", it is not hyperbole.
After those two, there are a number of possible candidates. Alika Johnston (Virginia) may lead that pack with her tough-as-nails approach on both sides of the disc. It is tough to say who emerges from the Element group, but Amanda Kostic (Washington) could be the one with her dynamite throwing arsenal. Speaking of throws, Sunny Harris (UCF) returns for another season of skies and flick hucks. Shellie Cohen (UNC), Cassie Swafford (Ohio State), and Cami Nelson (Iowa State) are all other names to keep an eye on.
Ewo's Next Generation of Stars
Tufts Ewo rose through the ranks to become a contender over the past two seasons, headed up by the star duo of Claudia Tajima and Hailey Alm. With that pair gone, Ewo will hand the keys over to a couple of new studs. Chief among those will be Qxnha Titcomb (All-Region 2nd Team) and Michaela Fallon. Fallon is a big strong athlete finishing up her rookie year with Brute Squad. Titcomb's a complete package of cutting, throwing, and defending. Mia Greenwald, another Brute rookie, will take on a bigger role and Emily Shields (All-Region 1st Team) — who missed the Championships last season with an injury — could break out as a star, no longer in the shadow of Tajima and Alm.
They will remain deep as their younger talent continues to develop. Sophomores Jojo Emerson (All-Freshman) and Laura Fradin (All-Freshman) provide a lot of strong play from the handler position. They bring in one of the country's top rookies in Rachel Kramer from Paideia, and typically benefit from the strong youth scene across the state.
Carleton Reloads For 2014 Title Contention
Out of context, a team that brings Julia Snyder (All-Region 1st Team) — who would be in Callahan contention were Carleton to nominate players — Kirstie Barton (All-Freshman), Brianna Rick, Lucia Childs-Walker, and Emily Buckner looks like a contender to win the North Central and a semifinals team at the Championships. It is only when you look at what they did last season and with whom they accomplished so much that you pause about Syzygy's prospects.
Gone are Anna Reed and Taylor Want, two of the team's top handlers. The towering Flannery McArdle and Marlena Hartman-Filson depart, along with cutter Grace Quintana. That's a significant amount of Carleton's production last year walking out of the door.
However, Carleton has one of the strongest pipelines to youth Ultimate in the country and you can expect them to have some powerful new additions. Snyder and Barton will be one of the division's best throwing duos, while Rick and Buckner give them some big targets. Syzygy should remain a contender.
Can the Atlantic Coast Rebound from a One-Bid Season?
The Atlantic Coast Region suffered through a tough regular season that resulted in them earning just a single bid the Championships. That left three strong teams – Virginia, North Carolina, and UNC-Wilmington – slugging it out for the singular ticket to Wisconsin. Virginia came out on top, but UNC will be looking to take back the AC title. Last year's competitive season may have created stronger teams able to get more big wins during the year.
Virginia lost some good talent in Katrien Hinderdael and Mary Kelly, but return a strong group capable of defending their regional crown. Johnston (All-Region 1st Team) is one of the game's elite handlers and defenders, and she'll be supported by a crop of speedy players. Theresa Hackett is a big time athlete who figures to force a significant number of turnovers this season. Sarah Hansen, Michelle Mockrish, and sophomore Rebecca Meeker (All-Freshman) will all be called upon to step up.
North Carolina features one of the county's best duos in 2013 All-Region picks Shellie Cohen (another player who could enter the Callahan conversation) and Lisa Couper. They'll add new Phoenix teammate Adrianne Soo, a grinding cutter transferring from Duke who will miss time after knee surgery this club season. Their player development is also solid and they have access to North Carolina's impressive youth talent pool.
UNC-Wilmington loses the most, with Callahan winner Claire Chastain, who has been the heart and soul of the program for the past few seasons, graduating. Sadie Gosselin (All-Region 2nd Team) will be asked to shoulder much of the Seaweed load. They have added some impact freshman – like 6'0″ youth star Klara Calderon-Gouth – and have some players they expect to step into big roles and deliver, but it'll be an uphill climb.
Competition Creates Strength in the Southeast
Like the Atlantic Coast, the Southeast Region is hoping their increasingly competitive region will create stronger teams capable of more success on the national stage. The region captured multiple bids last year and will be aiming to repeat the accomplishment. Early signs indicate they have the strength to do so.
Central Florida returns its top talent, and should they find role players to make up for their losses, figures to be an early favorite after a great season last year. Reigning POTY Sunny Harris and her All-Region teammate Mariel Hammond figure to be racking up stats as the Sirens tick up the wins. Tweaking their famous zone should keep the region on its toes and allow them to continue tearing up opponents with fast break scores.
Georgia lost quite a bit of talent, but do retain Ozone teammates Lane Siedor and Hannah Leathers. They'll still be one of the region's deepest and most skilled teams and those two will be a challenge for even the best teams to deal with. Dawgma 's roster features some young players ready to step up into bigger roles and they can be expected to remain a top team.
Florida FUEL may prove they are the most disciplined team in the region, behind the coaching of Lili Morris. They are deep, with a lot of throwing talent, and perform with a high level of execution. If their athletes — emerging cutters Sarah Gardiner and Emily Witt — deliver, they will be more than capable of a return to the top of the Southeast after a third place finish last season.
Florida State brings back two of their three most talented pieces (4-time All Region handler Megan Reeves and Tabby Rosa's Kristin Lloyd) and have athletes champing at the bit to become some of the team's top producers. Led by Kari Tomarelli, if those athletes develop and the Seminole Ladies play within their system, this team could again challenge for a bid to nationals.
Ohio State Out to Prove They're a Program
The Women's game has been battling against a Fever for the past few seasons, with the Ohio State ladies rising to be contenders on the national stage. A deep team complete with high end talent, young up and comers, and strong coaching, Fever has been a threat.
With their Callahan Finalist Paige "Diddy" Soper graduating, the question becomes what kind of program OSU really is. Soper's exit will be monumental for Fever, and losses of Janine Walker, Kelly Wild, Jenny Perry, and Sarah Craycraft, among other veterans, will make that transition even tougher.
Fortunately, Team USA U-23 player Cassie Swafford (All-Region 1st Team) and star freshman Nina Finley (All Region 2nd Team, FOTY) are both back, buttressed by 2nd team All-Region players Katie Backus and Caitlin Harley. They'll look to players like Liz Gates, Lauren Franke, and Cate Ramsey (coming off a year away from the team) to step up into bigger roles. They'll again be the favorite to win the Ohio Valley Region, but the question is just how far they can go against Nationals competition.
North Central Facing an Exodus of Talent
Chelsea Twohig, Jen Nowak, Bekah Hickernell, Magon Liu, Rebecca Miller, Natalie DePalma, Sarah Meckstroth, Andrea Crumrine, Emily Regan, Anna Reed, Flannery McArdle, Taylor Want, Biz Cook, Rebecca Enders, Sara Scott, Anna Shanedling, Sydney Dobkin, Amelia Cuarenta, Emily DePalma, and Marlena Hartman-Filson.
That's the list of most of the North Central's best talent from the five teams that qualified for the College Championships last season. Of the 14 players on the 1st and 2nd All-Region teams, only four return (Liza Minor, Julia Snyder, Cami Nelson, and Sara Pesch) to their respective teams.
That isn't to say talent won't remain. Carleton will be the favorite after last year's Finals appearance at Nationals, but a lot of questions will surround the other teams. Iowa played Oregon tight in the semifinal, but loses so many valuable pieces. Anna Pritchard, JoJo Petersen, and All-Freshmen selection Elizabeth Gronert have to play well for them to stay near the top of the region.
Wisconsin didn't deliver at nationals, but returns Al Ellis and Lorraine Guerin, among others. Bella Donna has Robyn Wiseman stepping into Alex Snyder's coaching slot, and her familiarity with the region should help the team position itself near the top of the NC.
Minnesota has reigning FOTY Greta Regan and potential breakout star Sarah Anciaux, plus Mindi DePaola all returning. Iowa State brings back two of the region's best in Nelson and Pesch, plus Brittany Grimm.
The fall will give us a clue where the region might stand, as will some early spring tournaments. While many of their teams will still be in the mix, the Norht Central will be hard pressed to collectively repeat last year's success.
Colorado Set for Resurgence, Flywheel Aiming to Bounce Back
Two storied programs missed out on the College Championships last year: Colorado Kali and Michigan Flywheel.
Kali is primed not only to challenge for a spot at nationals, but to be one of the nation's best teams. While they lose Amanda Good and Anna Updyke, they return Good's U-23 teammate Meagan Cousins and Molly Brown's Dori Franklin. In addition, Christina Mickle rejoins the team. Nhi Nguyen, a former Team USA U-19 stud and Molly Brown rookie, and an army of Colorado youth players are being brought in, and Molly Brown's Carolyn Matthews will be helping coach.
Much of Texas's top talent is moving on, leaving the door open for Kali to conquer the South Central once more. With such a talented young team and good coaching from Jack McShane and Shannon Waugh, that should help bring them together by the end of the year.
Michigan's situation has some similarities to Colorado's. Meeri Chang, lefty handler extraordinaire, is coming off of a year with Polar Bears. Jacqueline Jarik & Becky "Tots" Moore spent a year learning from the veterans of Nemesis and Bailey Torvinen returns as a captain. Northwestern, who beat Flywheel in the game to go last season, loses some of their best players. Last season was a struggle for UM, but it may have just made them stronger.
What are you watching for in the upcoming college season? Let us know in the comments and stay tuned for our preseason college rankings to be released tomorrow!