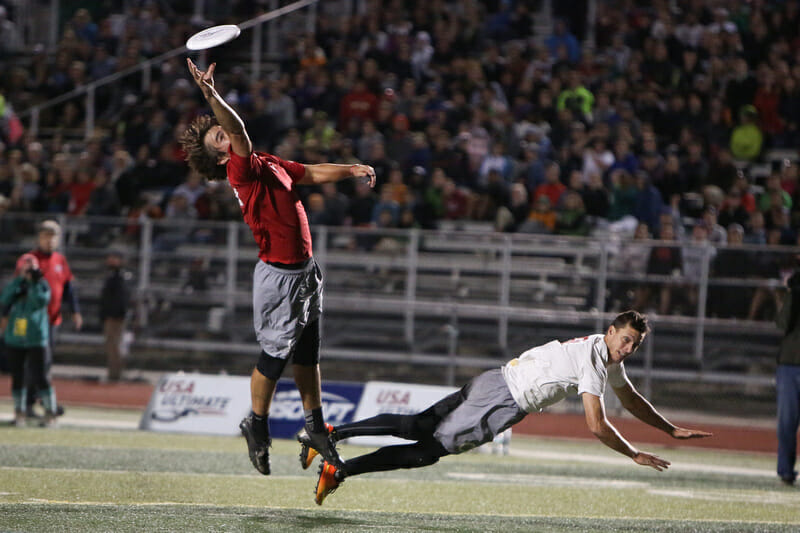 For over a year, we've been working on improving statistical evaluation of Ultimate teams and players. One of the most exciting parts of that project is the tracking of elite club teams at the US Open and Club Nationals. Thanks to wonderful volunteer coders, the Ultiapps statistical tracking system, and the support of VC Ultimate, we were able to track every pass from many of the top teams at these high profile tournaments.  If you would like access to the numbers generated, you can subscribe to the Ultiworld stat packages.
Of course, numbers alone will never be able to tell the story of the top players.  We picked our first and second All-Club team using both subjective analysis and the advanced statistics. We know that our tracking system isn't perfect: We only tracked eight mens teams all season (some with more games than others), we don't get every pass perfectly, our yardage figures are just estimates, amongst other issues.  But having an idea of the faults helps us incorporate the valuable statistical information even better.
All-Club First Team
Beau Kittredge (Revolver)
It doesn't take statistics to see just what a dominant force Beau Kittredge is on the field. Fresh off of a gold medal with the World Games team this summer, Kittredge dominated at the Club Championships, providing the most potent offensive threat at the tournament.
In the finals, he scored or assisted on 10 of 14 goals. He ranks at the top in both offensive and total expected contribution. Simply put, he was the most valuable offensive player — and arguably the most valuable overall player — over the course of the season. With 23.1 involvement yards per offensive possession, he was 3rd overall, behind only his Revolver team mate Ashlin Joye and Doublewide's Kurt Gibson.
No player can stretch the field quite like Kittredge, who is such a threat deep that he is often able to leave huge amounts of room for his teammates in his wake or come underneath for large gainers himself. He is not the best with the disc — which is reflected in his 94.1% completion percentage — but he is very capable and knows his own strengths and weaknesses very well. He uncorked a number of creative throws in the finals for assists.
With an above average Ultiworld D rating to go along with his superlative offensive numbers, Kittredge is a no-brainer first-team All-Club selection.
Jimmy Mickle (Johnny Bravo)
Jimmy Mickle may just be the most well-rounded player — and perhaps the most exciting player under 25 — in the game today. Mickle was outright unstoppable at the Club Championships: chomping up yardage, skying multiple defenders, getting huge blocks, and throwing dimes into the endzone from distance.
His stats say it all. He was the most valuable player we tracked this season in a holistic, all-around ranking that averaged multiple variables into a single score.
He led the Men's Division in goals+assists per offensive possession1, he ranked fourth in total yardage per possession with 22.2, he had an outstanding 97.6% completion percentage, ranked 1st in offensive expected contribution, and 5th in the Ultiworld D rating. And he did that while playing more than 10 points per game.
That's an absurd stat line that no other player came close to matching across the board.
He has great field vision and is the quintessential offensive triple threat with great cuts, throws, and leaping ability. He routinely made huge plays look effortless. If this is what Mickle looks like in the club game, he is going to utterly dominate this year in his fifth year at Colorado.
Josh Markette (Ironside)
It sometimes feels like Josh Markette flies under the radar on Boston Ironside, as he is flanked on offense by big names like George Stubbs and Peter Prial. But the real key to the smooth flow of the Boston attack is the 5'8″ Markette.
Cricket, as he's known to many, is a hardened veteran who still makes the game look easy. He always seems to find the right space to cut into and, from there, has an arsenal of dangerous throws. He is one of the top pure throwers in the game today.
In combination, those two skills are lethal. He lays down 19.4 yards per offensive possession (more than Stubbs or Prial) and does it with a 96.4% completion percentage. His high ultimate IQ helps him make the right decisions with the disc as well, resulting in him being a top 10 player in offensive expected contribution.
Although Markette is not a great defensive player, his importance on offense is great enough to land him on our first-team All-Club list.
Ashlin Joye (Revolver)
Kittredge's partner-in-crime, Ashlin Joye may have been the 2013 Club Championships MVP for his performance in Frisco. He was outstanding throughout the tournament and particularly in the finals against Sockeye, where he continued to make the big throws and plays for Revolver (while Kittredge racked up the scores and assists).
Joye led the Men's Division this year in involvement yards per offensive possession with 26.17. Combine that with his top 10 usage rate of 19.3% and you see a player operating at the top of the game and a vital component of the Revolver offense.
The one knock on Joye may be his 94.0% completion percentage, which is below average. His role on the team and high usage will lead him to more turnovers, though, and both the semifinals and finals were bruising turnover-filled games, negatively pinging his score in our small sample of games.
The fact remains that Joye is one of the great handlers of our time and played some of the best ultimate of anyone this year at the Club Championships.
Danny Karlinsky (Sockeye)
It was difficult to select a player from Seattle Sockeye to represent the team on this list. The team dealt with injuries all season long: Karlinsky was out until the Series.
The team is so deep and balanced on offense that few players stand out statistically as true game changers for the team. But, at Nationals, it was Karlinsky who stole the show. Providing steady leadership and smart offensive and defensive play, he was a big part of their return to the finals.
Particularly, he was a huge boon to the team offensively and finished among the top 50 in most of the statistical categories we tracked. He did not throw the disc away a single time — both our stats and USA Ultimate's have him with zero turnovers.
Many other players from Sockeye — Tyler Kinley, BJ Sefton, Chris Kosednar, Frank Barich — finished in the top 25 in an all-around ranking, but Karlinsky was in the top 5.
Kurt Gibson (Doublewide)
Kurt Gibson, the defensive line stalwart for Austin Doublewide, was out much of this year with lingering injuries. He returned to the field for the Pro Flight Finale and immediately made an impact, proving that he remains one of the premier players in the country. Many consider him to be among the top two or three best in the world.
His stats from the Club Championships bear that out. He is the lifeblood of the defensive line after the turnover. With a very high 24.2% usage, he still managed a 97.1% completion percentage. He charted 25.2 yards per O possession and an impressive .27 goal+assists per O possession.
At 12.6 points per game, he was ranked 4th in playing time.
Gibson is very good at using his big frame to get off throws from multiple heights and angles. He can put up massive hucks. He is also always a threat to go downfield and use his height in the air.
While he didn't play outstanding defense in the games we tracked, he is a smart defender. He may have suffered a bit from playing such a short season.
Mark Lloyd (GOAT)
While many may point to GOAT's fall in the prequarters to Doublewide as a sign that they were overrated since the start of the season, one thing is certain: Mark Lloyd is not.
Lloyd, a member of the 2013 Canadian World Games team, was one of the top three players in the game all season long. He got the most playing time of anyone — 13.6 points per game — as he frequently crossed over onto defense, a sign of his versatility. Armed with huge throws and big playmaking ability, he has become one of the game's most elite players.
He was above average in every statistical category, notably finishing 4th in goals+assists per O possession with 0.3. He was 12th in involvement yards and 14th in usage. Despite playing heavy minutes, he still managed to be a top 50 defensive player, finishing at 47th in the Ultiworld D rating rankings.
The stats can't capture the level of skill he plays with at times, from coming up with huge layout blocks or placing a pinpoint huck in the back of the endzone.
Ultiworld 1st Team Statistics
| Name | PPG | G+A/OPoss. | Yards/OPoss. | Usage | Compl. % | Def. EC | Off. EC | UW D Score | Total EC |
| --- | --- | --- | --- | --- | --- | --- | --- | --- | --- |
| Mickle | 10.4 | 0.34 | 22.2 | 14 | 97.6 | 1.7 | 8.6 | 1.52 | 11.1 |
| Kittredge | 8.33 | 0.27 | 23.1 | 18.5 | 94.1 | -.2 | 5.8 | 0.7 | 6.5 |
| Karlinsky | 8.25 | 0.2 | 14.8 | 15.6 | 100 | 0 | 6.4 | 0.77 | 8 |
| Lloyd | 13.6 | 0.3 | 19.6 | 18.2 | 93.8 | .6 | 4.4 | 0.65 | 5.6 |
| Joye | 10 | 0.26 | 26.2 | 19.3 | 94.0 | -1.3 | 5.4 | 0.06 | 5.9 |
| Gibson | 12.6 | 0.27 | 25.2 | 24.2 | 97.1 | -2 | 6.1 | -0.02 | 2.8 |
| Markette | 9.31 | 0.23 | 19.4 | 16.8 | 96.4 | -3.2 | 5.3 | -0.39 | 4.9 |
---
among players with at least five points played per game ↩