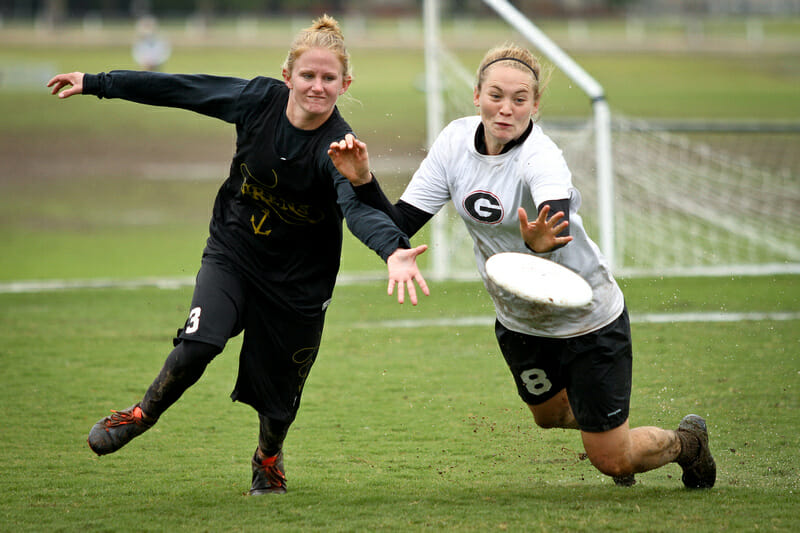 Full Field Hammer, the author's former blog, transitions to Ultiworld as a Southeast-focused vertical.
The Southeast Region managed to win two bids to the College Championships last season, a major step forward for the typically one-bid region. They weren't too far off winning a third. The distribution of talent across the country has the fight for bids growing more and more competitive. In that changing context, a team's schedule has become increasingly vital to their own – and their region's – success.
In the SE, that effect goes deeper than nationals bids, all the way to regionals. The Gulf Coast Conference has long been a one bid conference, but they don't look to be satisfied with it any longer. The texture of the Southeast landscape is about to change, as bids to Regionals become tougher to secure for mid-tier teams.
The Nationals Bid Battlegrounds
Four programs have asserted themselves as likely to be in the mix for bids to Cincinnati: Central Florida, Florida State, Florida, and reigning regional champ, Georgia. This is due to a mix of performance history, talent level, and tournament schedule. How these teams perform at the following tournaments will determine the fate of the region.
Florida Winter Classic is not just a regional tournament this year, but it still kicks off the Southeast season. Every major competitor for the regional title is in attendance. Ohio State (UW #8) and Northeastern (UW #17) give the Southeast teams targets for rankings-boosting wins. Early season victories over Central Florida (UW #9), who is likely to hold a high rank, are also valuable. Florida State (UW #23), Georgia, and Florida need to capitalize on the opportunity.
Queen City Tune Up has a powerful lineup, full of heavy hitters from the West Coast. Seven of the top ten teams in the Ultiword Power Rankings and 14 of the top 25 will descend upon North Carolina. Among them are three of the top four teams in the Southeast: Central Florida, Florida State, and Georgia. FSU's performances against Ohio State and Georgia helped them all of last year, while Central Florida's victories more or less gave the Southeast its second bid.
This year, preliminary pools show UCF has three top 25 teams in their pool, while Georgia and FSU begin Saturday with two each. Every team here is likely to be in the mix for Nationals at the end of the season and big performances can be very helpful. A Georgia win over Carleton or a Florida State upset of Tufts or North Carolina would be exceedingly meaningful.
Presidents' Day Invitational may be all the way across the country, but with Florida FUEL boarding flights to head to California, it could prove relevant to the region's bid situation. Last year's tournament featured Oregon and Washington – ranked #1 and #2 in this year's Power Rankings – along with UBC, Colorado, Dartmouth, and every notable California squad.
Music City Mash-Up may prove more important at the Regional level than National level for the Southeast, but the presence of Georgia Dawgma makes this one worth noticing. Georgia is slated to tangle with Ohio State, Texas, and Wisconsin, along with Pittsburgh and Illinois. There's some potential for Division-II team Emory to get an impactful win, if the tournament plays out like last year.
Women's College Centex is just weeks before the bids are finalized. At that point in the season, what makes W's in Texas so crucial is that the field is loaded with teams fighting for those last strength bids. There are just enough top end teams – North Carolina, Iowa, and UCF – here to offer those teams hope outside of beating each other.
FSU and UF will both be attending, quite possible in Division-II. Don't let that fool you; last year, D-II team Northeastern scored critical wins to help get their region a second bid. The field is one of the strongest of the year (along with Stanford, NW Challenge, and QCTU) and as the bell tolls, the pressure is on, and the cream gets the chance to rise to the top. The Southeast region – along with many others – will be watching this one closely.
Conference Clashes – The In-Region Slate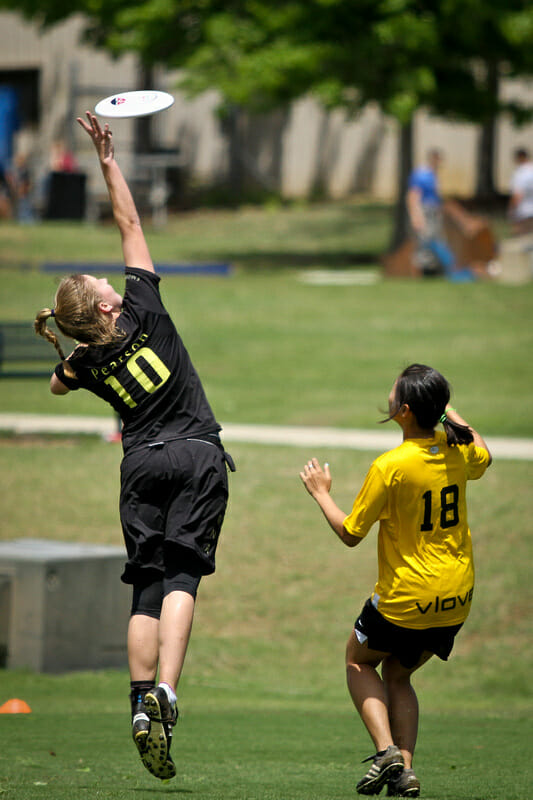 The Terminus rainout last season postponed a shift in the Southeast Regional landscape by a season. The Gulf Coast stands poised to rip bids out of the hands of the Florida and Southern Appalachian (SAPP) Conferences.
With bids to Regionals tougher to obtain, expect Conference Championship weekend to be a tighter affair. In the past, Florida and SAPP teams have been pretty comfortable, but with fewer bids, the margin for error for mid-tier teams will shrink. The days of B-teams making it to Regionals are nearing an end.
Florida Winter Classic sets the table for the season in the region. Wins among the region's elite will inform Regionals seedings, while mid-tier and lower-tier teams will shape the regionals bid picture. The potential emergence of the Gulf Coast hinges on their teams getting the requisite rankings and getting 10 games played; they did the former last year, but not the latter.
Alabama, Kennesaw State, and Tennessee are the teams to really watch here. Emory, Georgia Tech, and South Florida have typically been pretty comfortable in their respective Conferences, but the Bama ladies have something to prove to make the Gulf Coast multibid. KSU and Tennessee each will need to try to hold onto bids for the SAPP, as the back end bids from the SAPP and Florida Conferences are in danger.
The Division-III games and Sunday games take on some added meaning in that respect.
T-Town Throwdown (Feb 1-2) pits most of the Gulf Coast against one another in something of a Conference Championship preview. Tulane and Alabama highlight the lineup, with potential for Vanderbilt and Auburn to join in, as well. Whichever team is notching good in-region wins at this point will need to stave off their Conference competition from cannibalizing bid-earning ranking points.
Moonlight Invite (Feb 22-23) is a first year tournament in Atlanta, gathering every team in GA (except UGA), along with Alabama, Vanderbilt, and out of region teams Clemson, Brown, and Cincinnati. Like FWC, these will be important games for both Bama and Vandy to keep trying to add to the Gulf Coast's cache. Kennesaw State and Georgia State will be battling with those Gulf Coast teams to protect the SAPP's bids.
Tally Classic (Mar 8-9) will have both host team Florida State and potential ranking points up for grabs with mid-tier out of region competition. Alabama and Georgia Tech are both likely entrants into the fray, and it wouldn't be surprising to see USF as well. Tulane's performance at this tournament was the tournament's biggest story last year; someone else can fill that role this year – perhaps fellow Gulf Coast squad, Auburn Nova, who is slated to attend.
Music City Mash-Up (Mar 8-9) features some of the teams at the water line who will be fighting to keep above it. Georgia State, LSU, and KSU are all lined up for Division-III, while Emory, Vandy, and potentially Tulane are in Division-II. The divisional connectivity presents unique opportunities to all of the teams.
College Terminus (Mar 15-16) was the Gulf Coast's grave last year. With the 10 game minimum in sight for multiple teams, the tournament was rained out, and regionals bids washed away.  The tournament is moved up a week, but Tulane, Alabama, KSU, and Georgia State are all indicating they'll be there. An appearance by Auburn is not out of the question. Good wins will be available and the warring factions of the SAPP and Gulf Coast will be butting heads again.
College Southerns (Mar 22-23) is a decidedly Georgia affair. Georgia Tech, Emory, and GSU will all be there, along with the host Georgia College (who is again going D3 this year). If any of these teams are on the bubble for earning their Conference a regional bid, this will be one of their last chances to make a difference by picking up wins.
Correction: Vanderbilt has stated they will not be attending Music City.