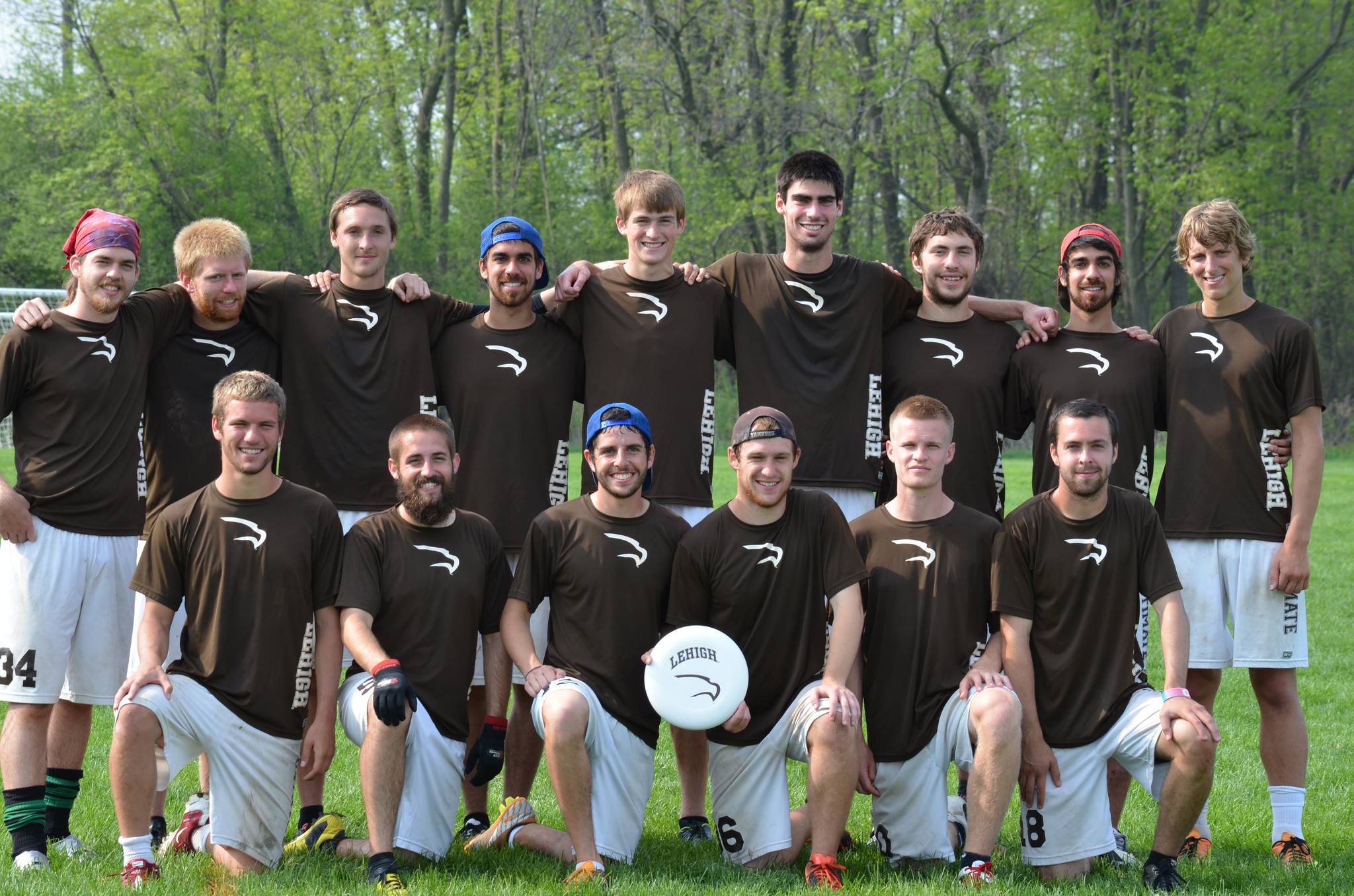 Disclosure: The author plays for Ohio Wesleyan's Ultimate team.
The Ohio Valley is one of the most consistently strong regions in D-III ultimate. Headed by elite national teams in Kenyon and Lehigh and filled with a plethora of competitive teams close behind, the region produces close competition every year; expect the same this spring.
The Favorites
#11 Lehigh: After winning Ohio Valley Regionals last year and tying for 5th at D-III Nationals, Lehigh looks to improve upon that performance this spring. With a dominant fall (winning HIAPP, winning Hucks off the Hilltop, and losing to NYU in the finals of Fall Brawl) that included wins over Virginia Tech and Stevens Tech, Lehigh is the favorite to claim the top spot in the Ohio Valley once again this year.
With the D-III Ohio Valley Player of the Year in Nicolas Mathison returning for his senior year, as well as the progression of a strong sophomore class, Lehigh looks to make a run at the D-III National Championship. Mathison is a large target who works hard for the disc and will prove a difficult cover for the region. Sophomores David Bloodgood, David Betz and Ziv Artz will look to supplement the team's top talent, playing key roles on the team's O and D lines. After struggling with what assistant captain Jeff 'Byron' Gilbert termed a "rigid" system, Lehigh has been more fluid and experimental while maintaining O-lines and D-lines. Lehigh's looks to take advantage of an outstandingly athletic, veteran-heavy A-team of 19 players in their pursuit of the National Championship.
#8 Kenyon: While unsure of whether they plan to remain in D-III competition or return to D-I for the series (D-III Nationals conflicts with Kenyon's graduation again this season), Kenyon looks primed to be a dominant team in the Ohio Valley region for yet another year.
Despite losing team leader Jordan Rhyne, SERF is deep enough to continue to compete. Even though they had a shaky fall season, SERF returns a strong group of players that includes All-Freshman Sam Graf and Alex Piper and includes good depth and talent all around. Look for Corey Barber-Bockelman to utilize his 6'5" frame and make plays for the Kenyon D-line. After tying for 7th at D-I Ohio Valley Regionals last year, Kenyon could return to D-III — where they would have been ranked #2 overall last spring had they not decided to play at D-I Regionals.
Close Behind
#15 Xavier: Another solid team in the thick of the Ohio Valley, Xavier suffered an early regionals knockout in quarters last year to Messiah despite a successful spring. Most notably, BLOB worked their way to a 7th place finish at Chicago Invite.
On the offensive side of the disc, the team relies heavily on co-captain senior Alex "Bear" Raihi as a main handler to help drive their offense. On the defensive side of the disc, junior Patrick "PC" Cannell will be relied on heavily as a key cog in BLOB's defense, boasting a great mark and intense man defense. However, many of the players, including these two, can contribute on both sides of the disc, which is what makes this team so dangerous. Returning All-Region First Team players in John Cassidy and Michael Lopez, the team looks to be gearing up for a deep run in the series. While still experimenting with the idea of O-Lines and D-lines (as well as A/B squads as a result of the largest freshmen class in recent history), Xavier should be competitive with just about any team in the Ohio Valley.
But can they again have a strong regular season and earn a strength bid for the tough region? After a great performance and 6th place finish at T-Town Throwdown last weekend that included routs of Vanderbilt and Harding (ranked #24 in Ultiworld's D-III Power Rankings), they look to be perfectly capable of doing so.
Ohio Wesleyan: The Firedogs had a surprise showing at the Ohio Valley Regionals last year: they defeated Denison and Dickinson on double game points during bracket play before going on to lose decisively to Lehigh in the finals, 15-2.
OWU looks to capitalize on a strong returning class this spring. With one of the best senior classes in the region including captain handler Max Richards as well as cutters Zach Ford (played for the nationals-level club team Madcow last season) and Lucky Mosola, among others. Freshmen recruits Sam Schurer (Oakland) and Gabe Kaufman (Amherst HS) have made immediate impacts on the team, bringing in valuable experience as Ohio Wesleyan looks prime to compete this year. An impressive fall featured a first place finish at Oberlin's Force Freedom and a second place finish at Fall Brawl IV in which the team defeated Ohio State 14-10.
In terms of play style, the Firedogs have begun experimenting with lines on offense and defense; using both vertical and horizontal stacks as well as working on focusing on man-to-man defense could help explain some of the team's success so far in the fall. The Firedogs look for a chance at redemption as they compete for a bid to D-III Nationals.
Dickinson: Last spring, Dickinson tied for third at regionals; more importantly, since then, Jive Turkey has not lost any players while adding a promising freshman class. A relatively successful fall that included wins over Georgetown and Carnegie Mellon at Hucks Off the Hilltop gives some indication that Dickinson can compete for a Nationals bid this spring.
In terms of play style, this team isolates their top playmakers and isn't afraid to jack the disc on offense. On defense, they'll throw a zone with a physical mark in any conditions. Captain Simon Freeman has stated that the team does not plan to stray far from their play style last year, but will always be willing to expand or contract their offense depending on the situation. Returning main handler Trevor Griesman, who was traveling abroad in the fall along with a few other players. After losing in the semifinals on universe point last spring at regionals, Jive Turkey looks for redemption this year and will be aiming for a bid to Nationals.
Messiah: Always a dangerous team, Messiah was able to make it to the semifinals of Regionals before losing to Lehigh, who would go on to represent the Ohio Valley at D-III Nationals. After what was called a rebuilding year last year (the team had lost 12 seniors), Messiah returns with a young squad looking to challenge for a bid to D-III Nationals. Co-captains Ethan Peck and Mike Stephan have praised the team's deep, athletic roster as capable of taking Mammoth Rebellion far in the spring Series.
Oberlin: Tying for 5th at Regionals last year, Oberlin was also knocked out by eventual champion Lehigh in a tight game that ended 14-12. Oddly, that was the closest game Lehigh played at Regionals, winning every other game by three points or more. Oberlin looks to challenge the top teams in the region once again as they return many core players and develop a large freshman class.
Denison: After an impressive spring last season, Denison came into Ohio Valley Regionals seeded second, but were knocked out in the quarterfinals by Ohio Wesleyan on universe point. This fall they have struggled some, and will need to rebound in the spring if they want to have a good performance in the series. Keep an eye on how this team progresses.
On the Fringe
Pittsburgh-Johnstown: Looking to rebound from a disappointing regionals in which they went 2-5 and were outscored 65-44 overall, Pitt-Johnstown will need to be more consistent and effective in their play to challenge for a bid this spring.
Haverford: After a successful spring, Haverford struggled at Regionals, missing bracket play and finishing 1-3 on Saturday. However, they have been adamant that they have recruited well and are better than ever before; their fall performances reflect this, as they finished second at Haverween and Dirty Bird, and third at Jersey Devil. The Donkeys will look to redeem themselves this year.
Wooster: Despite a disappointing series last spring, Wooster looks to be shaping up well this year. With over 40 players regularly coming out to play, according to player Adam Shapiro, RAMJAM can be as deep as anyone in the region. The return of captain Zach Sheehan (abroad last spring) and Sam Schopler (recovering from a torn labrum) will help Wooster compete.