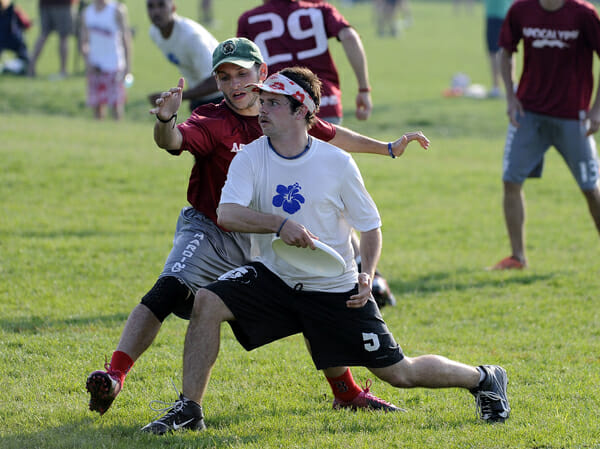 Disclaimer: The author plays for Saint John's
The North Central D-III Region last year was, to put it lightly, a disaster. Despite having three of the top 16 teams in the country, the region only earned a single bid to Nationals, a bid that Carleton GOP procured at a blood-soaked regionals.
Traditionally the region is a three-dog fight between Saint John's, Saint Olaf, and GOP, but the rest of the division is steadily improving. One thing is certain: This region is going to do everything in its power to procure as many bids to Nationals as possible.
#3 Saint John's
The Team Formerly Known as "BAM" is prepped for a big 2014. Although Andrew "KJ" Johnson (1st Team All-Region) has graduated and taken his talents to Minnesota Grey Duck, SJU has a senior-heavy class that is hungry for a National championship.
Last year, SJU failed to qualify for Nationals for the first time since the D-III division came into existence; they hope to bounce back right away. To do so, SJU will need a strong showing at both D-III Warm-Up and the Chicago Invite. Sadly, they will be without Pat Kunkel for Warm-Up (ankle). However, Kunkel was injured for the entirety of conferences and regionals last year. Learning to play without him will certainly benefit the team in the long run.
Captains Nihal Bhakta and Dan Cahill (Both 1st Team All-Region) will be steering the Monkmobile this season, and they hope that 2014 will be the year they finally reach their destination: a national title.
#5 Carleton GOP
GOP had some of the most significant turnover not only in the region out of any D-III team. They lost arguably the best player in the nation last year in Rhys Lindmark, as well as major offensive and defensive forces in 1st Team All-Region players Niko Duffy and Peter Rogers (respectively). They also lose 2nd Team All-Region players Scott Graber, Will Gagne-Maynard.
With all these important guys leaving for the real world, GOP might as well just give up right now, right? Not so fast: GOP has always been an incredibly deep team, and there are plenty of fresh, talented faces waiting in the wings. Matt Godfrey, though small, plays great defense and will be relied upon to lead this young team after a disappointing finish last year.
Obviously Godfrey can't carry the entire team on his back, and others will need to step up, such as Ian Fischer, Mike Chappell, and All-Freshman Jake Yankoviac. GOP will kick off the season by traveling to D-III Warm Up, followed by Trouble in Vegas and finally Southerns before they start the series. Their tournament selection either shows that GOP has made playing out-of-region competition a priority or that they're sick of how cold Minnesota is.
#16 Wisconsin-Parkside
UW-Parkside is perhaps one of the biggest possible surprises in D-III this year. They had a fantastic fall, taking down North Park on route to a K-Town Throwdown title. Parkside will rely on their best player, Kevin Petit-Scantling (Madison Radicals), to play a majority of their points and keep the offense rolling. Although this is only the third year that they've been a team, Parkside hopes to thrust themselves into the NC discussion.
#17 Saint Olaf Berzerkers
The Zerks were only 2 points away from a Nationals berth last year, falling to GOP in the game-to-go 13-15. Olaf, like the rest of the NC, will try to make regionals decidedly less interesting by procuring a strength bid. Olaf will have to go on without mainstay Charles Whitmore (2nd Team All-Region) leading them.
This weekend, Olaf will make the trek to Riverside, CA to play in their first DIII Warm-Up. With the three typically top NC D-III teams in Cali, it'll be interesting to see if how the teams finish at Warm-Up is the order of they finish at the end of the season. With the parity in this region, that seems unlikely.
Led by Ben "Jackie" Liska from the cutter position and John Knapp at handler (Both 2nd Team All-Region), Olaf hopes to get back to Natties after a one-year hiatus. 
Grinnell Grinnellephants
Grinnell, after an unbelievable semifinals appearance at Nationals in 2011, hasn't returned to Nationals since. They are eager to get back to the bgi show. "We've had our best fall season in memory in spite of injuries to a good number of our experienced players," the Grinnell Captains (Evan Ma, Tim Villanueva, and Carter Wiese) told Ultiworld.
They return almost all the main pieces from last year, and have their eyes set on earning a strength bid for the NC region. With a relatively easy schedule that includes trips to Midwest Throwdown and the Woodside Invite, they might be able to build up their total number of wins and boost their rating high enough to get a strength bid.