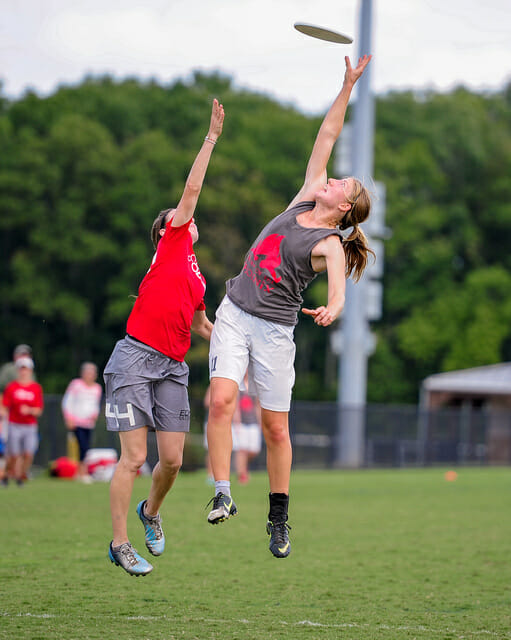 #6 North Carolina is coming off a huge fall, where they established themselves as a serious title contender. Unfortunately, an injury has dealt a major blow to Pleaides' season: star cutter Lisa Couper suffered a ligament injury that will likely sideline her for the year.
Couper, who spent her time since last college season winning gold in Toronto at the U-23 World Championships and going to Club Nationals with Raleigh Phoenix, is an elite workhorse. Together with Pleaides handler Shellie Cohen, Couper formed one of the nation's most imposing 1-2 punches.
"I love playing with Lisa," said Cohen, a captain on UNC. "She's going to be very sorely missed. Its definitely going to be a struggle."
Cohen and Couper have spent a lot of time together, as Cohen joined Couper both in Toronto and on Phoenix, and have grown very close.
"I know injuries happens all the time," said Cohen, "but when an ACL tear happens to your teammate and one of your best friends in her last year of college ultimate it hurts harder than I thought it would."
While Cohen and Couper are far from the only weapons North Carolina had in their arsenal, they often did the most damage. Without Couper, others will have to step up and carry the heavy load she took on for both their offense and defense.
"Lisa is an incredibly hard worker and having her get injured is likely the biggest blow this program has taken in a long time," added Cohen, "That being said, we also have the strongest team we have had in a while as well and I hope that we have it in ourselves to come back from something like this."
Cohen felt confident the team has the tools to succeed, even with Couper on the sidelines. She pointed me to the day Couper suffered her injury, in a showcase scrimmage against Phoenix. After Couper went down, Phoenix went up big, but Pleaides was able to fight back, and eventually win the scrimmage.
With captain Bridget Walsh and the athletic Kendall Beadleson both returning after missing the fall, North Carolina may have the pieces to continue to perform at an elite clip. Phoenix rookie and former Duke star Adrianne Soo is also nearing her return from the injured list. Pleaides is a tightly knit group with strong leadership and pedigree.
How the team responds to a very difficult challenge over the next weekends will be very telling. This weekend they host Queen City Tune Up, a tournament where they have historically been highly successful; they'll face tough opponents such as #4 Tufts and #18 Michigan.
In case that wasn't enough of a test, they play back to back tournaments, traveling to California for President's Day, another tournament with stiff competition.
A serious injury like this undoubtedly changes North Carolina's season; it is an uncontrollable. How they deal with that change, however, is up to them. The results will likely speak for themselves.
Injuries happen, and athletes know they are a risk every time they take the field, but nobody ever wants to see them. In particular, serious injuries to senior players are heartbreaking. Ultiworld wishes Lisa Couper the best of luck in her recovery.