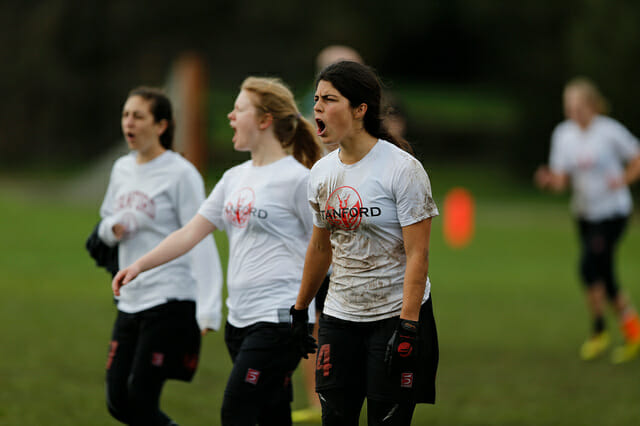 The days and hours leading up to what would eventually be the 8:00 AM start time of the Stanford Invite were fraught with obstacles. Questionable weather forecasts and conditions made the field situation increasingly challenging, and the field sites were split and changed. A new women's tournament director was brought in and pools rearranged twice. When tragedy struck the Carleton community, the tournament structure was hit with a team dropping, a new team being brought in, and pools switching around once more.
Many uncontrollables contributed to the chaos that preceded play in Palo Alto. But then cleats were donned, discs flipped, and pulls went up. Teams were suddenly dealing with controllables and the excitement began. The results really set up expectations for the series and potentially the College Championships.
#6 Western Washington Chaos Isn't Up & Coming – They're Here
Way back before the season was really underway, we were talking about Western Washington as a team that could breakout this year in the competitive and high powered Northwest region. Coming into Stanford, Chaos hadn't seen many strong challenges, losing just a single game at the hands of #1 Oregon. They had to fight their way into the field by winning the Stanford Open over #22 UC-San Diego.
When finally faced with accomplished opponents, Western acquitted themselves gamely. A 5-2 weekend was highlighted by a blowout semifinal win over a humming Stanford squad, along with a win over Santa Barbara on their way to the final.
WWU kicked off the weekend with the tournament's first upset, beating UBC 10-7 in the first round. They added another ranked win by beating #20 UCLA. Then, Chaos demanded attention by beating UC-Santa Barbara. It is true that they caught the Burning Skirts tired — UCSB had just played back to back double game point battles — and Western was coming off a bye. It clearly impacted the result. But you can't take away from the performance that eventually served as the tiebreaker that got Chaos into the semis.
The semifinal against Stanford was Western Washington's crown jewel. Understanding that, like UCSB, Western caught Stanford coming off a hard capped and hard fought game (against Oregon), it is notable that Chaos immediately applied a ton of pressure. Their deep game, highlighted by bombs from Callie Mah and Abbie Abramovich, burned Stanford again and again. Superfly seemed hapless and struggled to string together the smooth and lengthy possessions that had characterized their weekend up to this point. WWU dominated on their way to a 15-5 thrashing.
"On offense, we made big athletic plays," said Abramovich, "and [we had] a lot of trust."
Western couldn't pull it out in the final, but their weekend was undoubtedly a success. Mah was a force from behind the disc, able to fight through top matchups to put up numerous hucks out in front of her receivers, and also slicing through small holes against zones. The team was never dependent on her, however; Abramovich was almost equally effective offensively from all points on the field and Jessie Thoreson continued to churn out yardage as an under cutter.
It was only via a four point win that Western Washington gained access to Stanford. Then they showed up and nearly won the tournament.
"We came into the weekend with really no expectations," said Abramovich. "We're proving that we can play with these big teams."
They took their opportunity and turned it into a buzzworthy performance that has everyone wondering if this is a team that could go deep at the College Championships.
Balanced #7 Stanford Superfly Looking Deep & Polished
Stanford would have gotten away with it, if it weren't for those meddling kids from Western Washington.
Superfly entered Sunday's semifinals 4-1, with their only loss by a single point to top seeded Oregon. They were looking at a chance to shoot up the rankings, having already beaten #9 Washington and destroying #25 UC-Davis 13-2. Their offense had been the tournament's most impressive, flowing through man defenses smoothly and rhythmically and patiently wearing down zones.
Then came their semifinal against Western. They were never really in it, Chaos rolling from the opening pull. When Jennie Lummis went down with a potentially serious knee injury, it was salt in the wound. The 15-5 loss mars a beautiful weekend.
The host team has a lot to be proud of, and that's reflected in their five-spot jump to #7. Their added 3rd place win over Central Florida boosts their candidacy. A young handler group of sophomore Monisha White, along with freshmen Amanda Somvilay and Caitlin Go, is strong and smart behind the disc. Lummis — whose status going forward may be in question — combined with Maya White and Halsey Hoster to rule the air for Superfly. The underrated Steph Lim made her presence felt all over the field with her quick cuts and quicker throws.
Stanford's put together an impressive resume so far. The Southwest region is shaping up to be the nation's most intriguing. Superfly will also be a factor at NW Challenge. Their upward trend could cast them in a leading role in Cincinnati.
#3 Central Florida Sirens Ready to Compete With The Nation's Best
The Sirens have been making believers out of skeptics this season and took their show on the road at the Stanford Invite.
The big story was Sunny Harris, the team's star handler and Callahan candidate. Harris reaggravated a sprained ankle just days before the tournament, but opted to play through the injury after testing it out Saturday morning. She made a huge difference for her squad, as one would expect of her, even in a diminished role for UCF. Her presence also helped give a true demonstration of where the Sirens stood: right in the thick of the fight for the title.
The 4th round was the first real collision between top ranked teams, pitting Central Florida against Santa Barbara. While the Burning Skirts opened strong to take a 2-0 lead, UCF dominated the first half, scoring seven of the next eight points. The lead grew in the beginning of the second half, but the fickle mistress of momentum was not content to settle down. UCSB roared back with some huge layouts to force double game point and eventually win, 14-13.
UCF would get their revenge on Sunday. After another tight game with UBC – tied at 9s, finished off by a four point UCF run – the Southeast ladies met up with Western Washington, who had already locked up a semifinal spot. More or less, the Sirens were playing to get into the semifinals; a loss would send Santa Barbara in their stead.
It certainly looked like Central Florida was out of gas from their hard Saturday games. Western bullied the Sirens all over the field, challenging dishes and resets and forcing mistakes. They'd take half 7-2.
Much as had been done to them the day before, UCF clawed back. Mariel Hammond and Alexa Wood provided sparks on both sides of the disc, playing great defense on Callie Mah and some of her top cutting options, and then making plays after the turn. Central Florida's took their first lead at 11-10 and would close out the game 14-12.
The semifinal loss against Oregon was the game of the year. UCF would fall to 4-3 in the 3rd place game by losing to Stanford 8-9.
This UCF team is deeper and smarter than ever before. Harris, Hammond, and Erin Goding shoulder a hefty amount of the offensive load, but have more playmaking cutters and dependable defenders. The team was running tight man defensive sets late in big games, something that would have never happened last season. Stanford was all the proof they needed to know that they can run with anyone.
#9 Washington Element Struggling with Injuries and Execution
When you're 12-4 on the season, with losses to the #1, #7, and #11 ranked teams, plenty of good wins, and still disappointed, it says something about expectations. Element is a team with title aspirations, but they've yet to put together a complete performance.
In part, that is because they've struggled with both being complete. Barb Hoover, noted defender-skyer and goal-scorer, has yet to cleat up with her team because she's abroad. Various teammates have battled through injury; by Stanford Invite's end, they were down a number of players.
But they're also struggling with completions themselves. It has been hard for them to tie together fully executed strings of points. Execution errors were a big part of their 9-10 loss to Stanford. Their offense can look fluid and versatile one point and disjointed the next.
That's not to say they've been playing bad Ultimate. Amanda Kostic is one of the country's best throwers. Shira Stern is versatile and poised. Alysia Letourneau was one of the best under threats at the fields in Palo Alto. Element's depth looks more fully formed than in 2013.
But Stanford wasn't their best. Element had four wins over the course of the weekend; the opponents they beat had a combined 4-17 record. Washington may be putting increased pressure on themselves to perform well at home for the Northwest Challenge. Their Friday showcase game against Oregon stands out, since Oregon has beaten them by soundly in both of their meetings so far.
It feels like we are all still waiting to see the real Element.
#2 UC-Santa Barbara Burning Skirts' Single Loss Changes Weekend
Some days, 6-1 just isn't good enough.
UC-Santa Barbara found out the hard way, as their lone pool play loss eliminated them from the chance to play in Stanford Invite's championship bracket. Formats with large pools tend to be unforgiving that way. It obviously stung the Skirts, having to watch the Central Florida team that they had gutted out a comeback win against cross fields to play in the semifinals.
For the second straight tournament, UCSB has lost just a single game and left us with the same questions we had before: can they compete consistently? Do they have either the depth to stay with teams late in the day or the efficiency to crush teams and save legs?
Round one held a Southwest opponent, last seeded Sonoma State, for UCSB. That one was a five point win for the Skirts, 13-8. They'd take on British Columbia next, promptly falling into an 0-3 hole. Their first half was plagued with red zone drops and point-extending mistakes. Still, victory belonged to Santa Barbara, scoring on double game point to win 10-9.
Finally, Central Florida came calling, and Santa Barbara was not home for the first half. But they arrived, storming back to win yet another double game point affair.
It was no wonder UCSB didn't have it in them to battle Western Washington. Back to back games they climbed out of holes they dug themselves and won with late game heroics. By the time they lined up across from Western, the Santa Barbara ladies had played 67 points while WWU had logged just 38.
We know about the talent on the Santa Barbara roster. They create a lot of match up issues with their tall handlers and speedy downfield threats. But their inefficiencies keep catching up to them. Slow starts and long points drain the energy out of their shallow roster. All in all, the weekend was good for UCSB, with a pair of wins over UBC, a huge win over Central Florida, and W's against #21 UCLA and #25 UC-Davis.
Yet UC-Santa Barbara might just be thinking of what could have been.
#11 British Columbia Thunderbids Live Up to Talented & Inconsistent Billing
UBC's debut at Stanford Invite were expectedly erratic. A young, talented team making early season adjustments showed up to the fields and played just like that.
All but one of their seven games was close. Their opening losses to Western Washington and UC-Santa Barbara – 7-10 and 9-10, respectively – were both games they had opportunities to win. The T-Birds ugly 9-6 performance against UCLA was filled with lengthy and turnover filled points. And their 9-13 loss to Central Florida came after a late game run took the game from a 9-9 tie to a four point loss.
Sunday brought mostly more of the same, save a blowout of last seeded Sonoma State. The T-Birds eked out an important 10-8 win over fellow Northwest squad Washington. They followed that up with an 10-12 loss to UCSB.
It was clear this team was still figuring it out. Mira Donaldson was the confident and dangerous thrower we expected her to be. The team is still integrating players into new positions. A much more polished squad should show up for the Northwest Challenge, but early returns show a healthy potential.
Notes
…UC-Davis made the most of their opportunity to join the field, being invited to take Carleton's place late on Friday and putting together some exciting performances Saturday…big props to Ryan Thompson, who stepped into to TD at the last moment and weathered a chaotic set of circumstances with grace…Wisconsin definitely played the part of a team that hadn't been outside much and they are just trying to piece things together; anything could happen in at North Central Regionals…UCLA may be finding their ceiling, struggling to beat top teams; can they get over the hump at NW Challenge?…