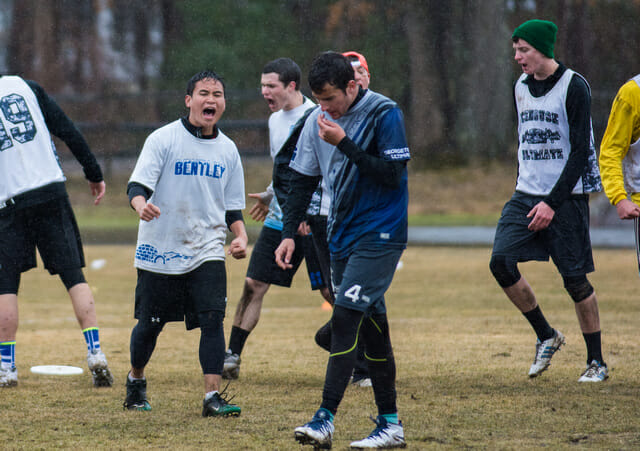 A spring season highlighted by bad weather was punctuated this weekend by the shortening and canceling of tournaments around the country. Roll Call and Natural State were fully canceled, while New England Open and Garden State (among others) were suspended after Saturday play. With so much on the line for Division III teams around the country, no one wanted the rain and torn-up fields to prevent teams from deciding their own fate. With the ranked season now over, lets take a look at where things stand.
Many DIII teams played at Chicago Invite. From a bid standpoint, perhaps the most important of these was Ohio Wesleyan. Currently ranked 17th in the USAU rankings, the Firedogs may have played themselves out of a bid. They lost a winnable game against Notre Dame and Northern Michigan and also got slammed by North Park, 11-3. It's hard to tell at this point whether or not they'll hold onto their bid for the Ohio Valley.
In the first tournament since DIII Warmup, St. John's came out and again looked pedestrian. They lost big to a Case Western team that made the finals as well as Indiana Wesleyan — a team they could certainly play with. A win over Missouri S&T and a close loss to Michigan State are promising, but this (formerly known as) B.A.M. team doesn't appear to be as dominant as past seasons. Regional foe Wisconsin-Parkside took them down to take 13th in their eighth game of the tournament.
North Park had a nice weekend filled with wins after an Easterns performance with too many L's for their liking. A 7th place finish is a good sign for Lost Boys as they head into the series playing in a one-bid region. Perhaps their biggest challenger, Indiana Wesleyan, looked good as well, going 4-3 with wins over B.A.M. and Purdue.
Keep an eye on Missouri S&T as a sleeper out of the South Central. They've earned some decent wins this season and the region is pretty up for grabs. Unfortunately we weren't able to see a number of SC teams face off as Natural State Invite was cancelled.
Kenyon finished 4-0 at the sanctioned Sweatpants/No Pants and they'll complicate an already crowded Ohio Valley.
Bentley looked polished at New England Open, going 4-0 with wins over Penn and Georgetown (#45 in D-I). BUS took down Middlebury 13-10 as well. The Pranksters went 0-3 and continue to look shaky after Easterns. Penn took the reigning champs to half 7-1 but Middlebury kept it respectable in the second half, losing just 11-8. If New England holds onto two bids, Middlebury will have to work hard to earn one.
Those New England bids are dependent on where the algorithm places Amherst Army of Darkness after this weekend. Amherst only played two real games at Garden State, beating Drexel by twelve and an underrated Messiah team by just one. Amherst leads Lewis and Clark for the final strength bid by a microscopic .2 points. The slightest drop in the rankings would leave New England with a single bid. With three max wins and a one point loss to Amherst, even Messiah might jump the New England squad.
Brandeis should improve after a 3-0 round robin, but likely not enough to climb into position for a strength bid for the region.
Aside from Amherst, other DIII teams at Garden State looked very tough. Bowdoin, WPI, Lehigh, and Geneseo all went undefeated. Notably, Bowdoin took down Stevens Tech (3-1) by a score of 9-7. With Fredonia unable to make the tournament and Stevens Tech unable to earn big wins on Sunday, the Metro East should end up with one bid.
WPI is now 11-0 on the season and could be a serious spoiler at New England regionals.
Oberlin went 5-2 losing in the finals of Freanik to Georgia State. Their results were far from dominant and it will be interesting to see where they end up in this weeks rankings. Just 11 algorithm points off of losing a bid, a one point win over Charleston (#243 in the nation) and losses to Vanderbilt (#190) and GSU (#192) don't help their cause. Don't be surprised to see them slip out of the top 16 teams.
This season's surprise team, Cedarville, backed up their Midwestern Invite performance with another strong showing at Kentucky Classic. Racking up big wins on their way to a tough finals loss against Chicago, Cedarville looks deserving of their top 10 national ranking.