April Fools Day seems like a good day to announce that Ultiwhirled — the parody blog that has delivered sharp, funny commentary over the past few months — will be contributing to Ultiworld. Columns will normally run on Fridays. 
The World Flying Disc Federation announced Friday morning that Beach Worlds 2015 will include a new division, Nude Beach Worlds, to be held in San Diego, CA. The new division will take place four weeks after the rest of the WCBU 2015 tournament, which is scheduled to be held in Dubai next March.
WFDF Executive Director Volkner Bernardi delivered the following statement at a press conference this morning.
"The World Flying Disc Federation, in partnership with the Beach Ultimate Lovers Association, is pleased to announce that the 2015 World Championships of Beach Ultimate will feature a new competitive tournament: Nude Beach Worlds.
"In keeping with our commitment to gender equity, competition will feature three divisions—open, women's, and mixed—and all three divisions will receive equal attention and support from WFDF. We will not, however, be hosting masters' or grandmasters' divisions, because, you know. Ew.
"That said, WFDF is deeply excited about this new division, and we believe it will promote the worldwide exposure and visibility of ultimate's unique athletes."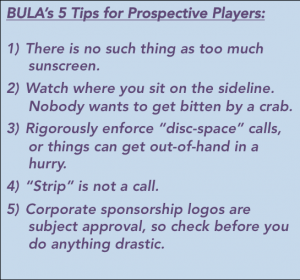 Pedro Vargas, BULA Sports Director, then spoke with reporters regarding the new division.
"BULA is thrilled to be hosting this new division," said Vargas. "We think it will gain a lot of attention for our sport. It should be really fun, quite spectator-friendly, and should offer greater challenges to athletes—increasing the yearly battles with sunburn, chafing, seashells, and distractingly attractive teammates that have long been the trials of Beach Worlds."
Asked about the tournament's location, Vargas replied:
"Well, for obvious reasons, we couldn't really host Nude Beach Worlds in Dubai with the rest of the Championships. That was never gonna fly. So we reached out to a few different locations, and San Diego gave us the best opportunity. San Francisco might have worked from a legal standpoint, but nude sports in the Bay Area in April is just not going to be fun for anyone."
Five Ultimate has signed on as the official gear-provider for Nude Beach Worlds 2015.  The company has advised those teams interested in fully sublimated uniforms to order at least a month before the tournament, to allow their skin time to recover from the printing process.
Though media presentation of the tournament is still not settled, the division has already aroused the interest of several sports broadcasters, including ESPN.  However, most networks are concerned that the pixelization budget might offset any financial gains of increased viewership.  For now, the unresolved balance between visibility and censorship is threatening to leave players hanging.