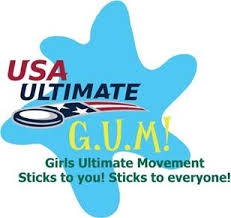 Ultimate's youth movement is booming; USA Ultimate membership sign ups alone are double what they were 10 years ago. And yet, only 20 percent of those youth players are girls. Even at the college and club level, women account for only 30 percent of the player population, according to a new USA Ultimate task force, the Girls Ultimate Movement (GUM). Even at that the Club level, a discrepancy is clear. The Club Open division includes 242 teams, but Club Women Division includes just 91.
Many players know about some gender disparity issues, but GUM has specifically targeted the gender disparity at the youth level and is working to improve female involvement throughout the Ultimate community. 30 leaders in the community started by developing five groups of development: Coaching, system building, best practices to build on, consciousness raising, and growth vs. development. The five groups now include 44 members, and a broader goal: giving more of a voice to the female Ultimate community.
"Girls face different obstacles to participation," GUM co-chair Zara Cadoux said. "In order to grow the number of girls playing Ultimate, we must recognize these obstacles and be proactive about creating systems that are built for girls."
The systems, including the five groups of development, will address the issue at its core by getting girls interested in the sport when they are young. The next issue is retention.
"Issues of body image, self-consciousness and restrictive notions of femininity may hold girls back from engaging in competitive play. These, along with social factors, are wildly present in middle school and high school," GUM co-chair Heather Ann Brauer said. "The retention rate is low for girls who join open teams during those years."
The first step towards continuity and sustainability with female ultimate is strong role models. Both Claire Chastain and Brauer think female mentorship might have a snowball effect.
"More visibility of elite female Ultimate players would give young girls something to aspire to; think about the impact the US Women's National Team has had on the growth and development of girls soccer, and the perception of Women's soccer in the media and by fans," Chastain, the 2013 Callahan winner and GUM building systems group facilitator, said.
GUM, and more coverage of teams like Riot, whose players were a source of inspiration to Chastain when she was learning in college, could push women's ultimate forward in a big way. The Triple Crown Tour, in particular, has taken criticism in its reforming the way that USAU markets the club division. ESPN's TV deal features more men's games than it does women's, yet USAU CEO Tom Crawford told Ultiworld before the deal that they were "fully committed to the gender policy 150%." That policy essentially states that USAU will promote and cover all divisions equally. Third party media outlets like ESPN, however, are not required to follow that policy. It seems as though the Ultimate community may be ready for a change.
"Often when conversation becomes male dominated, I have to do a cost-benefit analysis to decide if I want to speak up," Cadoux said. "This may come as surprise to many who see me as outspoken, but I use my voice selectively because I am in the minority. "
If GUM can find ways to bring greater female involvement to Ultimate, they will likely also be giving women a greater voice in the conversation and development of the sport. The movement could bring change the culture of ultimate. Higher female involvement will better ultimate from the club women and mixed divisions on down to pick-up.
"The gender disparity affects players of all levels, and in terms of recreational experiences the gender ratios affect women's playing experiences and therefore greatly affects their retention.  How many times have you been to a league game and there aren't enough women?" Cadoux said. "We could have much more robust mixed leagues and recreational opportunities to play with increased numbers and retention of female players."
Most importantly, the involvement reinforces spirit of the game.
"I think greater female involvement will only enhance the aspects of Ultimate culture that I am proud of," Cadoux said. "I consider the community overall to be a welcoming one, a progressive one, and one that is grounded in SOTG."