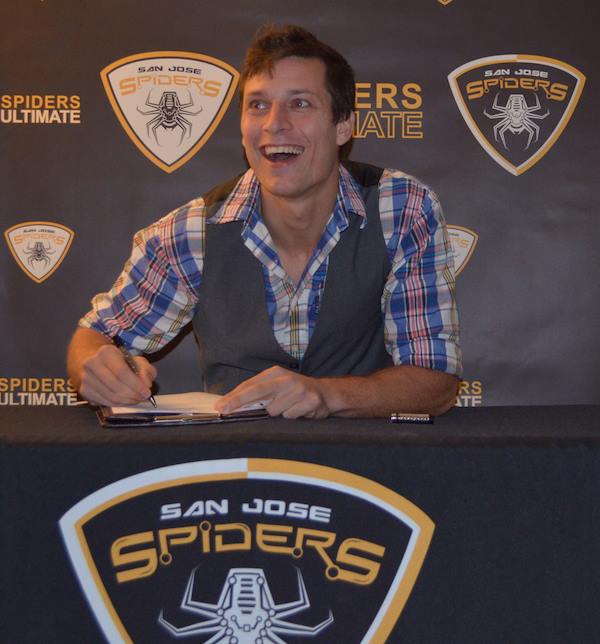 Going into its third year of existence, the American Ultimate Disc League is expanding to the West Coast for the first time. Five new western teams bring the total number of teams in the league up to 17. The five teams are fighting to finish in the top two in their division; only those top two teams will qualify for the playoffs, where they'll play against each other for the chance to represent the West at the Championship Weekend in Toronto.
Although the AUDL does have a one-year head start on Major League Ultimate overall, its Western Division teams did not get such an advantage in player acquisition, since MLU had a West Division in its inaugural 2013 campaign. In that sense, four of the AUDL expansion teams are at a disadvantage compared to their intra-city rivals – only the Salt Lake Lions were launched into a completely untapped area.
The Vancouver Riptide, Seattle Raptors, and San Francisco FlameThrowers all came in with the unfortunate reality that they would have to draw players away from their MLU counterparts in order to earn respect within their ultimate communities. The San Jose Spiders technically are coming into a new area (South Bay instead of North Bay) but really, all three California Pro teams are essentially drawing from the same pool of players. Fortunately for them, Bay Area club teams have seen unrivaled success in recent years in both the Open and Mixed divisions – there's plenty of great players to go around.
San Jose Spiders
Under the leadership of Owner and General Manager Andrew Zill, the Spiders have quickly established themselves as a contender for the league title. Zill has been tirelessly networking for over a year, reaching out to local club and college teams to spread the word that the AUDL was coming to the west coast. His hard work paid off in a big way when he was able to pry Beau Kittredge (Revolver) away from MLU's Dogfish to play with the Spiders.
Kittredge is widely regarded as the best player in the world today. Always a threat to go deep, he is outstanding at coming down with the disc in traffic – or simply outrunning his opponents to catch the disc all alone. He has also been known to drop into the handler set near the goal line and run nearly unstoppable give-and-go patterns. The only thing that might be a threat to neutralize Kittredge would be travel calls; in the AUDL, a thrower travel is an automatic turnover, and Kittredge has been known to drag his pivot foot more than necessary.
San Jose was also able to nab a few of Kittredge's Revolver teammates, including Ashlin Joye (who is also his roommate). Joye brings to the table a great all-around game. He is fast and has truly great throws, and can make big plays as a handler or a cutter. It might not be fair that the Spiders followed that up by signing the unguardable Kurt Gibson, who has also been among the better players in the world, when healthy.
In Kittredge, Joye, and Gibson, the Spiders have three of the players included in Ultiworld's 2013 All-Club First Team.
Zill chose to reach into the entire California ultimate scene to fill out the rest of his roster, signing players from nine different club teams, including SoCal teams like San Diego's Streetgang and Santa Barbara's Condors.
Handlers Kevin "Dollar" Smith (Mischief), Nick Raisch (BW), and Nate Bosscher (BW) have massive hucks. Combining these three with cutters like Kittredge and the 6'4" Simon Higgins (Polar Bears) should open up cutting space all over the place for the Spiders – not to mention the fact that the AUDL playing field already has larger dimensions than a USAU field. In short, trying to figure out how to stop the Spiders offense is not an enviable task.
On defense, the Spiders are athletic and aggressive. Kevin Cocks (Polar Bears), Jeff Silverman (Condors) and Chris Farina (BW) are experienced and smart defenders who will stick to their men and lay out all over the field. For the Spiders' star-studded squad, the only question is whether they will be able to play together. With so many players from a variety of club teams and systems, it could take time for them to get into a groove. But once that's figured out, this could be the best team in the league.
Outlook: San Jose has three of the best players in the league, and experienced winners from the top of many of the best California club teams' rosters. They might be the team best equipped to deal with the larger playing field, making their offense extremely difficult to gameplan against. The Spiders figure to be a force in their first season in the AUDL. They are early favorites to represent the West at the Final Four. Predicted finish: 12-2, Western Division Champions.
San Francisco FlameThrowers
One thing that immediately stands out about the FlameThrowers is their Revolver presence. Of the three Professional teams in the Bay Area, they have the most players from the team that has won three of the past four USAU Club Championships, including 2013 Revolver captains Ryo Kawaoka and Cassidy Rasmussen.
Kawaoka is a savvy handler who can always be trusted to make good decisions and spread the disc liberally. Rasmussen has been used as both a cutter and a handler at various points during Revolver's reign, so it remains to be seen how the coaching staff will utilize him. He is very quick and has solid throws, making him difficult to defend.
Joining Kawaoka in the backfield are Chuck Cao (Mischief) and Lucas Young (BW), two handlers from the mixed circuit that should shine on the bigger stage of the AUDL. Both have accurate, confident break throws, can move the disc quickly and efficiently, and are capable of running an offense by themselves, if necessary.
Interestingly, the FlameThowers have two players who were part of last decade's Seattle Sockeye reign. Although Alex Nord and Sam "Sammy C-K" Chatterdon-Kirshmeier are no longer in their athletic prime, they are still two of the most decorated players of their generation, and will bring many years of experience and knowledge to the team. While Nord played with the Polar Bears in 2013, C-K took most of the season off. Fortunately, the one-game format of the AUDL is more forgiving than the tournament structure of the USAU club season. This should play to the advantage of the somewhat older crowd – although considering their experience, Nord and C-K have probably gotten themselves into better shape than many competitive players in their twenties.
Outside the household names like Rasmussen and Nord, the FlameThrowers have a deep roster, packed with guys who will grind it out with effort and intensity. They could essentially field an entire Revolver defensive line if they wanted to. Players like Sam Kanner (Revolver), Lucas Dallmann (Revolver), and Andrew Hagen (Revolver) will grind down their marks and generate blocks. The aptly-nicknamed Brandon "Springs" Fein (BW) can jump through the roof and will beat his man to the disc more often than not. Even if their offense isn't clicking, the FlameThrowers defense should keep them in games.
In what is shaping up to be a classic matchup that ultimate fans everywhere will want to see, the FlameThrowers and Spiders will face off on opening day this Saturday in a game that will be streamed live online by ESPN3.
Outlook: On paper, San Francisco seems to be on top of the West, along with the Spiders. Their defense should have no trouble wreaking havoc against some of their less experienced opponents. The FlameThrowers have the best shot at toppling the Spiders, but once the Spiders start rolling, they could be unbeatable. Predicted finish: 9-5, 2nd place in Western Division.
Seattle Raptors
In a situation similar to their rivals in California, the Seattle Raptors joined a city that already had a professional ultimate team. MLU's Seattle team — the Rainmakers — had a very successful 2013 season, losing to the San Francisco Dogfish in the semifinals and finishing with an 8-3 record.
Considering that, the Raptors were already at a disadvantage, since the Rainmakers had established a certain aura of legitimacy. Chances were there weren't going to be any Sockeye players who would choose to cross over to the Raptors, especially considering that their teammate and former captain Matthew "Skip" Sewell was one of the men responsible for bringing MLU to fruition.
In fact, most Seattle ultimate players hadn't even heard of the Raptors until a few months ago; while the Spiders' Zill had been spreading the word about his team for over a year, Raptors Owner/Coach Ben Theilhorn had been planning an expansion team in Denver. When he was told in September 2013 that expansion to Colorado would have to be postponed, he was able to grab the Seattle franchise instead, albeit with much less time to prepare.
When Sockeye decided to urge its players to stay out of the pro leagues in order to focus on doing well at Worlds, the Raptors' pool of potential players was lessened further. A solid contingent of Voodoo (Seattle's 2nd open team) joined the Rainmakers, leaving the Raptors with slim pickings.
There is no doubt that the Seattle ultimate scene is huge, so there is definitely plenty of talent to go around. But many of the players that the Raptors signed come in with very limited club experience. The result is that the Raptors are going into their inaugural season with a relatively young roster.
The Raptors' only AUDL returnee is Grant Zukowski, who played with the Chicago Wildfire last season and also has experience with Machine. Zukowski is a dynamic cutter who can go deep or throw deep at any moment.
Another newcomer to the city, lefty Matt King comes over after playing for two years with Raleigh's Ring of Fire. He is a quick player with consistent hucks and poise out of the handler position. As one of the only Raptors with Club Nationals experience, his leadership and demeanor under pressure will be important. Coach Ben Thielhorn says King "stood out as a natural leader" from the very first practice. King and Ky Lewis (Giraffeapus) always seem to be a beat ahead of their defenders, making them a formidable handler duo. Nick Dare, a veteran of Voodoo and Ghetto Birds, joins them in the handler set.
Peter Bender (Mental Toss Flycoons) is the team's emotional leader and is capable of filling just about any role. Although primarily an offensive cutter, Bender will fill in effectively as a handler hub versus zones. Andrew Lynch (Voodoo) is similarly versatile and always a threat to make a big play.
Outlook: The Raptors have high-end talent at the top of their roster, but their depth players have far less club experience compared to their opponents. It will be up to the experienced leaders to keep the team afloat while the fresh college kids get accustomed to the higher level of play. While Seattle does have the personnel to finish ahead of Salt Lake and Vancouver, seeing them take down San Jose or San Francisco would be a surprise. Predicted finish: 5-9, T-3rd place in Western Division.
Salt Lake Lions
The Lions of Salt Lake enter the AUDL as a relative unknown, and they like it that way. Although Utah teams have not made much noise on the national stage, the Lions think that they can surprise some people this year with their showing in the AUDL. Footage of players from San Francisco, Seattle, and Vancouver have been all over the internet in recent years, but teams like the Powderhogs, Golden Spike, and Inversion have been left out of the video revolution.
Lions Captain David Brooks led North Texas to Nationals in college and was one of the founders of Plex, a Dallas club team that was the starting point for several players who are now on Doublewide, Revolver, and Ring of Fire. Brooks is a natural leader and will be the middle handler for the Lions' offensive line. Shane Froebe and Trevor Harper (Machine) will join Brooks in the offensive handler set.
On the other side of the ball, co-captain Doug Stenclik will typically be called upon to shut down the opponent's best offensive cutter. Philip Hornberger and Hugh Carey, both Mental Toss Flycoons veterans, will join Stenclik on as defensive line playmakers. Lions coach McCord Larsen describes Carey as a "monster" on defense.
Even though the Spiders and FlameThrowers might have more recognizable star power on paper, Lions players have plenty of club experience and intend to make a statement. Brooks's influence has helped bring the team – which had most of its roster selected months before its divisional rivals did – closer together. A cohesive group, the Lions are unafraid to test out unorthodox patterns of both offense and defense. This could give the team a huge advantage as opposing players may be taken out of their comfort zones.
Outlook: Salt Lake brings together a solid mix of players who have good experience playing with and against top club teams. Utah has somehow avoided the National spotlight, which could be advantageous in game-planning. A tightly-knit group, the Lions seem to have a lot to prove – perhaps more so than any team in the West. They will surprise people, but it won't be enough to advance to the Final Four. Predicted finish: 5-9, T-3rd place in Western Division.
Vancouver Riptide
Like the Raptors, Vancouver's newest pro team enters the city as what might be seen as the city's second team. Whether or not this is a fair assessment, it remains true that the Nighthawks of MLU managed to retain almost their entire roster from 2013, with only one player leaving for the Riptide. However, Riptide has no interest in being overshadowed by their crosstown rivals.
The Vancouver ultimate scene is deep, and according to coach Tim Lavis, Riptide has managed to attract a number of young players who are ready to show what they can do on a bigger stage.
When watching Riptide, Mads Gotlieb should easily stand out. Big, fast, and talented, Gotlieb recently played for the Danish team at U-23 Worlds. He is a rising star who will be tasked with guarding the Kittredges of the AUDL.
Captain Ryan Lee, who played with the Nighthawks last season, will be an offensive handler for Riptide. Lee has shown an ability to stay consistent whether his team is rolling or faltering, an important trait for a leader on a young team. Look for Lee to get a lot of touches as he runs the offense.
A quieter leader, veteran Richie Tam is an excellent defender who will be called upon to match up against some of the quicker threats that the Riptide might face. Lavis says opponents might "feel like they're playing with a Richie-shaped appendage attached to them." Once the turn is generated, Tam is creative with the disc and will attack quickly.
Outlook: Riptide is a young squad with a sprinkling of Furious mixed in. Up-and-coming players like Gotlieb are eager to show that they belong in the elite club circuit. There is upside in this team, but on paper, it would seem that Vancouver might come up short when matched up against San Jose or San Francisco. Predicted finish: 4-10, 5th place in Western Division.