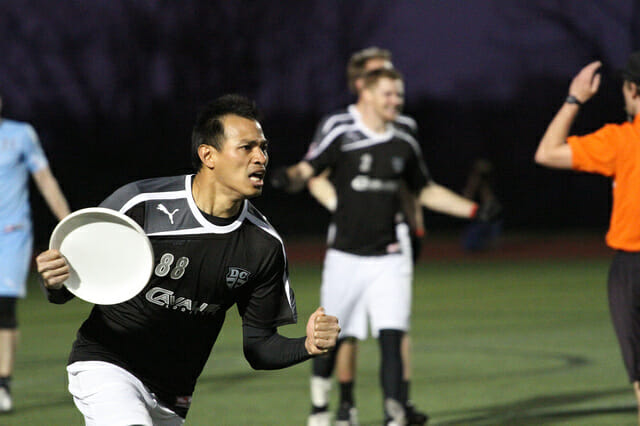 It ended with Peter Prial's game-winning, floaty hammer to the end zone. DC Current's Calvin Oung's snagged the disc over a crowd of seven as time expired and completed the Current's 18-17 upset over the Whitecaps in DC on Saturday.
The Current worked the disc up the field and Markham Shofner's toss – what was thought to be a game ending huck – fell to the turf as time expired. However, a defensive foul called on the throw put ten more seconds on the clock, opening the door to a DC victory. No team led by more than three in a game that may go down as the best of the season.
Related: Watch the game winning play.
Defining Win
Alan Kolick (2g, 5a) had not defeated a Boston team in his two years with the Current or his five with DC club's Truck Stop.
"It could be a turning the corner moment," Kolick said. "I think just mentally getting over that hump is huge for us. Our team seems more aggressive and more confident than in prior years."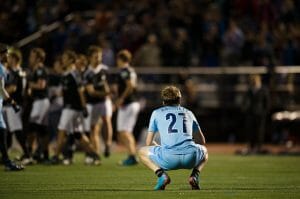 The Current played a huck heavy and layout-filled game. Kolick matched that urgency but retained composure. He touched the disc 58 times without a turnover as the Current (2-0) ended the Whitecaps (1-1) 13-game win streak, which included last year's MLU championship.
It is, however, too soon to crown a new king of the MLU. The game's leading scorer, Whitecaps Jeff Graham (5g, 2a) credited the Current's second half defense as leading to the win. But he wasn't ready to concede Boston had given up ground.
"It's probably a great thing for the league that there's some parity, but it doesn't change our mindset," he said. "[We] expect to beat anyone that steps across from us. I don't care if it's east coast, west coast or anywhere around. We have an expectation to play our standard of ultimate. We'll see at the end of the day what the scoreboard says. The things that we talk about aren't judged by the scoreboard. It's kind of a standard of play that has lead to a lot of victories over time."
Prial's Impact
The former Whitecap threw the game winner, as mentioned, but he also added five assists, three blocks, and a score. One of those blocks, a huge layout on the sideline, ignited the crowd with seven minutes to play in the game, a momentum shifting moment in a tight contest. He was comfortable playing against his old team.
"I've played against them in practice for five years, and so it was cool to play in a game against them," he said. "I'm happy that we won. I'm upset that we had to beat them to do it."
His impact performance – particularly in the second half when the Current gained momentum – is most interesting because of his offseason move. In such a contested matchup, DC must have been thrilled to have the Georgetown Law student in their colors. The outcome could very well have been different had he been playing for his former team.
Barcelona Whitecaps?
Boston responded to the Current's tenacious efforts with patience. The Whitecaps took their time dissecting the defense; they worked methodically and bounced the disc around like Barcelona might a soccer ball.
"Our thought is to possess the disc," assistant coach Mike Miller said. "Our deep game is about hitting the right throw versus hitting a high one and getting a jump ball — and we know we have our four cutters downfield who are relentless when they want to [be]."
The Whitecaps showed their pro experience and took full advantage of the MLU sized field. They swung the disc and operated on the breakside as often as they could, particularly when DC marks shaded flat to shut down the hucks.
"It seemed like they made a big adjustment in the second half to stop the deep game, and part of offense is taking what they're giving to you," Jeff Graham said. "We're used to banging the disc around and scoring on the break side cone."
The Whitecaps limited their turnovers to 12. The problem was that DC managed only 11, which was half of what the Whitecaps previous opponent, the New York Rumble, totaled last week. Assistant coach Mike Miller admitted he had expected more turnovers – especially considering the Current completed all eight of their throws over 40 yard.
"Offensively and defensively is that we want to play a very aggressive game on both sides," DC Current head coach Keven Moldenhauer said. "For me, I want the fans to have a great time and I'm willing to give up some of those layouts where they get a swing for the big play. I'm willing to give up a big, beautiful huck, and if it doesn't come up, it doesn't come up. I want this game to be exciting and I think it can be exciting so that's how we're going to play. That's how we play at practice, and it was no surprise [tonight]."
DC will need to show they can perform consistently with such aggressive play as the season progresses, but the Whitecaps are not going far. The two teams will meet in Boston next Saturday at 7:00 PM.