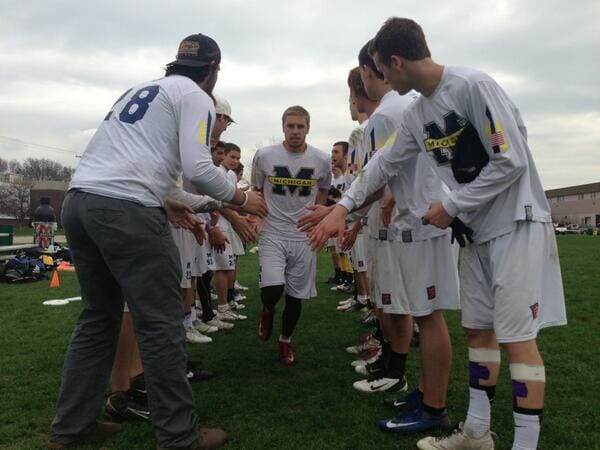 Think back to a few months ago: the Great Lakes was being put head-to-head with the Metro East as the country's worst region. A one bid 2013 saw Illinois advance and hardly make a dent at Nationals. The signs pointed to another weak year.
The Great Lakes teams rewrote the script. Starting with Northwestern's strong fall and big splash at Warm Up, the region has unfolded some of the best stories of the college season and nearly came away with three bids. Though they ultimately ended up with just two, it has been a vindicating season for an area of the country that is developing some excellent players.
The Great Lakes Regionals is one of the hardest to handicap in the country, with four strong teams all capable of taking one of the spots to Nationals. Here's what to expect.
Michigan
From a region that was expected to be one of the country's worst has risen an exciting, new contender: Michigan. With a brilliant run through Easterns Sunday, culminating in a victory over Pittsburgh in the finals, MagnUM announced their candidacy as a semis hopeful at the College Championships.
First, though, they'll have to advance from Regionals.
Last year, the top-seeded team made it to the finals before falling to Illinois and failing to advance to Nationals. With two bids this year, they have more breathing room, but also bigger goals.
The team has developed a cadre of top players, from the athletic Sam Greenwood to the steady Eli Leonard (also a captain). They've also gotten great mileage from the 6'9″ Jesse Buchsbaum — you can't teach height. Their Callahan nominee and captain Yonatan Rafael has been a rock solid cutter all season long.
They will sorely miss one of their on-field leaders, Matt Orr, who went down at Easterns with a ligament injury in his knee and will not play at Regionals.
But Orr continues to be an important presence. He told Ultiworld about how they are preparing for Regionals.
"We've been focusing on the details and the little things that are going to make a good team great," he said. "You're playing for your season. Every throw counts, every catch is crucial."
The team has been diligently working on throwing fundamentals, after they saw that their disc skills were a step below many of the top contenders at Easterns. They have also been preparing their horizontal stack defense in preparation for Northwestern and Illinois, who both run a horizontal offense.
That said, the focus is mostly internal. Michigan is a close-knit team with the right mental attitude this year. After a meltdown at Queen City Tune Up in 2013, the team has revamped its mental approach.
"From that point on, everyone has a new mindset in how you deal with your teammates and with disappointment and frustration," said Orr. He credited that shift in focus to a relentlessly positive sideline with helping propel the team to new heights during the regular season.
Regionals will show us if the mentality and disc skills have aligned for the team. It would be a real surprise if Michigan didn't take one of the two spots to Nationals, but, really, they're playing for more than that. This is a chance to show that they are ready to be considered a serious contender for more than just an appearance in Ohio.
Northwestern
The strength bid recipient in the Great Lakes, Northwestern has risen to prominence on the back of a strong performance at Florida Warm Up, their only full tournament of the regular season. But this is not a flash in the pan team that came out of nowhere — they have been building towards this moment in the spotlight over a number of years.
Last year at Regionals, they took only two losses — 13-10 to Michigan and 15-8 to eventual champion Illinois. Then, in the fall, they played quite well at both of their tournaments and scored a very nice win over Tufts at Steel City Showdown.
Their success so far in the 2013-2014 season is a product of hard work on defensive fundamentals last year plus a big boost from a great recruiting class. They picked up former UNC Captain Max Shepherd and former Notre Dame captain Zack Woodruff, who are both playing in their fifth year. They also added a great crop of rookies, including Henry Richey and Remy Smith, both former YCC players.
"We win with our legs," said Northwestern captain Ian Preston. "We play tough, physical man defense. The difference from a year ago to today, though, is the talent on offense."
The influx of talent, combined with some summer club experience for returners, has sharpened an offensive line that struggled to put points on the board against quality competition last year. Their improvement on that side of the disc helped lead to a 6-3 performance at Warm Up, with two of their three losses coming to eventual champions, Texas. The coaching staff — Kevin Bruns and Chris Vandervoort — has also played a huge role in improving the team this season.
Unfortunately, a swath of tournament cancellations caused Northwestern not to play another tournament until Conferences (they did play a sanctioned, single game scrimmage against Chicago to meet the 10 game minimum required for USAU ranking). There, they mostly cruised, but, as expected, came up against their rival, Illinois, in the finals. They would lose 15-13, opening up questions about their ability to take the bid they earned.
"It showed that we hadn't played an athletic, really top-notch team since Florida," said Preston. "We looked sloppy, we looked rough. But I liked the fight. And we're looking forward to getting another crack at them this weekend."
The game was an unusual one — an upwind/downwind affair that was halted by a lightning delay during the run of play. Regardless, Northwestern knows they have to be better at Regionals.
The talent on the team this year is not in question, but will the months without playing a tournament come back to haunt them as they get set for their toughest challenge of the season? They come in with the three seed overall and will likely see Illinois in the semifinals.
"We know what we're capable of," said Preston.
Illinois
While Illinois hasn't had the buzz of Michigan or Northwestern this season, they certainly don't mind. Every year they show up ready to play at Regionals and frequently, like last year, end up taking a spot at the show.
Like many of the Midwest teams, they had trouble getting to tournaments this year. They opened their season at Cat Fight and cruised through an undefeated weekend. Their only tight game came against Eastern Michigan, 11-9.
They followed that up with a trip to Easterns, where they did not come away with any big wins. That undersells the performance though: they lost to Pitt 15-12 and to Florida State 17-16.
The team is deeply experienced and knows what it takes to win big games. They are extremely athletic and fast, led by captain Neal Phelps, an all-around beast that is on the shortlist for Great Lakes player of the year. They also get big contributions from Nick Prozorovsky on offense and Johnny Saniat on defense.
They've already showed they can beat Northwestern — that should give them a mental edge. But it is not the same Northwestern team they beat three times last season; it will be much harder to beat them for a second time at Regionals, especially as Northwestern has gotten in more outdoor reps now that the region has thawed.
Then again, Illinois is the most experienced team in the region at winning when it counts. It wouldn't be a shock to see them ride into the finals and take down a red hot Michigan team. They have the athletes to match Michigan's. But they may lack the depth of talent of some of the other GL contenders, and nobody will be surprised by their physicality.
If Illinois can be efficient and keep the disc in the hands of Phelps on offense, anything could happen.
Eastern Michigan
Eastern Michigan, the Great Lakes' scrappy underdog, is ready for another shot at Regionals, this time with a second bid on the table.
EMU is a team that has flitted in and out of the bottom of the Ultiworld Power Rankings over the past two years, but hasn't been able to come up with big wins in big moments.
They have a small, dedicated team with some truly outstanding top end talent. Their lack of depth, though, can make it too easy for other teams to key in on their stars and shut down their offense.
They had a solid, if unspectacular, regular season, taking just three losses (Illinois, Minnesota-Duluth, and Tufts). They got perhaps their best win in late March against Northern Iowa, another Nationals bubble team, in the semifinals of the Old Capitol Open, which they would go on to win.
Johnny Bansfield and James Highsmith, both 2013 All-Region 1st teamers, continue to shine as two of the best players in the region; Bansfield may be the favorite for the GL Player of the Year award. He has unbelievable throws, superior quickness, and an effortless athleticism that makes him one of the toughest covers in the region.
If EMU can keep the disc in their playmakers' hands, they are tough to stop. But they simply don't have the depth of a team like Michigan, both in sheer numbers and in talent.
This is a more seasoned team than last year's, though, as a number of players got top level club experience playing with the new Michigan club team, High Five. Their big loss to Michigan at Conferences is unlikely to be representative of how they'll play at Regionals — Michigan's Matt Orr told Ultiworld they were likely holding back something for Regionals.
If seeds hold, EMU will get a shot at Michigan in the semifinals. Their ability to shine against the region's toughest team will come down to how well they can manage legs and win efficiently earlier in the tournament.
THE FIELD
The rest of the field doesn't approach the quality of the top four seeds, who should have little trouble winning games in pool play. Chicago, who lost 13-6 to Illinois at Conferences, has the fifth seed this weekend. Any pool play upsets of one of the top four would be big news in its own right; it's unlikely to happen.
PREDICTIONS
Michigan is the best team in the region and they should take the crown, even without Matt Orr. They are simply deeper and more talented from 1-14 than their competition.
The second bid is wide open. All three teams in the hunt have shown they can beat good teams; expect every game from semis forward to be close. You have to wonder about how teams will play it — does Eastern Michigan go all out to try to beat Michigan in semis, knowing they have a backdoor bracket to play through if they lose? In some ways, I think the two bid format benefits Michigan, who might not see 100% from any team.
But that's predicated on Michigan putting some early breaks on the board. If any of the other teams smell blood…it could be a different story.
Should be a great tournament.
BETTING LINES
Odds to win the 2014 Great Lakes Region
Michigan: -200
Illinois: +110
Northwestern: +180
Eastern Michigan: +250
Anyone else: 20/1
Odds to advance to Nationals
Michigan: -440
Illinois: -150
Northwestern: +105
Eastern Michigan: +120
Anyone else: 15/1