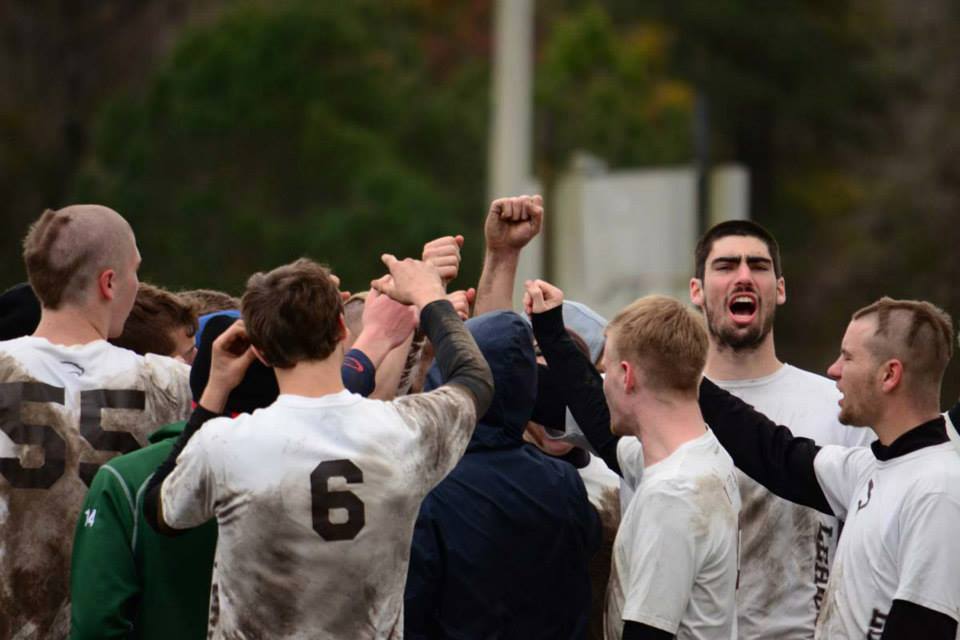 Since the beginning of the spring season, the Ohio Valley has been acknowledged as one of the deepest regions in all of DIII ultimate. With a handful of elite teams and a multitude of solid threats, the Ohio Valley confirmed this sentiment by earning three bids to Nationals — tied for the most of any region.
Despite tough weather conditions that resulted in many cancelled tournaments throughout the spring, most of the better teams in the region were able to complete ten sanctioned games. Three — Lehigh (#2 in USA Ultimate's final rankings), Cedarville (#5), and Messiah (#13) — were able to crack the top 16 and earn a bid for the region.
As a whole, seven teams in the region spent time in the top 16 of USA Ultimate's rankings — Lehigh, Cedarville, Messiah, Oberlin, Xavier, Ohio Wesleyan, and Pittsburgh-Johnstown. Half of the teams going to Ohio Valley Regionals have been ranked in the top 16.
With regionals being hosted in Bethlehem, Pennsylvania, some teams are displeased at the travel distance to get there, as it is on the Western border of Pennsylvania, near Philadelphia. Denison University, for instance, who came in fourth at Ohio sectionals, will not be attending and cited the eight hour drive as a big influence on their decision.
Numerous players have suggested that the tournament be hosted in Pittsburgh, a relatively central location for the region. Regardless, the location is set and Lafeyette has taken Denison's spot in a tournament that is primed to be very competitive as twelve teams duke it out for three bids to Nationals.
Favorites
Lehigh
The favorite to win the region since the start of the season, Lehigh has proved time and time again that they are at the top of the Ohio Valley. After securing the region's sole bid to Nationals last year and tying for fifth at Nationals, the team has shown to be not only an elite team in the region, but one of the best in the country.
Led by senior Nicolas "Falcore" Mathison, the 2013 D-III Ohio Valley Player of the Year, the team possesses a great amount of depth. Handlers like Jeff 'Byron' Gilbert and Ziv Artz provide pinpoint throws while cutters like Mathison, David Bloodgood, and David Betz, among others, provide ample downfield threats as well as lockdown defense.
Like many other teams in the region, Lehigh had to face numerous cancellations of tournaments as a result of poor weather. Barely reaching the USA Ultimate limit of ten games to qualify for an end-of-season ranking, the team was able to play Spring Awakening and one day of Garden State. While feeling relieved, the team was frustrated with the lack of competition it was able to face, according to Gilbert, one of the team's captains. "We were frustrated by our lack of play time against top tier, DI teams," he said. "We split lines evenly during [conferences] to allow for deeper rotations and rest some of our typical starters." Even more impressive is that they dominated their conference and were resting players throughout.
This team can be scary good. Despite the multitude of cancelled tournaments, the team managed to finish the season ranked #2 in the nation by USA Ultimate. Maintaining their reputation, the team went on dominate West Pennsylvania Sectionals by going undefeated, winning all seven games by a total score of 91-25.
It would not be a surprise in the least to see this team win Ohio Valley Regionals in their hometown of Bethlehem, Pennsylvania. However, being in one of the deepest regions in the country, they will have some tough competition to fight through to do so.
Kenyon
A team that couldn't seem to show up throughout the spring, hampered by injuries and usually without a full roster, SERF put it all together at conferences two weeks ago.
The team views their limited roster throughout the regular season as a blessing rather than a curse, however. By missing players in significant roles, the captains feel that less experienced players gained experience through extra playing time, adding depth to the roster.
Now in the series, team leaders Max Dugan, Thomas Piper, and Corey Barber-Bockelman among others have a fantastic supporting cast to assist them in their quest for a spot at DIII Nationals.
Barber-Bockelman in particular has played a very important role on the defensive line, according to captains. "[He] has been a show-stopper for us all season," they said. "He is our best defender and runs our offense on the turn. Our team would be much less successful if we didn't have him out there." SERF will look to Barber-Bockelman to anchor their defensive unit and provide the team with breaks throughout the tournament.
Also, as a result of the limited roster, the team is more well-rested than most, as top players normally expected to take on a heavy workload have not had to deal with as much physical stress as in the past. While they did not have a great spring season by any means, finishing 7-6 on the year with a #35 ranking from USA Ultimate, extra rest for their top players and experience for their younger players should prove to be beneficial throughout the series.
As for recent performances, none is more telling than Kenyon's dominance at Ohio Conferences, one of the deeper ones in the country. Never allowing more than seven points in a game, the team cruised to a conference championship, sweeping the field with a combined score of 89-35. Expect to see an impressive performance at Regionals from SERF.
Dickinson
One point away from the game to go at Regionals last year, Dickinson is hungry for another shot at a Nationals bid. Winning the Eastern Pennsylvania conference with a solid 15-12 performance over Messiah — another team that made the semifinals of regionals last year — the team looks to make an appearance in Ohio this May.
Led by handlers Simon Feeman and Trevor Greisman (both First Team All-Region in 2013), Dickinson had a rather uneventful spring season before leaping onto the big stage with a Conferences win last weekend. Michael Goematt and freshman Sam Kilburn are examples of role players who have had an important impact on the team, creating a fast, precise offense. Several players in the region have nominated Kilburn as the Ohio Valley Freshman of the Year, especially after his cutting led Dickinson to the win over Messiah in the championship last weekend.
Perhaps their biggest key to success has been the small amount of turnover the team had from last year. "Being able to have essentially the same starting lines this year as last has helped our play immensely. After a few years of playing together with the same people every point, you can really develop some great chemistry," said team president Adam Berman. Having that amount of experience and chemistry will definitely give Jive Turkey a leg up on some teams at Regionals this weekend.
Contenders
Cedarville
Perhaps the biggest surprise in D-III ultimate this year, Cedarville put on a string of dominant performances all spring. Emerging as a top contender at DIII Midwestern Invite, they handily beat established programs such as Kenyon (13-10) and North Park (13-5) on route to winning the championship. Continuing on from there, they proceeded to take second at Kentucky Classic, only losing in a close game to Chicago.
Relying on a fluid offense, Cedarville is never afraid to take shots and use their athleticism to make big plays. On the other side of the disc, the team sticks with tight man-to-man defense that takes advantage of every mistake. Featuring a very top-heavy roster, with 11 of the 20 rostered players listed as seniors, captain Eric Shomo is aware of the significance of this series — the first and last for all 11 of them. "With this being my only shot that I have at a DIII title run, this season has a lot of importance to me as well as the other seniors that we have," Shomo stated.
In such a deep region, Cedarville will have to play well to overcome the top teams in the region and secure a bid to Nationals. However, if their performance during the regular season is any indication, they have a good shot at doing so.
Messiah
After finishing tied for third last year at Ohio Valley Regionals, Messiah will have to put down a similar performance to secure one of the Ohio Valley's three bids to Nationals this weekend.
Like other teams from the region, Messiah had a tough spring. "We played one and a half tournaments out of the four we had planned thanks to the brutal weather, [but] made the best of this situation by taking care of business in each game we did get to play," explained head coach Charlie Hoppes. Messiah did just enough to sneak in at the end-of-season USA Ultimate rankings, securing another strength bid for the Ohio Valley at #12.
With a strong cast of handlers in Ethan Peck (2013 Second Team All-Region), Mark Larsen, and Zach Sizemore, as well as a talented collection of cutters in Connor Power, Aaron Swarr, Christian Becker, and Mike Stephen, this team has the depth necessary to make a run for the top three.
Utilizing a quick-moving offense and a versatile defense that can throw various looks at opponents regardless of the weather, Messiah is a dangerous team.
Franciscan
The most recent surprise to come out of the Ohio Valley, Franciscan made a splash at their first ever Conferences last weekend in Columbus. Entering as the ninth-seed, the Steubenville-based school broke into the championship bracket and finished second, beating Cedarville on double game point before losing to Kenyon in the championship.
Slowly becoming a closely-knit program with the Cincinnati-based Holy Family Catholic High School, Franciscan seems to have a bright future in DIII Ultimate. With five current alumni from HFC in senior captain Michael Bissonnette, junior captains Tony Bort and Tommy Koch (the team's pick for Player of the Year in their region), freshmen John Paul Bort (a favorite for Freshman of the Year in the Ohio Valley) and Jay Ratajczak, Franciscan has already begun to draw heavily from the school.
Holy Family Catholic, one of the top high schools in the nation, recently concluded an 18-0 season in which they collected championships at three major tournaments: Deep Freeze, Chicago Invite, and Paideia Cup. If Franciscan can continue to foster a close relationship with the program and its players, they should continue to be a threat on the national level for the foreseeable future.
Regarding Conferences, the team's first full tournament, Bort said, "To be honest we surprised ourselves at Conferences. We knew we could compete with teams but we definitely thought our lack of tournament experience would play a bigger factor than it did."
With several players getting their first taste of tournament experience that weekend, the team performed remarkably well while still developing chemistry and a system to play through. Bort complimented the team's smart play and good decision-making, citing "not pushing the envelope" as when the team was at its best.
Regionals should prove to be a completely different challenge, with more high-quality opponents; however, Franciscan has shown that they should not be taken lightly.
Ohio Wesleyan
After a strong start to the spring season at Cat Fight, in which their D line led them to a second place finish, the Firedogs managed to move to the #5 spot in USA Ultimate's national rankings. Still, they collapsed at Chicago Invite and dropped to #28 by the end of the season. Hampered by injuries throughout the spring, the Firedogs have been limited throughout but are looking towards bringing their full roster to Bethlehem for Regionals.
Boasting a strong senior class, highlighted by handlers Max Richards and Ryan Klein, cutters Zach Ford (Madcow) and Lucky Mosola, and others, the team possesses a strong class of leaders as well as a good deal of depth. Star freshman recruits Sam Schurer (Oakland, Impulse YCC) and Gabe Kaufman (Amherst HS, Israel U19) have made immediate impacts, contributing to the bevy of role players on the roster. The problems that the Firedogs must overcome if they want to earn a bid to Nationals are injuries and inconsistency, especially up against tough competition.
However, if the team arrives in Bethlehem healthy and on their game, they can give any team trouble. With a physical, tested D line that has played consistently great man-to-man defense and an O-line that has looked elite at times throughout the season, OWU can make a serious run for a bid to Nationals if they play to their potential.
Oberlin
After a phenomenal start to the spring season in which the team was ranked #4 in the nation with two weeks left, the Horsecows dropped to #21 by the end of the year. Similarly to Ohio Wesleyan, Oberlin was hampered by injuries all season, according to Alex 'Bubbles' Kapiamba. "We have been pushing all of our players really hard athletically from Day 1, which helped us get ahead early in the season but also has left us with a fair amount of injuries," he said. "By the end of DIII Easterns we were down to 11 healthy bodies."
As a result of these injuries, the Horsecows finished 6th at Ohio Conferences last weekend. As they rely heavily on certain players to carry their team, including Kapiamba, Eli Steiker-Ginsberg, and freshman Ben Garbus. Oberlin will need everyone to be healthy and playing well to make a run for a bid to DIII Nationals in May.
Haverford
Always an athletic team that can play in big games, Haverford played Lehigh closer than anyone at Conferences last weekend, losing just 13-9. After tying for 9th at Ohio Valley Regionals last year, Haverford will look to improve upon that performance this year in their pursuit of a bid to Nationals.
Wildcards
The tournament is rounded out by Xavier, Franklin & Marshall, and Lafeyette, who replaces Denison this weekend.
Xavier is an especially interesting team to play spoiler in the region. The team is headed by main handler and captain Alex 'Bear' Riahi, one of the region's top players. Although the team played poorly near the end of the spring and struggled to secure the Ohio Conference's final spot to regionals with a 7th place finish last weekend, B.L.O.B. has had some encouraging signs in the spring. From a 12-4 win over Harding at T-Town Throwdown, an 8-5 win over Kenyon at Cat Fight, and close games with Brandeis and SUNY-Fredonia at DIII Easterns, one can see that this team has potential. However, after losing out at Conferences before defeating Ohio Northern to claim the final bid, Xavier will need to step up their game if they want to have a shot at really competing for a bid.
Franklin and Marshall is another interesting case after coming in third behind Lehigh and Haverford at Eastern Pennsylvania sectionals. Giving Haverford a good game (9-12) at sectionals is encouraging, but this team has done nothing to prove itself as a contender all spring.
Lafeyette is a similar case, not really proving themselves throughout the spring and series so far. While they are fortunate to receive the spot at regionals as a result of Denison dropping out, the team has not beaten anyone notable and will need a stellar performance to be considered a threat for one of the three bids to Nationals.