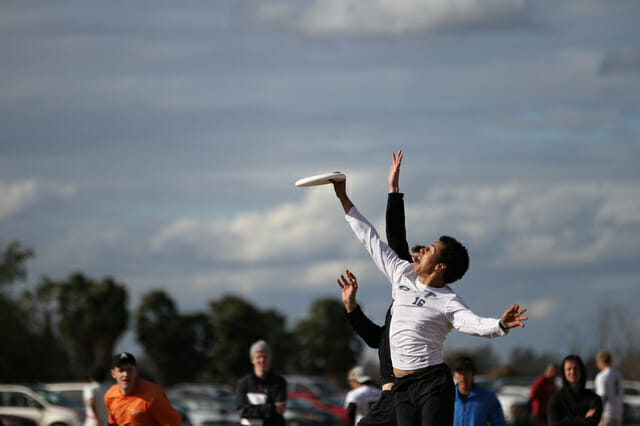 Only eight of the original 16 teams from the first Ohio Valley regional tournament in 2011 return in 2014, but one thing has not changed: the University of Pittsburgh is far and away the top seed. When the state of Pennsylvania was in the Metro East, Pitt, no matter how heavily favored, could not win the region. It's been a different story in the Ohio Valley, where Pitt has been nothing short of dominant.
Top to bottom, this year's competition is stronger than 2013. Though still the clear favorite, with only one bid and some gritty teams coming out of the dog fight that was Ohio Conferences, Pitt will probably be tested as they try to earn a 10th straight trip to Nationals.
Yep. Pitt is still the favorite.
Often times in college Ultimate you can look at a team and think, "That's the thrower. We just have to stop that guy from hucking it." Isolating that guy on Pitt is impossible. Marcus Ranii-Dropcho can put it, Max Thorne can put it, Pat Earles, Trent Dillon, and so on down the roster — they can all put it. Check out the highlight video. A lot of big throws coming from a lot of different players. Their fundamentals are very sound and it enables them to perform at a high level with a lot of consistency.
On defense, Pitt can get a break with a line of fast, athletic defenders, then turn around and trot out seven fresh guys off the bench who can do the exact same thing. They're great at man, they have tricky junk looks, they run transition — it's a reflection of good coaching and focus. Pitt is not limited on what they can do defensively, so they can — and do — mix it up until they find what works.
The bottom line is that Pitt is ridiculously deep, take no one lightly, and have won this tournament before. It's their bid to lose.
The Other Top Seeds
Ohio State: My takeaway from Leadbelly's conference win is that they're peaking at the right time. They were able to grind out tight games in the region's toughest qualifier that was log jammed with teams all right around the same level. They also have a legitimate stud in Paul Arters and those are the kinds of players that win games at regionals.
Penn State: Spank has had a solid spring and, unlike a lot of East Coast teams, played a lot of games. Conferences was their fifth tournament of the spring. That's a good amount of Ultimate. That's always an advantage. Penn State has good overall depth and enough quality players to run effective man defense. Though I was a little surprised to see them get the second seed — if only by virtue of Ohio State being a conference winner — you can't say they haven't earned it. Let's see what they can do with it.
Case Western Reserve: Case Western took home second place at the Chicago Invite and proved it wasn't a fluke at Conferences. Case was seeded fourth then went 5-0 Saturday. On Sunday they lost in finals on double game point — on serve — to Ohio State. No shame in that. Look for Case to be playing on Sunday in Toledo.
Cincinnati: Cincy had a nontraditional spring. They went to some high profile tournaments way far away like Santa Barbara, Warm Up, and Centex, and didn't play a single in-region rival until Conferences. Iowa was the closest team geographically to Cincinnati that Cinister played and that's still seven hours away. I like that. They emphasized playing good competition, they bought the plane tickets, and they did it. So what's up with the fourth place finish at Conferences? Not a great team in the wind? Did they peak? Just a bad tournament? These guys beat Pitt in the fall (yeah, I know, the fall). Their roster has some Nationals level club talent and pro players on it. With a chip on their shoulder and the six seed, they're in a great spot to really make Regionals interesting. Make no mistake: this team is dangerous.
West Chester: Grab your slippers, Cinderella. We're going dancing! From playing three games in the regular season to winning the East Penn and earning a top five seed at Regionals, West Chester is going to be one of the more interesting teams to follow. I know they've got some guys that played on the Philadelphia Phoenix and a captain of UPenn told me, "Nobody knew anything about them but they played good Ultimate. Lots of great break throws to space… West Chester has a very good system." There you have it. Teams like this with a very limited body of work are tricky to prepare for. You don't know what they can do and they don't know what they can't.
Ohio: No more Mitch Cihon but OU represented themselves well to get third at Conferences. There are still a lot of guys on that roster with big game experience and several club players like 2013 first team All-Region Connor Haley to make a run.
Quick Hits
Pennsylvania: They wound up in West Chester's cinderella story but they went out this spring and earned themselves a bid. Void has a good core of players including former Philadelphia Spinner Himalaya Mehta.
Edinboro: The Boro's not afraid to run a tight rotation and has three guys that can really play, in particular All-Freshman lock Max Sheppard.
Dayton: Remember that Dayton lost lefty bomber Sam VanDusen last semester, who now plays for Pitt. Ghetto Force will be leaning heavily on Mark Fedorenko at Regionals.
Wright State: Played in some close games against good opponents at Conferences including Cincy and Case Western.
Carnegie Mellon: The wind conditions at conferences really hurt Yuk and they're dealing with some injuries. It looks like a rebuilding year for CMU.
Indiana (Pennsylvania): IUP is making their second trip to regionals in program history. They have a core of guys that have been playing together for a long time.
Shippensburg: Tight loss to IUP in a placement game at Conferences. This is Ship's fifth consecutive trip to Regionals.
Miami (Ohio): Made it out of the dog fight that was Ohio. Still a respectable later seed at the regional tournament.
Conferences Recaps
Here are some of the main story lines and more interesting games in each qualifying tournament.
West Penn Conference Championships
1. Pitt
2. Penn State
3. Edinboro
4. Carnegie Mellon
5. Indiana (Pennsylvania)
6. Shippensburg
These games were all extremely upwind/downwind; tons of turnovers, tons of punts, and tons of Callahans. Really, several multiple Callahan games. Not a fun day to be a sophomore side handler trying to catch the pull in the downwind end zone.
The West Penn has the biggest disparity from top to bottom. There's Pitt. Then a ways later there's Penn State. Then there's everybody else.
In conditions like these, Pitt's athletes and throwers ruled the day. Penn State is polished and has a lot of good pieces but were unable to make a real run at Pitt in the finals.
Ohio Conference Championships
1. Ohio State
2. Case Western
3. Ohio University
4. Cincinnati
5. Dayton
6. Wright State
7. Miami (Ohio)
A coach described the tournaments conditions to me as "one of the worst upwind/downwind tournaments I've ever been to." Initial seedings were thrown out the window as Ohio State beat fourth seeded Case Western on serve in the finals. Both teams were able to get an upwind break in the game but wind like that makes the flip really, really important.
The real story of this Conference is that Cincinnati came in as the one seed and ended up finishing fourth. Cincy could have finished even lower than that but pulled out a win against Wright State after a controversial travel call on double game point.
East Penn Conference Championships
1. West Chester
2. Pennsylvania
Drexel goes to the tournaments to get in the right amount of sanctioned games and earn that extra bid to regionals, and here comes West Chester out of nowhere to take it away.
West Chester played just three games this year. Roll Call was a tournament they had planned on going to and it was rained out, but still — three games!
The Takeaway
With only one bid to Nationals, no team is ever really safe. All it takes is one bad game from the favorite and one great game from the underdog. Upsets happen in college Ultimate. There's a saying in football: "the ball is not round." Similarly in Ultimate: "the disc floats." Crazy things can happen.
Look at Iowa's upset of Minnesota at North Central Regionals last year, or a couple years ago when Minnesota Duluth qualified, which somebody should seriously make a movie about.
If you're asking me to take Pitt or the field, I'm taking Pitt. But this year's Ohio Valley regionals has the potential for some entertaining games.