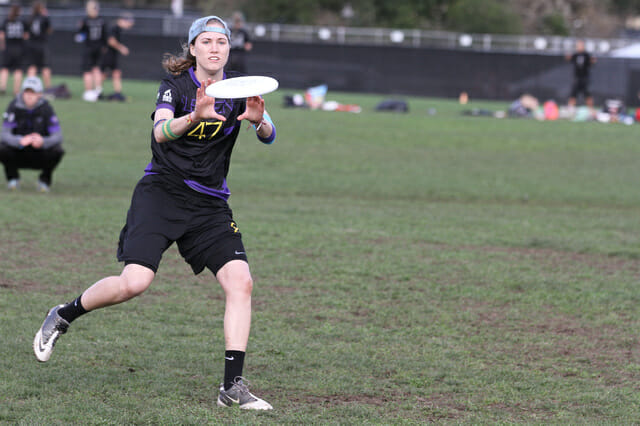 For all the attention the Northwest region has received this season, it has yet to lose our interest. Stanford Invite set the tone for the rise of Western Washington; Northwest Challenge showed the cracks in the monument that is Oregon Fugue, and highlighted an inconsistent Washington and a talented UBC. Now, one tournament into the series, the evil empire is still ripe with storylines and potential upsets.  There won't be a scramble to reach Cincinnati in this six bid region, but don't expect anything less than a serious battle at Northwest Women's Regionals.
#1 Washington Element
Washington Element is coming into Regionals ranked first after a solid weekend at Cascadia Conferences. Inconsistent performances against elite competition have plagued the 2012 national champions, which resulted in 4-3 results at both Stanford Invite and Northwest Challenge. Element leadership describes the "mental team funk" that has afflicted them this season, but says that conferences was a "breath of fresh air" for the team.
Team chemistry is still in the development stage, and mental focus is an issue for Element. Callahan nominee Shira Stern handling with Lucy Williams and Amanda Kostic will have to find their groove with explosive cutters like Barb Hoover and Alysia Letourneau for this Element squad to succeed. These parts started to come together at Conferences, but some inconsistencies remained. A 13-2 win over UBC is paired with a one point win over Victoria. You could argue this is a lack of focus on the part of Element or proof of the parity that exists in the deeply talented NW Region this year. For a late blooming Element, Regionals will be their last chance to bring their talent and focus together to prepare for the big show in Cincinnati.
#2 Oregon Fugue
Oregon Fugue has one of the deepest rosters in the country, an intense field presence, and one of the best ultimate coaching minds in Lou Burruss behind them. However, they've shown weakness in every major tournament, with losses to UCSB at Pres Day, Ohio State at NW Challenge, and UBC at Conferences. Two of these losses were somewhat redeemed by later tournament wins against UCSB and UBC, which shows resilience (and an ability to make adjustments) on the part of Fugue. However, the loss to Ohio State in the final of NW Challenge is proof enough that it only takes one strong performance to unseat a champion.
The line from Fugue has been the same all season. They play frenetic defense, transition at lightening speed, and play to each individual player's strengths. These strengths are great and varied — Callahan nominee Sophie Darch's precise throws, Alex Ode's high pressure defense, and Jesse Shofner's dynamic athleticism are just some of the team's many talents. But losing Bethany Kaylor to a foot injury sustained at Conferences will most certainly hurt Fugue in the rest of the Series.
Fortunately for Oregon, flexibility is the basis of their system, and a deep bench will provide skilled players to take her place. Fugue won't be playing the same game as they did with Kaylor on the field, but it shouldn't derail their performance. They'll turn to players like Dre Fontenot and standout freshman Hayley Walhroos to help fill the holes. Regionals will give them an opportunity to get used to the new lineup before they pull out all the stops in Cincinnati.
#4 Western Washington Chaos
Western Washington Chaos is another team with big expectations but inconsistent results. Their almost flawless performance at Stanford Invite was followed up by a 1-6 performance at NW Challenge, where they were stalled by the inclement weather and the loss of Callahan nominee Callie Mah to injury. Working to Chaos' benefit is their strong coaching core that buoys the team's emphasis on what sophomore cutter Abbie Abramovich calls "peffort", a uniquely named combination of positivity and effort.
The coaches emphasize Chaos' deep roots in goofiness, wearing costumes at tournaments, and making sure the team doesn't lose sight of having fun. Chaos has shown that they can excel at the highest level of the Women's Division, but they have yet to show that they can sustain this performance. At Regionals, look for Chaos to focus on taking deep shots, run their offense through Mah and Abramovich, and play with their signature style while also staying loose and remaining supportive.
#3 British Columbia
UBC was just getting warmed up in their season during Stanford Invite, and still managed to rack up wins against teams like UW and UCLA. After more practice time, the Thunderbirds blazed through the Northwest Challenge, losing only one game to top ranked Fugue.
The T-Birds gained many experienced rookies this year, and have been working to integrate everyone into one cohesive team. The Vancouver youth scene has contributed mightily to developing many of their players, and those such as Laurel Jay, Victoria "Stevie" McCann, Amy Lou, and Terynn Chan have played for Junior Team Canada squads. Callahan nominee Mira Donaldson played with Team Canada in Cali, and is undoubtedly one of the most dominant players in not just the region, but the entire women's division.
A Conferences record of 0-2 against Washington and 1-1 against Oregon shows a team with potential that hasn't yet polished the edges. If captains Gera Stancheva and Devra Waldman pull their talented team together, the Thunderbirds will be contesting the top spot at NW Regionals this weekend.
#5 Victoria Vixens
Coming into the weekend seeded 5th, Victoria will look to close out close games to clinch their trip to Cincinnati. Only a couple years ago, the Vixens were struggling to have numbers for tournaments and earning a bid to Regionals for the first time in recent history. They've emerged on the other side of these years of development with a full roster of experienced players, sprinkled with Traffic and Junior Team Canada experience.
At Conferences they lost by a single point to UW and two points to UBC. While they're not yet securing these tight games, the Vixens are proving that they're a team to be reckoned with. Led by the smooth handler movement of Danie Proby, strong play of Allie Short and Kate Scarth, and the braintrust of coaches Kevin and Phyllis Bruleigh, this team is looking to show how far they've come in just a couple of seasons.
#6 Whitman Lady Sweets
Perhaps the team to thank for the relaxing experience of a six bid region is the Whitman Lady Sweets. The team pulled out a 4-3 record at NW Challenge, including a decisive win over UW. The Lady Sweets are another team fresh off years of development, and just one year ago the team received their first bid to Nationals. They ended 2013 tied for 13th in the country, and this year are looking to ride even deeper into bracket play in Cincinnati.
Experienced handler Julia Bladin and 2013 FOTY Ari Lozano both return to lead an athletic and driven team. The additions of freshman playmaker Claire Revere and handler Margo Heffron have them looking to make their mark on the elite NW field.
On the Outside Looking In
Montana PillowFight and Oregon State Dinos will fill out the field this weekend and will work to send out their season with well fought games against the intense competition. PillowFight is coming off a second place finish at Big Sky Conferences, and will no doubt try to use their knowledge of Whitman's game to play close with them in their game. The Dinos will try and improve on their results against Oregon, WWU, and UBC from conferences. These two teams are young and scrappy, with nothing to lose against the big names they'll face this weekend.
High Quality, High Stakes
With six bids, this weekend gives the Northwest one last opportunity for development and to work out the kinks. However, it won't be a relaxed weekend. UW, Oregon, and UBC will be paying close attention to each other in anticipation of a potential semis or finals meeting at College Championships. Each of these top teams will want the mental edge that comes with winning the strongest region in the nation, and traveling to Cincinnati potentially seeded first. With the competition that teams like Ohio State and Central Florida will bring, top teams from the Northwest need to hone their focus and polish their playing to be in top shape come Memorial Day weekend.
Even with no struggle for bids, these prizes are worth a fight to the Northwest teams.