After all of the college season unpredictable turmoil took its toll, familiar faces topped the Southeast region. It's no surprise that the three Florida powerhouses — Florida, Florida State, and Central Florida — all locked in a spot to Cincinnati this weekend.
But in a state that has just sanctioned their first high school state championship, pressure is put on the coaches in the state of Florida to teach everything from A-Z. 
A Short Explanation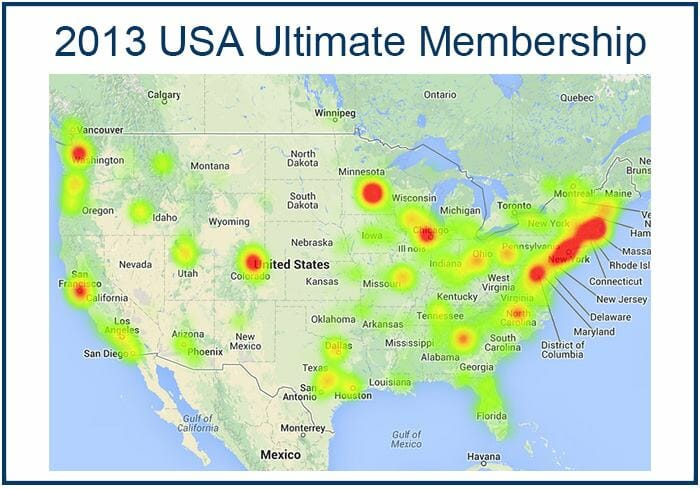 Unsurprisingly, the Northeast dominates the map. but what is surprising is the lack of dense areas in a Southeastern region that consistently gets two — and lately three — bids to college nationals.This isn't to say that membership translates to consistency. But if you were only using the map, and you had to make a prediction of one of the two states with three Nationals teams, you wouldn't pick Florida.
The three teams advancing to Nationals out of the state all have their own ways of developing talent and building a program. Florida's disparate cities makes even having local club teams difficult, so much of the player development comes directly from the coaching staffs at the universities.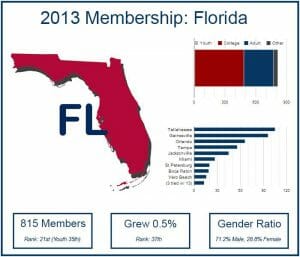 Coach Cyle Van Auken Returns Home
Cyle van Auken has been involved in coaching the Florida Gators since 2009. Before that, Van Auken played with the Gators during their 2006 national title run and 2008 2nd place finish (behind Champion Wisconsin).
Living away from Florida for some years after graduating, van Auken coached from a distance from 2009-2012, traveling only to major tournaments and occasional practices. He relocated to Gainesville in 2012 for the explicit purpose of coaching.
During van Auken's tenure, Florida established their methodology of putting the weight of the team on their best three or four players for every point.
The idea of winning and losing by the play of your best hasn't changed. This year's Brodie Smith, Cole Sullivan, and Kurt Gibson are none other than rising stars James Dahl, Jason Silverman, and Bobby Ley. Those three often take no more than one or two points off per game in important situations.
When Ultiworld talked to van Auken about this extensive workload, he didn't shy away from the challenges it created. "Each next group of players think they can immediately step up, but it is a process," he said. "…They have to be at the front of track workouts, the players who try the hardest at practices, and the teammates who don't allow excuses when they do not live up to the necessary standard."
This methodology has proven to be mostly effective, capping their season off with a Southeast Regional championship and a ninth overall seed at Nationals. Their unorthodox style of very tight rotations also solves their depth problem and lack of youth experience — put the disc in the hands of your most talented players and don't let it out. Younger, less experienced players get better at practice and in blowout games, but don't see the field much when the game is on the line.
Coach Peter Van De Burgt Builds Through the Season
Peter Van De Burgt has been coaching Florida State since the Fall of 2010. In college, he played with Virginia Night Train for four years, including their first ever trip to Nationals in 2009. Since then Peter has played with a variety of open and mixed club teams in Tallahassee.1
DUF started the spring hot with a semifinals finish at Florida Warm-Up and an impressive Stanford Invite with wins over Oregon and UCSD. A lackluster performance at Easterns and Sectionals may worry some, but Coach Peter is seeing the best out of his team.
"Those types of lapses in focus can definitely set you back in this division, because the best teams are constantly and steadily improving from point to point, game to game, and tournament to tournament," Van De Burgt told Ultiworld. With these varying results, DUF seems to have come out stronger. "Those are the types of road bumps that we internalize and learn from, and I think that we have emerged from the regular season as a better team in part due to the varying results that we have had."
Talking about bumps on the road to Nationals is surely better than talking about whether or not you'll make it to Nationals. That shows just how much Florida State has grown as a program since van de Burgt took over the coaching position. It has been an intense focus on development that has helped them become a back-to-back Nationals qualifier.
"Almost no one on the team possesses meaningful ultimate experience prior to playing with DUF," said van de Burgt. "There is one player on our team who actually played for a bona fide high school team. There are maybe three or four other guys who played some form of organized ultimate prior to DUF. We just don't get the juniors and high school talent that many other top teams have. As a result, our program has to focus extensively on developing players from scratch and on producing results through hard work."
Florida State has a knack at recruiting outstanding athletes that they can quickly build into competent ultimate players. Particularly, their defense has an endless supply of fast, springy players.
DUF has arguably the toughest pool at the College Championships with Texas and North Carolina waiting to face them. Florida State's defensive depth helped in a Stanford Invite semifinal earlier this year when they fell just short to UNC 14-13. In their first look at Texas at Florida Warm-Up, they struggled to put in breaks in the second half against a stout TUFF roster. But DUF will look to peak at the right time and snag at least one upset against those two ultimate powerhouses.
Coach Andrew Roca Sets Goals
Andrew Roca finished his played his college Ultimate at Central Florida, wrapping up his fifth year of eligibility in 2010. He immediately started coaching in 2011, jumpstarting Central Florida's rise towards the top of the Southeast region. He has been widely praised and won three straight Southeast Coach of the Year awards.
This year, one in which Central Florida was expected to dominate after reaching the finals of the College Championships last season, has been much rockier. UCF's season has been the very definition of unpredictable. Early in the year, the loss of big man Mischa Freystaetter looked like it was going to hold the Dogs of War back. A surprise upset by LSU at T-town Throwdown immediately made people skeptical of UCF's real chances at a National Title. UCF went on to lose in the quarters at Warm-Up to Northwestern, and then fail to make it through pre-quarters at the Stanford Invite.
A poor finish at Eastern's set UCF up for a trying time in terms of leadership. But Andrew Roca recognized the issues and attacked them head on. "While we may have set in place a long term goal (winning a national championship), we did not set any short term goals of how to achieve the long term goal," Roca told Ultiworld. "Since then we've restructured our leadership and released them of the pressures of the stigma that was given to us. For once they are playing for the right reasons."
Along with dealing with team leadership issues, the team is also dealing with bringing its very raw rookies up to speed. Roca said he personally spends two to three hours working with new players every week and gets them as many touches as possible in the fall and early spring.
"On the one hand, the slow youth scene might not bring out the quality of experienced players that I want," he said. "On the other hand, I look for athletes I can develop."
That can mean for slow starts for Central Florida, much like they had this year. They often spend almost all of the late fall and early winter months working on throwing — no offense, no defense, just throws.
If theres any certainty in UCF going into Nationals, it is that Coach Roca believes the best of his team has yet be shown. And with a rematch of last years National Championship game vs. Pittsburgh, the Dogs of War will have an opportunity to grab a major upset and set themselves up well for meaningful games late in the weekend. Out of all three Florida schools, UCF might be in the most favorable position.
***
The influence of coaching in the Southeast region becomes clear in the analysis of the only statistic that matters. The last six teams fighting for the Southeast's three bids to Nationals all had coaches. The stability that someone can bring a program seems invaluable, and the experience that these three coaches bring to their programs make them very dangerous teams to face off against in Cincinnati.
---
It should be noted that Coach Van De Burgt has never played on a team with a coach ↩