If you're a fan of Northwest women's college ultimate, you've come to the right place! We've got four flavors for you to try and see whose taste tickles your fancy. That's right, the #evilempire has claimed an entire row of the nationals board.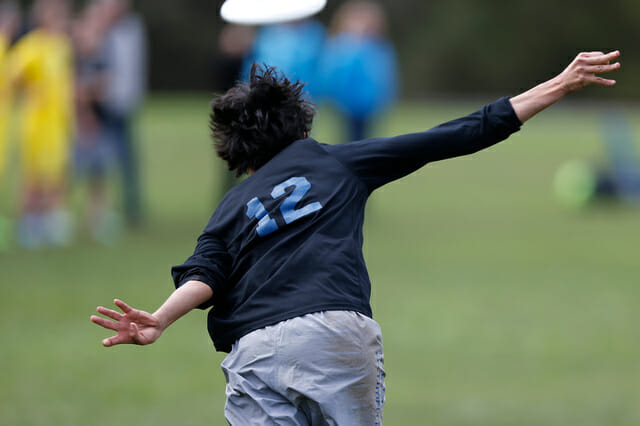 If you're a fan of Northwest women's college ultimate, you've come to the right place! We've got four flavors for you to try and see whose taste tickles your fancy.
That's right, the #evilempire has claimed an entire row of the nationals board.
Most of this group has a lot to prove. Two of these teams — Victoria and Western Washington — are making their national debuts, each looking to celebrate their programs' biggest successes. Meanwhile, British Columbia and Whitman want to show that their youth movements aren't content with just waiting for their turn. And both UBC and Western could have avoided this group altogether had they not finished behind Whitman at Northwest Regionals.
Now the regional alliances are cast aside and the hoarding of bids is irrelevant. Questions about what the Northwest mean for women's ultimate may be put on the backburner as the teams in question get the chance to show that they deserve their spot among the game's annual pantheon.
Whitman Sweets (Pool D, #9)
When Whitman made it to Nationals last year, many people questioned whether they had earned their spot: perhaps they were riding the coattails of a stacked region, coasting easily on the strong seasons of their neighbors, and stealing the bid that Victoria had earned.
The Whitman Sweets responded by upsetting Central Florida to break seed 13-12, taking nearly every team in their pool to close games, and beating Georgia in their consolation game, 12-11. Perhaps they weren't as polished as their regional companions, but they deserved to be there.
The Sweets have been anything but this season, with close wins and losses all season and a drive that propelled them to place 3rd coming out of the Northwest, a region undeniably choked with talent, no matter your opinion on the bid allocations.
Many of these well-fought wins stemmed from the Sweets' focus this year on their mental game. The captains call it "flipping the switch," when the team is able to earn points with their mental toughness as well as their fundamentals. Grit is a skill that many teams never develop, but Whitman thrives on it, and this attitude has and will carry them far in close games against their high-seeded opponents.
On offense it's called grit, and on defense it's called scrappy. Whitman has the athleticism to shut most players down, but their success stems from the collective understanding that a turn comes from 7 players doing their jobs.
It's easy to write about Whitman's Seattle progenies, but Sweets Captain Julia Bladin points out that last year, the core that carried Whitman to nationals comprised of girls who had started in college. And this season? "If someone who didn't know anything about us watched our team play, they would have a very hard time trying to figure out who has been playing for 8 or 9 years and which of us has only been playing for 2 to 4 years."
Their veterans still make plays, but some of their biggest threats downfield are players like senior captain Corinne Pingul,Celine Valentin, Brenna Bailey, and Jessica Shatkin, all of whom began playing in college. Whitman undeniably benefits from youth experience, but their program's ability to shape accomplished players can't be ignored.
Whitman beat Washington at Northwest Challenge 12-8, but two losses at Regionals suggest that when the prize money is on the line, Washington will lock down for the long fight. These teams know each other well; some of the girls have spent the last 8 years facing each other in the other endzone.
On the other end of the spectrum, Whitman hasn't met UCSB since mid-February at President's Day Invitational, and the Burning Skirts are a formidable 2-seed that the Sweets will have to overcome late on Saturday in order to break seed.
No matter where they land this weekend, Whitman has a more important endgame:
"Our goal for nationals is to prove to everyone that we deserve to be there," the Sweets captains say, "We're still a pretty unknown team, and we want to show that although we come from a small D3 school, our young program is growing and getting stronger, and we expect to make appearances at D1 nationals for a long time coming."
British Columbia Thunderbirds (Pool C, #10)
UBC will send one of the most talented rosters in the country to Cincinnati to battle it out in the division's most dangerous pool. With an incredibly young team, however, nationals will be a new trial. That's often considered a bad thing, but the T-Birds see it differently.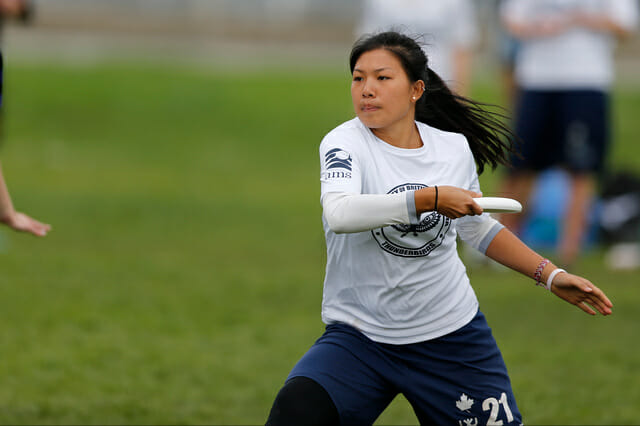 "We think it's awesome to have such a young, but talented, team," said captain Devra Waldman. "There have been times where this has definitely been a strength for us because we don't go in with predetermined expectations."
Perhaps freedom from expectations is what allowed UBC to breakout at the Northwest Challenge, just their second tournament of the season. Their play was fundamentally sound, well-rounded, and impressive throughout. They left Seattle with blowout victories over Whitman and Carleton, while conquering Colorado, Western Washington, Tufts, and Stanford to boot.
But inexperience causes issues, as well, and Waldman admits that "we've struggled with our mental game at times."
And the penance paid for those lapses in focus is evident as well. They've dropped a pair of games – one at the beginning of the season and one near the end – to Western Washington. Against the Northwest elite, they've been buried by both Washington and Oregon in recent games.
Perhaps it's even worse that those teams are ones that  British Columbia feels – even knows – they can run with. They rallied to beat Western 11-8 the same weekend they lost to them. Washington suffered a similar fate in an early season tournament. Even mighty Oregon has been outdone by UBC in their biggest win of the season.
"The biggest difference between those wins and losses was our mental state," said Waldman. "A lot of those mistakes came from mistakes on our end."
Inconsistency is potentially the most threatening opponent British Columbia will face off with at the championships.
The veteran leaders will be key to battling back against that troublesome side effect of being stocked with fresh-faced youth talent. Waldman, the talented handler Laurel Jay, Teryn Chan, and defensive stopper Gera Stancheva will have to anchor their teammates, many of whom are making their first trip to the show.
Of course, one young player has a wealth of big games to fall back on: Mira Donaldson.
"There are few 20 year olds that bring as much experience to the table as she does," said Waldman, "and the team really feeds off of her."
Donaldson is dynamite for the T-Birds' offense, using her athleticism to initiate possessions downfield and using her length and smooth release to put touch on her deep shots that would rival any of the college game's premier throwers' looks. She's a very difficult assignment because of her combination of size, skill, and experience. Coach Tasia Balding and the UBC braintrust are happy to exploit that.
The depth of their roster is another effect of the influx of young talent. Players like Leah Mulholland, Victoria McCann, Esther Au, Birgit Rogalla, and Naomi Johnson all help give British Columbia multiple facets. They are capable of using entirely different lines for defense and offense without giving up too much or being stretched too thin, a relative rarity in elite college women's ultimate.
UBC's challenges are rather straightforward. Their pool is teeming with sharks: a Central Florida team hungry to prove their mettle, the skilled Carleton crew, a dangerously under-seeded Northeastern, and arguably the most talented five seed await them. However, how they fare against themselves may be what ultimately decides how far they go in what may be year one of a new era for the Thunderbirds.
Western Washington Chaos (Pool B, #11)
Western Washington has made quite a splash this year. As if qualifying for nationals for the first time wasn't enough, they had to present a star to the college ultimate community, contribute to bidwinning history, and score a three seed at the big show.
The exciting part is that these accomplishments have been hard earned. They won their way into the Stanford Invite field, and would go on to a breakout performance, beating UC-Santa Barbara, Stanford, and British Columbia on their way to the tournament final. Even at the Northwest Challenge, shorthanded and beat up, the managed to top Carleton, albeit for their only win of the weekend.
WWU was rewarded by being ranked #10 by USAU and #9 by Ultiworld. Not bad for a program people outside the Northwest were barely aware of.
Chaos's personality, however, is plenty memorable. They are goofy and fun-loving, making costumed coaches roaming on the sideline a regularity and laughter-filled huddles a must. And while seeing their star player in a tiger costume can be checked off, there's a hardworking energy under all the candy paint.
Western scraps, claws, and scrambles for every disc. Errant throws are hounded by a gaggle of Chaos girls, throwing limbs and bodies around wantonly in any chance of making a play for their teammates. While that means they sometimes play like a hot mess, it also means they find ways to haul in blades, deflections, and any other manner of difficult grab, sometimes well after their opponent has forfeited the play.
Their scrappy play may be a necessity for a team that is not adept at executing. Their skill is heavily concentrated in their core talent, so they are happy to funnel the disc through those players and let everyone else use their athleticism and heart to earn their keep. That means aggressive deep looks, active resets, and an emphasis on "getting it back" afterwards.
Callie Mah and Abbie Abramovich will often be the ones launching the big throws that ignite the Chaos. Mah is a Callahan contender, with an expansive throwing range and ability to win battles in the air, all while looking like she's in a drill rather than being guarded by her opponent's best defender. Abramovich, just a sophomore, is a workhorse who embodies the mentality of doing whatever it takes and putting it all on the line.
Rookies Tiffany Phan and Jesse Thoreson fill out the centerpieces for WWU. Phan is a grinding defender, making up for her small stature with quickness and grit. Thoreson is a smooth offensive machine, with a disciplined look progression and soft hands. The rest of the roster – led by players like Rosemary Widenor, Ariel Edwards, and Natalie Powell – brings the lunch pails for their blue collar play.
When WWU can't rely on outworking their opponents, they struggle, as they did at points this season. They've yet to replicate the success of the Stanford Invite: they were 4-3 against nationals teams after that weekend concluded and have been 3-13 since. Every nationals bound team they've beaten that they played again has beaten them, including their Pool B buddy Stanford.
Due to Western's volatile play and their eschewal of structure in favor of sweat, familiarity with them might not help as much as it does in other matchups. Oregon and WWU know each other well, much like Stanford, but Colorado College and Tufts won't be far off the needle movement. Oregon's defense may be too much for Western to wade through inefficiently, and Stanford's offense may be too disciplined to make the mistakes Chaos thrives on. Tufts, however, could struggle against their run-and-gun style of play.
University of Victoria Vixens (Pool A, #12)
Victoria spent last season making a name for themselves. They drew notice when a good weekend in the January rain proved enough to buoy their ranking all season long, eventually winning a strength bid. That would be snatched away at Northwest Regionals by Whitman, leaving the Vixens frustrated.
UVic turned that into a new plan for a new season, taking one or two highly competitive tournaments to both help them secure a bid for the Northwest while also preparing them for regionals. The team faces severe travel challenges that limit how many tournaments they can get to, so they had to make each one count, going to the President's Day Invite and the Northwest Challenge.
Between those tough fields and the high-powered Northwest portion of the college series, Victoria has had few easy games: only seven of their games were against teams that didn't qualify for the college championships. Thus despite a numerically unimpressive 7-9 regular season, coupled with a 3-9 record in the series and a 4th place finish at Regionals, they can still be seeded just outside the top 10 seeds at Nationals.
Their strong opponents have tested and therefore strengthened the Vixens. Victoria Coach Kevin Bruleigh agrees, explaining that, "Teams in a lot of other regions don't face as many different top 20 teams throughout their season as we have in the past few weeks…Our Conferences was practically a mini Nationals."
One of the lessons they've learned from all their tough competition is how to fight. Victoria rarely gives up on a game or lets an opponent open up on them, resulting in a lot of close losses against elite teams. Blowout losses to Washington and UBC are anomalies for a team that loves to play games down to the final buzzer.
They'll need a longer term view on that philosophy, as they have struggled in the latter part of the season. Regular season wins over Michigan and Western Washington are beginning to seem like a long time ago, and they finished the series without any notable victories. The Vixens will need to tap into some momentum on their way to Cincinnati.
The first source they will look to is Danie Proby, the team's generator and star. The 5th year senior is a candidate to lead the tournament in assists through the first two days. Proby's liable to ping back and forth in the dump space or up the line until the opportunity strikes for her to rip a deep shot to one of her capable receivers. In the red zone, her break throws are often the nail in the coffin for defenses. Beyond her expert handling, Proby has also been a leader for the Vixens off the field.
"Danie is the best kind of leader you could ever want. To me, great leaders don't create followers, they create more leaders." recalls Bruleigh. "Our greatest strength is our depth, both in skills and in character. And it's almost all Danie's fault."
The rest of the Vixens roster features some strong players that frame Proby's play. Corinne Dunwoody, Jessie Bell, and Allie Short are experienced and fundamentally sound players that take on critical roles. Junior Kate Scarth has emerged as a big time playmaker for UVic.
Now that they've finally been invited to the big dance, the question is whether or not Victoria can strut their stuff once the music starts. They can be confident, starting with unfamiliar but beatable foes in Virginia and Kansas. Their Friday slate features teams they know: Ohio State, who they played tight at Northwest Challenge, and Michigan, a team they beat in California months ago.
The Vixens have spent months, if not years, preparing for the mainstage, and after the disappointment of last season, they will not look to waste what they've worked for.