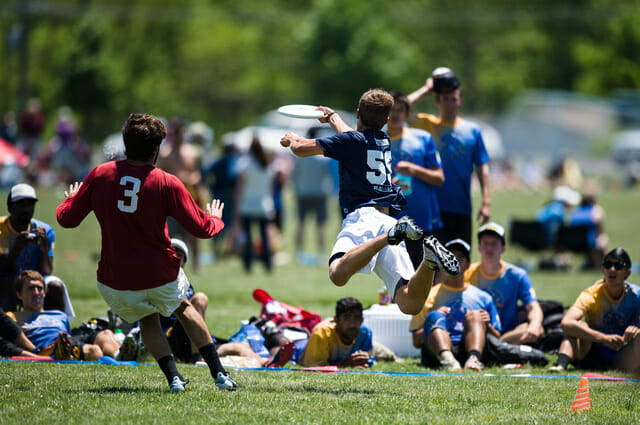 It's safe to say Pitt isn't just "taking it all in" at nationals.
For most teams in college Ultimate, this is the end goal. Participating in this tournament. Just being here. Putting your cleats on in late May in Southern Ohio.
Why not take a minute and enjoy it?
@Ulti_world Dozen bro'n down at the Reds game pic.twitter.com/99nusPrXHy

— Texas A&M Ultimate (@DozenUltimate) May 23, 2014
For Pitt, who went untested in two pool play games today, the standard is different. Nationals isn't a fun, once-in-a-lifetime experience. It's a business trip.
"If we stay where we are, we're going to lose in quarters," Pitt assistant coach David Hogan said firmly about where this team could be on Monday afternoon. "I think we have the best O line in the country. There's tremendous skill up and down the line. We're right there right now, but we need to keep improving."
Still beating the drum. Still focused on improvement. Trying to squeeze that last little bit out of the team with three days left in the season.
The only thing harder than getting to the top is staying there. Pitt knows this.
In practice leading up to Nationals, Pitt scrimmaged their alumni and the new Pittsburgh Club team – who was mimicking the offense, defense, and player specific tendencies of the other teams they were facing in pool play. Texas A&M runs vertical stack and has a big hucker? Dartmouth runs transition? They find a way to recreate that.
Hogan and head coach Nick Kaczmarek take preparation seriously.
Tomorrow, the defending champs face Michigan, then Central Florida to round out pool play.
"Both are going to be bigger challenges than we faced today. They have different strengths," Hogan said.
Michigan beat Pitt in the finals of Easterns earlier this spring. There will be few personnel or strategy surprises between them.
"UCF has a top five or six with Best, Langdon, and Ogren, that you could easily see playing on a high level club team," said Hogan. "They're gritty as hell. They're tall. They take advantage of anything the defense gives them."
Pitt is ready for anybody right now. They've got the deepest team at the tournament and when they needed breaks today, they jogged out a "KILL" line with guys like they did against Texas A&M this afternoon. That's a line with the skill players and athletes like Sam VanDusen, Marcus Ranii-Dropcho, Connor Kazmierczak, Carl Morgenstern, Tyler Kunsa, Max Thorne, and Christian Pitts, (Pitts, by the way, is having a great tournament).
Pittsburgh is also willing to put in the work off the field that others simply aren't.
If anyone knocks off Pitt this weekend, big ups. You're truly getting their best shot.
The Rest of Pool B
UCF beats Texas A&M and I'm ready to crown the Dogs the second best team in the pool. Then Michigan beats Central Florida. Okay. Michigan is clearly number two. Then Dartmouth wins the last round war of attrition against Michigan. Now I don't know what to think. It's a big mess.
I like Dartmouth in the wind, I like UCF in a track meet, and I like Michigan's team discipline. Each of those teams had their moments today. You could argue that Dartmouth has the highest ceiling because all they did was lose to Pitt (which is what was supposed to happen), then upset Michigan.
With their great hucking game and athleticism, don't be surprised if Central Florida keeps it close with Kaczmarek and company tomorrow. Keep in mind that with a weak Ohio Valley region, Pitt hasn't played an elite level team in over a month. If Pitt beats UCF handily, the rest needs to be ready for a threepeat.
Saturday's 2:30 PM game on field #4 is a must watch.