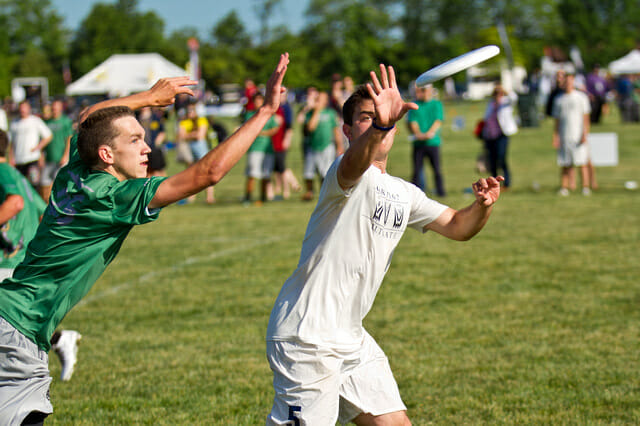 There are talents and strategies we knew to be true of the Pool D coming into today. Dylan Freechild was, is, and will be in charge of Oregon. UNC-Wilmington wants to isolate their offensive threats in side stack and vertical stack variations. Florida is going to run their top players point after point. Rutgers, despite an impressive run to snag the solo bid from the Metro East, had yet to compete on the national stage. All of these held true.
We also knew that we hadn't truly seen what Carleton CUT could do. A powerhouse program, a season upended by tragedy, and weather that would shorten a season could only lead us to guess that CUT had more in store.
At the end of the first day of pool play, UNC-Wilmington and Florida were both unseated by a Carleton team that used an efficient offense and converted turns quickly. Where Florida trotted out Bobby Ley, Jason Silverman, and James Dahl for almost every point, Carleton ran almost exclusive lines for offense and defense, though Jesse Bolton crossed over occasionally.
Carleton's ability to convert came in to play first against Wilmington Friday morning. The team piled up five breaks in the first half, largely thanks to good downfield defense forcing UNCW into second and third options and challenging their resets. Carleton was very sharp after the turn, consistently working the disc down the field and into the endzone.
Against Florida, Carleton's discipline showed similar poise, as the huck-happy Gators were disrupted on offense not just by tight man defense, but by the wind. Where Florida's deep shots disintegrated, CUT was comfortable working in a vertical stack that used both sides of the field efficiently, and hit the high percentage unders.
—
Aside from the upset excitement caused by a surging Carleton CUT, Oregon Ego quietly held court in their first two games in the pool. Against Rutgers Machine, Ego handed down a 15-3 routing. In a game with considerably higher stakes later in the day against UNC-Wilmington, Ego gave up one break early, then found their offensive stride, and stayed close. Aside: a lot of credit here to Wimington for staying strong as well — the game was tied 7-7 before Ego started their run.
In the second half against Seamen, Ego's poise and intensity shone through, and they snared a set of breaks to put away Wilmington 15-12.
For Ego, Friday was a chance to flex their Nationals-tested skill. Oregon is an experienced program that understands the big stage, and at least against UNCW, they were the faster, stronger team. They'll get a chance to assert themselves further against Florida tomorrow, who may not prove to be a deep enough matchup to get a win.
The most interesting battle of Pool D will come tomorrow when the #1-seeded Ego takes on the surging #4 CUT. Will the small Carleton roster have enough depth to hang with Oregon? Stay-tuned to Pool D action tomorrow for more.