It took five years, but Ohio State built a program from the ground up and completed the process with a no-doubt National title on Memorial Day.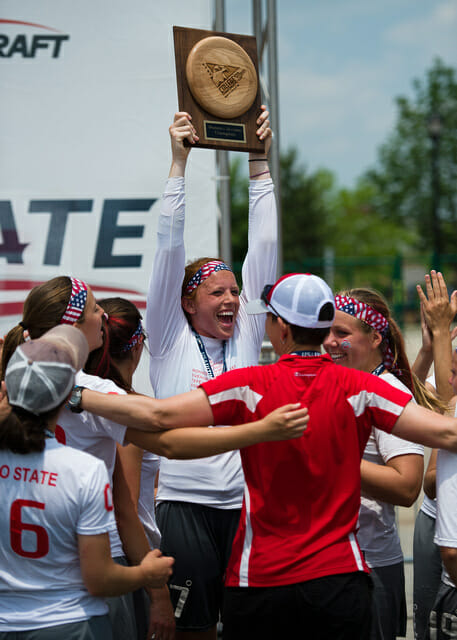 When Jenna Galletta's hands wrapped around the disc, ceasing its rotation, it concluded much more than a great season for Ohio State Fever. The national championship was the final room – we can say the master bedroom – in the house OSU has been dutifully constructing for years now. The team's first ever national title was the culmination of careers, seasons, and heartfelt efforts together.
Make no mistake, it was an incredible season for Ohio State, capped off by the 15-11 title game showing. That was their 42nd straight victory, making for a total of 47 wins to just 2 losses; both of those Ls were during their first weekend of competition against Central Florida, a team Ohio State nearly played in the final. Of those 47 wins, only 9 were by fewer than five points.
After the final, Columbus Ultimate figurehead Rodger Oakes called it "the Mason Coronation." The crowning of the national champion was not only affirmation that they could build something that could sustain them, but that they could do it their way.
"Sometimes, dance parties and positivity are the way to win," said Cassie Swafford, the team's leader and the nation's Callahan winner. "We relish in enjoying the moment."
If you watched Ohio State play in person, or on ESPN's broadcasts and streams, or have spent time around their team, you know Swafford is not speaking in platitudes. Swafford, herself a bastion of spirit, went (somewhat awkwardly) out of her way to congratulate Washington's Alysia Letourneau for her highlight layout grab in the semifinal. Fever's sidelines and huddles flood with encouragement, laughter, and smiling. While it feels like they might be characters that escaped from the Disney Channel, it is hard to dodge the infectious nature of their outright joy.
Swafford and head coach DeAnna Ball endeavored to bring that energy to the world of elite college Ultimate. They created a culture that players, coaches, and a community bought into. And it empowered them for success.
"Playing for each other motivates us, more than anything," said senior captain Caitlin Harley.
"I don't think we've ever gone in with expectations that we should win," said Ball. "There's been a lot of we can win it. I think we finally just put the effort in to turn that 'can' into 'we did win it.'"
Maybe it was easy this year. When nobody seems to be able to stop you, high fiving and hugging your teammates is pretty easy. But it took time for OSU to get there. Bumps in the road were plentiful over the five years it to bring them to Galletta's catch. Or maybe Fever just made it – the play, the positivity, the consistency – look easy.
The title game against Oregon was, in some ways, just another game for Ohio State. They checked all the boxes of an OSU win: disciplined offense that patiently wears down opponents? Check. Relentless cutting assisted by intelligent spacing? Check. Steady resets and break throws from Swafford and Ultiworld Player of the Year Paige Soper? Double check. A team oriented style with impressive execution and balance? Another check. Oregon has been the toast of the division for years, and Ohio State made them look like any other opponent.
Fever won the game their way, playing their game, in front of their friends and family filling out a hometown crowd.
There will be a time when the celebration dies down and the team looks towards the future. Up until this point, Fever had improved their final standing at Nationals with each trip; they will not be able to do so next season. But can they continue to have one of the nation's best programs, despite losing arguably the country's top two players? They are questions for another day.
Ohio State Fever will do what they do best: relish enjoying the moment. They've spent the past five years earning it.